Aug. 14 - Sep. 06, 2015
Fridays-Sundays
This timeless classic will mesmerize audiences of all ages from the first note to the final breath. The Bernstein score with lyrics by Stephen Sondheim is considered to be one of Broadway's finest. It features beloved American musical theatre classics including "Tonight," "America," "I Feel Pretty" and "Somewhere."
West Side Story, i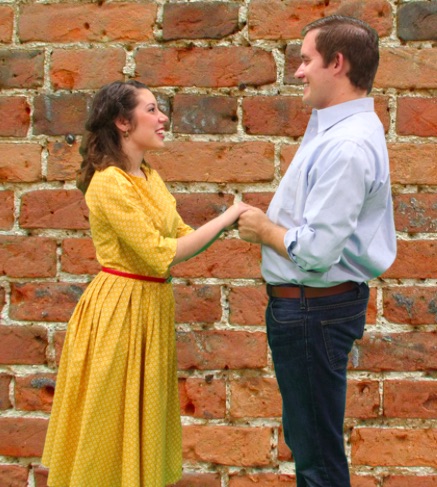 nspired by Shakespeare's Romeo & Juliet, tells the tragic love story of Maria and Tony. The Musical is set on the mean streets of 1950s Manhattan. The teens from enemy gangs meet and fall in love at a fateful gym dance. The strength of Maria and Tony's love cannot overcome the hatred between the Sharks and Jets
This musical is directed and choreographed by Christopher Rodriguez, resident choreographer and youth program director at the Woodlawn Theatre. Darrin Newhardt returns as music director.
West Side Story was nominated for six Tony Awards including Best Musical. Jerome Robbins won the Tony for his choreography and Oliver Smith won for his scenic designs. The 1961 film version picked up ten Oscars, plus a special choreography award for Robbins.
The Woodlawn Theatre is San Antonio's historic local theatre, located in the heart of the Deco District at 1920 Fredericksburg Road, just south of Hildebrand. Free parking with security patrol is available.
Wiklipedia: West Side Story is an American musical with a book by Arthur Laurents, music by Leonard Bernstein, libretto/lyrics by Stephen Sondheim, and conception and choreography by Jerome Robbins.[1] It was inspired by William Shakespeare's play Romeo and Juliet.
The story is set in the Upper West Side neighborhood in New York City in the mid-1950s, an ethnic, blue-collar neighborhood. (In the early 1960s much of the neighborhood would be cleared in an urban renewal project for the Lincoln Center, changing the neighborhood's character.)[2][3] The musical explores the rivalry between the Jets and the Sharks, two teenage street gangs of different ethnic backgrounds. The members of the Sharks, from Puerto Rico, are taunted by the Jets, a Caucasian gang.[4] The young protagonist, Tony, a former member of the Jets and best friend of the gang leader, Riff, falls in love with Maria, the sister of Bernardo, the leader of the Sharks. The dark theme, sophisticated music, extended dance scenes, and focus on social problems marked a turning point in American musical theater. Bernstein's score for the musical includes "Something's Coming", "Maria", "America", "Somewhere", "Tonight", "Jet Song", "I Feel Pretty", "A Boy Like That", "One Hand, One Heart", "Gee, Officer Krupke", and "Cool".
Cast/Crew:
The Jets
Tony - Kyle Krambeck
Riff - Matthew Lieber
Action - Cody Wilson
A-Rab - Brian Hodges
Diesel - Cody Jones
Snowboy -Travis Anderson
Baby John - Karl Roach Compton


Jet Girls
Anybody's - Megan McCarthy
Velma - Alison Hinojosa
Graziella - Crystal Vera
Clairce - Ali Voyles
Minnie - Sammy Smith


The Sharks
Maria - Mariela Flor Olivo
Bernardo - Travis Trevino
Anita - Alyssa Lopez
Chino - Eric Garcia
Pepe - Alonzo Corona
Indio - Luis Garcia
Luis - Ivan Ortega
Anxious - Alejandro Pesina
Toro - Mark Anthony II
Nibbles - Martin Esquivel
Juano - Alex Valverde


Shark Girls
Consuela/Somewhere Soloist - Lauren Silva
Rosalie - Kass Ortiz
Estella - Yasmyn Sumiyoshi
Teresita - Andy Diaz
Margarita - Michelle Vidaurri
---
West Side Story
by Arthur Laurents, Leonard Bernstein and Stephen Sondheim
Wonder Theatre (formerly Woodlawn Theatre)
Fridays-Sundays,
August 14 - September 06, 2015
West Side Story plays August 14 to September 6every Friday and Saturday at 7:30 p.m., and Sunday at 3 p.m. Tickets are on sale now at www.woodlawntheatre.org, or by calling the box office at 210-267-8388.
Prices are $17 for children and students, $23 for seniors and military, and $26 for adults. Groups of 10 people or more receive a 20% discount. Also on sale are Half Season Subscriptions which offer 20% discount on tickets for the remaining season.