Oct. 27 - Oct. 31, 2016
Thursday-Monday
Winner of the 1953 Tony Award for Best Play. This exciting drama about the Puritan purge of witchcraft in old Salem is both a gripping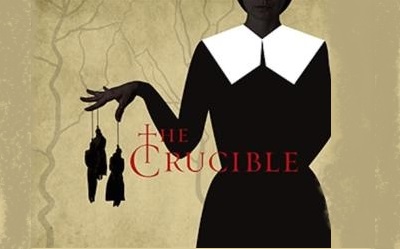 historical play and a timely parable of our contemporary society. The story focuses upon a young farmer, his wife, and a young servant-girl who maliciously causes the wife's arrest for witchcraft. The farmer brings the girl to court to admit the lie—and it is here that the monstrous course of bigotry and deceit is terrifyingly depicted. The farmer, instead of saving his wife, finds himself also accused of witchcraft and ultimately condemned with a host of others.
Directed by Olin Meadows.
"Strongly written." —NY Daily News.
"A powerful drama." —NY Times.
[images via Sam Bass Community Theatre]
Sam Bass Theatre's production of The Crucible by Arthur Millerwill be directed by Olin Meadows, artistic director of Sam Bass Theatre. Mr. Meadows has been directing in the Austin area since 2011. Some of his most notable productions as a director have been Steel Magnolias by Robert Harling, The Trip To Bountiful by Horton Foote, The Oldest Profession by Paula Vogel, An Ideal Husband, and The Importance of Being Earnest both by Oscar Wilde. Mr. Meadows is known for his unique take on classic theatre, his production of The Crucible is a dark re-imaging of the story, stripping away the political allegory of the McCarthy hearings of the 1950's and turning the story on its head. Taking his audiences into an immersive world of Salem Town where Witches are very much real, and have more power than anyone including themselves realize. Filled with suspense, betrayal, and the fear of the unknown, this is one production of The Crucible you will not forget.

When asked about the concept behind The Crucible, director Olin Meadows said "This is the original American Horror Story, in our production this is no witch hunt, it is more like the witches are hunting." Additionally, Mr. Meadows went on to say "While we have stripped away the political allegory, there are so many aspects of this brilliant writing that echo the concerns of audiences today, the corruption of the church, the wealthy ministers who are still praying on the unsuspecting minds of their followers, the racial tension that has rose to the forefront of society again, the manipulation of our government by the 1% these are all reflected in this story. Plus this show is a lot of scary fun, the cast is fantastic an in my opinion brings so much to this concept, I am even scared in rehearsals at times."

The Show Stars Bea Paul as John Proctor and Kristen DeGroot as Abigail Williams. The Crucible also features Sage Westrick as Betty Parris, Kendra Christel as Tituba, Scott Poppaw as Rev. Parris, Christina Manley as Anne Putnam, Scott Fulmer as Thomas Putnam, Robyn Conner as Elizabeth Proctor, Erin Priddy as Mary Warren, Rachel Wolf as Mercy Lewis, Jacob Vigil as Giles Corey, Jensen Collie as Rev. Hale, Joan Baker as Rebecca Nurse, Richard Hahn as Mr. Nurse, Michael Costilla as Judge Hawthorn, Patrick McElhinney as Judge Danforth. The ensemble Includes Sara DeSoto, Carol Wright, Nicholas Mani, Eli Wennstrom, Britina Gautam, Samantha Evans, and Sydney Swain.

THE CRUCIBLE IS PRODUCED WITH SPECIAL ARRANGEMENT BY DRAMATIST PLAY SERVICE.

Recommendation: Thirteen and older, includes intense situations and materials that may not be suitable for younger viewers.
Run Time: Approximate two hours and 20 minutes including one intermission

Special events in celebration of THE CRUCIBLE include:
• Friday Post-Show Talkback – October 28, 2016
• Halloween Special Performance and After Party - Featuring Jensen Collie and members of The Crucible Cast performing music of the season and stage.- October 31, 2016
---
The Crucible
by Arthur Miller
Sam Bass Community Theatre
Thursday-Monday,
October 27 - October 31, 2016
Thursday - Saturday and Monday at 8 p.m., Sunday at 2 p.m.
Tickets: general admission $25, students/educators/seniors $20. Available on-line via www.sambasstheatre.org or via BuyPlayTix.
Halloween Performance and After Party $35.00