Sep. 24 - Sep. 27, 2015

Austin Shakespeare, in collaboration with Armstrong Community Music School, has cast familiar Austin singing actors along with new ones for their concert version of Stephen Sondheim's musical, Sunday in the Park with George, September 24 - 27, 2015, for six performances in four days at the Long Center for the Performing Arts (www.thelongcenter.org).

Director Ann Ciccolella and Music Director Austin Haller cast the 14 performers. This popular musical, based on the famous Impressionist painting by Georges Seurat, A Sunday Afternoon on the Island of La Grande Jatte, brings the characters in the painting to life with a richness, humor and depth to match Sondheim's music.


Accompanied on stage by an orchestra of 10 professional and student musicians. Actors will be costumed by designer Talena Martinez and will perform the complete play with projected scenery by Jeff Kurihara. Greg Holt will return to Austin to play the painter Georges Seurat and be joined by co-star Kara Bliss as Dot, his model and love, and Equity actor Linda Nenno as his mother.
Other cast members include: Tim O'Brien as Jules; Shelley Auer as Frieda; Page Stephens as Yvonne; Erin Hanson as Nurse, Mary Ashton as Celeste #1; Rebecca Knox as Celeste #2; Austin Bradley as Franz; Kyle Stephens as Soldier; Micah Bond as Boatman; Stephen Robinson as Louis; and Ella Rutman as young Louise. Each actor reappears in the second act as their modern counterpart. The creative team is led by award-winning lighting designer, Jason Amato, who will return to Austin for this production.
Holt and Bliss will perform excerpts from Sunday in the Park with George as part of the Central Austin Arts Block Party at 1:30 and 2:30 pm at the Long Center for the Performing Arts Rollins Theater on Sunday Aug. 23. The event is Free to the Public.
Playing the lead as Impressionist painter "Georges Seurat," Greg Holt has performed in Austin as an Equity Guest Artist at St. Edwards' University in The Secret Garden; Zach Theatre in Jesus Christ Superstar; and regionally as Jean Valjean in Les Misérables, Phantom in The Phantom of the Opera, and has toured in musicals nationally.
Playing the female lead "Dot," Kara Bliss has played "Anna" in Closer, winning B. Iden Payne and Critics Table awards for Best Actress, "Audrey" in Little Shop of Horrors, winning a Payne Award for Best Actress, "Mabel" in Pirates of Penzance, "Marian" in The Music Man, "Titania" in A Midsummer Night's Dream, and "Naomi" in the world premiere of the chamber opera, "Tango." Kara also fronts a popular jazz/cabaret act with Austin Haller, performing in various Central Texas venues. Equity and non-Equity season auditions continue. Contact auditions@austinshakespeare.org to schedule an appointment.
Click to view feature published by the Long Center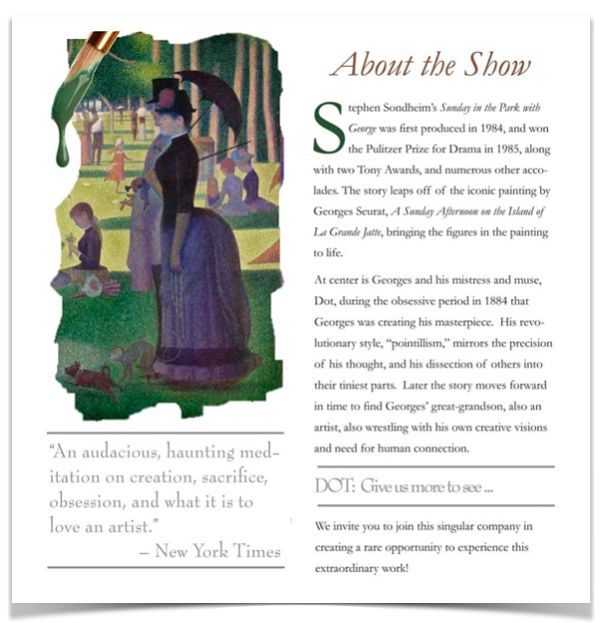 ---
Sunday in the Park with George
by Steven Sondheim
Austin Shakespeare
September 24 - September 27, 2015
Rollins Theatre
Long Center
701 Riverside at South First,
Austin, TX, 78704
Performances Thurs-Sun. Sept. 24-27 with matinees 2:30 pm on Sat and Sun at the Rollins Studio Theater, Long Center. Some pay. Non Equity auditions only.