Satchel Paige and the Kansas City Swing
by Austin Playhouse
Feb. 12 - Mar. 06, 2016
Thursdays-Sundays
It's 1947 and Satchel Paige is the king of baseball: a charismatic, superstar pitcher. But as Jackie Robinson wraps his first historic season in the majors, Paige finds his own fame eclipsed and his desire for greater respect increasingly frustrated by the barriers all around him. A story of passion and perseverance, this jazz-infused drama paints a vivid picture of America on the brink of great change. We are delighted to present the Texas premiere and the third production of Satchel Paige and the Kansas City Swing!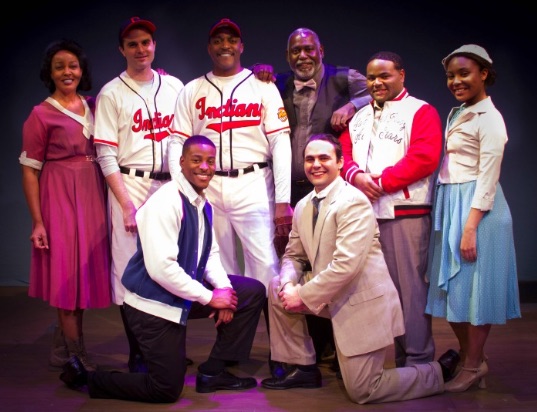 Satchel Paige and the Kansas City Swing stars Marc Pouhé as Satchel Paige, Patrick Gathron as Art Young, Billy Harden as the Jazzman, Robert King Jr. as Buck O'Neil, Stephen Mercantel as Franky Palmieri, Deja Morgan as Moira Hopkins, Jason Newman as Bob Feller, and Carla Nickerson as Mrs. Hopkins.

The play is directed by Don Toner with set design by Mike Toner, costume design by Buffy Manners, lighting design by Don Day, and sound design by Joel Mercado-See.
---
Satchel Paige and the Kansas City Swing
by Trey Ellis and Ricardo Khan
Austin Playhouse
Thursdays-Sundays,
February 12 - March 06, 2016
Thursdays - Saturdays at 8 p.m., Sundays at 5 p.m.
Tickets $14 - $30 plus handling fees