Of Mice and Men (opera)
by Austin Opera
Jan. 29 - Jan. 31, 2016
Thursday, Saturday-Sunday
Based on John Steinbeck's novella "Of Mice and Men," this riveting American opera is a faithful retelling of one of America's most celebrated works of literature. Carlisle Floyd vividly captures the lives of the characters, the feel of the era, the bunkhouse, the depressed economy, and Lennie's tragic story.
Corey Bix (tenor) | Lenny Small
Matthew Burns (bass-baritone) | George Milton
Ryan MacPherson (tenor) | Curley
Julia Taylor (soprano) | Curley's Wife
Stage director Kristine McIntyre, known for her visually stunning and emotionally rich productions, has directed more than 50 operas throughout the United States at The Metropolitan Opera, Pittsburgh Opera, Arizona Opera, Dallas Opera, and many others. McIntyre's "canny ability to meld visual and musical elements" will seamlessly allow Floyd's score and libretto full voice to clearly communicate the work's central theme — that personal relationship, however tenuous, is far superior to solitary existence.
Of Mice and Men is an important work of theater, literature, film and, of course, opera. Its plea for compassion and hope is as timely now as when John Steinbeck wrote the novella on which the opera is based. Visit our OF MICE AND MEN – COMMUNITY CONNECTIONS page for a complete list of Austin Opera educational activities surrounding this iconic work in partnership with local cultural organizations including the University of Texas Humanities Institute, Blanton Museum of Art, Austin ISD, Round Rock ISD, Austin Public Library Foundation, and the Paramount Theatre. Each partner event will provide a different perspective on Steinbeck's classic work, and explore its relevance today.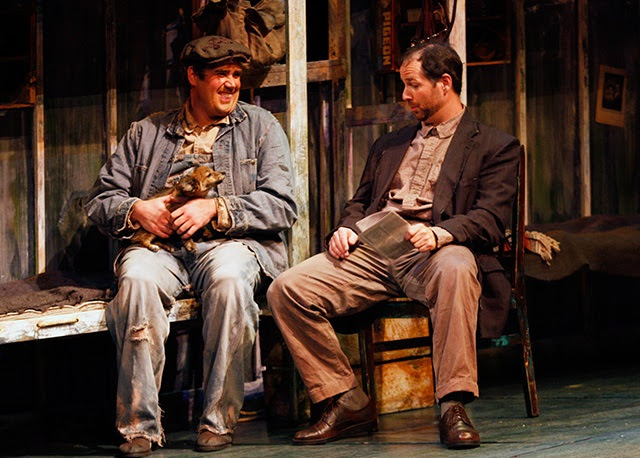 Of Mice and Men features the Austin Opera Chorus and the Austin Opera Orchestra.
An opera in three acts, sung in English with lyrics projected above the stage.
Learn more about the artists, production team, and the synopsis.
By arrangement with Boosey & Hawkes, Inc. publisher and copyright owner.
---
Of Mice and Men (opera)
by Carlisle Floyd
Austin Opera
Thursday, Saturday-Sunday,
January 29 - January 31, 2016
Saturday, January 23 at 7:30 p.m.
Thursday, January 28 at 7:30 p.m.
Sunday, January 31 at 3 p.m.
Tickets $35 - $199 plus service and facility fee