Nevermore, The Imaginary Life and Mysterious Death of Edgar Allan Poe
by Doctuh Mistuh Productions
Oct. 21 - Nov. 05, 2016
Wednesdays-Mondays
In keeping with its mission of bringing Off-Broadway and lesser known shows to Austin, Doctuh Mistuh Productions in association with Austin Playhouse will present the regional premiere of the Off-Broadway show, NEVERMORE, THE IMAGINARY LIFE AND MYSTERIOUS DEATH OF EDGAR ALLAN POE, for a three-week run, October 21-November 5. The production will play at Austin Playhouse in ACC Highland.

NEVERMORE, which originally produced by the Catalyst Theatre of Edmonton, Canada in 2009 and subsequently toured internationally, played at New Victory Theatre in New York in 2010, where it received very enthusiastic audiences and sold out houses. The show enjoyed another successful engagement at the New Victory Theatre in 2015 featuring 6 or the 7 original cast member. Nevermore is written and composed by Jonathan Christenson, Artistic Director of the Catalyst Theatre.

"Nevermore blurs the line between fact and fiction, exploring the events that shaped Poe's character and career and giving powerful expression to Poe's words 'all that we see or seem is but a dream within a dream.'" Nevermoreshow.com
Doctuh Mistuh's Michael McKelvey (Director) and Glenda Barnes (Costume Design) will join forces with Austin Playhouse's Mike Toner (Set Designer) to bring this unique and powerful theatrical event to the stage. The show will star Tyler Jones as Edgar Allen Poe with Suzanne Balling, Joey Banks, Matt Connely, Jess Hughes, Stephen Mercantel and Megan Rabuse.
Austin show poster by Jennyarie Jemison.
Click to go to audio feature with Michael Lee at KUT-FM (2 min.)
Click to go to video feature at KXAN -- interview of director Michael McKelvey and performer Jess Hughes
Doctuh Mistuh Productions made its debut in the Austin Theatre scene with EVIL DEAD, THE MUSICAL in October of 2009. Since then, DMP has gone on to entertain its loyal followers with the mission of bringing unique shows of quality that push the envelope and may not get produced otherwise.
Austin Playhouse is a professional theatre in its 17th season. Under the leadership of Producing Artistic Director Don Toner and Artistic Director Lara Toner Haddock, Austin Playhouse has grown from a three-play season on the campus of Concordia University, to a year-round operation producing an average of eight plays a year.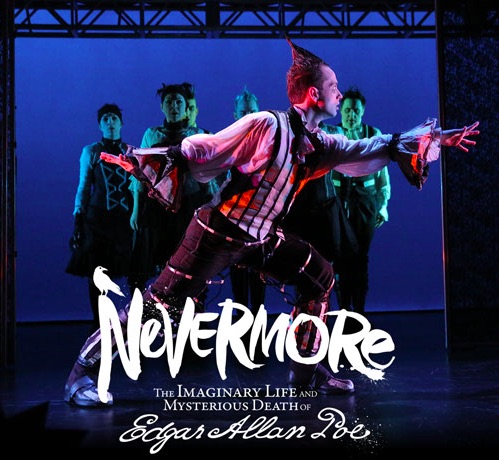 ---
Nevermore, The Imaginary Life and Mysterious Death of Edgar Allan Poe
by Jonathan Christenson
Doctuh Mistuh Productions
Wednesdays-Mondays,
October 21 - November 05, 2016
October 21 - November 5, 2016
Thursdays - Saturdays at 8 p.m. and Sundays at 5 p.m.
with additional performances on Wednesday, Oct 26 & Monday, Oct 31 at 8 p.m. and Saturday, Oct 29 at 3 p.m.
WHERE: Austin Playhouse at ACC's Highland Campus
6001 Airport Blvd., Austin, TX 78752
Tickets: $30 general admission, $27 seniors, $15 students plus fees
WEB: austinplayhouse.com
BOX OFFICE: Call 512.476.0084 or email boxoffice@austinplayhouse.com