Feb. 17 - Mar. 06, 2016
Thursdays-Sundays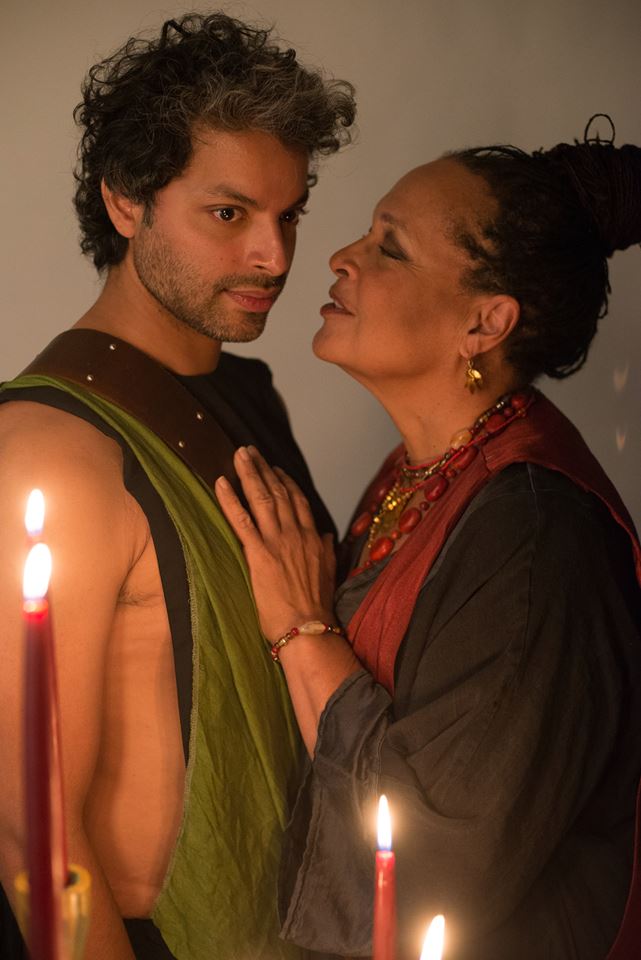 Medea by Euripides is a 2500-year-old classic that still resonates today with its modern–day complexities of power, marriage, families and politics. Medea will plunge the audience into the midst of an intense domestic dispute that quickly accelerates to its horrifying climax of violence, revenge and mutual destruction. With emotionally honest acting and a starkly beautiful, poetic text, Medea will be an unforgettable theatrical experience.
Franchelle Stewart Dorn performs the title role.
Austin Shakespeare presents professional theatre of the highest quality with an emphasis on the plays of William Shakespeare, bringing to the public performances that are fresh, bold, imaginative, thought-provoking, and eminently accessible, connecting the truths of the past with the challenges and possibilities of today. Learn more.
Official website for Austin Shakespeare
There is a Medea Student Performance at 11:00am on February 24
Feature: Expect the Unexpected: An Actor on the New Production of Medea, by Helen Merino via the Long Center blog
Feature: Profiles of cast, at www.austinshakespeare.org
The Greek tragedy Medea by Euripides slashes across the stage with the revenge of a woman scorned, starring nationally-acclaimed classical actress, Franchelle Stewart Dorn in the title role. The production runs at the Long Center for the Performing Arts (701 W. Riverside Drive), February 17-March 6, 2016 and is presented by Austin Shakespeare.
Based upon the Greek legend, after betraying her family to get the Golden Fleece, the hero Jason brings Medea and their sons to Corinth where he unexpectedly decides to marry the princess. Faced with the ultimate betrayal, Medea exacts her revenge.
Artistic Director, Ann Ciccolella says, "This brilliant modern verse translation of a brutal story hangs on how the tragedy happens. We are thrilled to bring the acting power of Fran Dorn back to Austin with a powerful cast that includes some of our finest actors."
Fran Dorn has been teaching acting at UT's Department of Theatre and Dance and keeping up her career, last year spending much of the season in repertory at Oregon Shakespeare Festival.
She has played Dr. Rita Madison in the NBC daytime's "Another World," Attorney Alanis Joiner on NBC's "Law and Order" and appeared in films "Die Hard with a Vengeance" and "Pelican Brief." She also was a leading actress at the Shakespeare Theatre Company in Washington, D.C. In Austin, she has been seen as "Martha" in her award-winning performance in WHO'S AFRAID OF VIRGINIA WOOLF? Fran holds an M.F.A. degree from the Yale University School of Drama.
Newer to Austin is Erik Mathew, who plays the legendary hero, Jason. Erik won Austin Shakespeare's audiences over as the love interest in Stoppard's The Invention of Love last season. Off-Broadway: As You Like It (The Public Theater, Shakespeare in the Park). Regional credits include: "Banquo" in Macbeth, "Oliver" in As You Like It (Independent Shakespeare Company), "Leontes" in The Winter's Tale, "Macduff" in Macbeth (Delaware Shakespeare Festival), and "Erik" in the world premiere of Theresa Rebeck's O Beautiful, (Utah Shakespeare Festival). M.F.A. from the Professional Theatre Training Program at the University of Delaware.
Returning to Austin Shakespeare is Helen Merino as the "Chorus." Helen has played the title role in Hamlet as well as Mary Stuart and four other leading roles for Austin Shakespeare in addition to appearing in New York Off-Broadway. Other Austin shows include: Present Laughter, Bad Dates, Who's Afraid of Virginia Woolf?, Vagina Monologues, (all at ZACH Theatre). Films: Fast Food Nation (Richard Linklater), Cassidy Kids, Gretchen, The Interview.
Promotional video by Michael Dalmon:
"King Creon" is Michael Miller, most recently seen in an acclaimed performance of A Streetcar Named Desire as "Mitch" and 7 other Austin Shakespeare performances: "de Guiche" Cyrano de Bergerac, "Jaques" As You Like It, "Iago" Othello, "Leontes" The Winter's Tale, "Otto" Design for Living & "Darcy" Pride & Prejudice. Also: "Dan" Closer (ZACH Theatre); "Cardinal Barberini/ Sagredo" Galileo (Mary Moody Northen Theatre); "Tesla" Requiem for Tesla (Rude Mechanicals). He received a BFA in Theatre from Texas State and an MFA in Acting from UT Austin.
"King Aigeus" is Reginald Brown, who has delighted Austin Shakespeare audiences as: "Duke Senior, Duke Frederick" As You Like It (Zilker Hillside Theater). He currently teaches at Austin Community College.
The tutor is Keith Paxton also popular with Austin Shakespeare in recent Zilker Park The Taming of the Shrew, as well as The Invention of Love, Cyrano de Bergerac as "Christian", As You Like It as "Orlando", Othello as "Cassio", The Winter's Tale as "Florizel" and Pride and Prejudice as "Mr. Bingley." Keith received a BFA in Acting from Texas State University and has studied abroad with the Royal Shakespeare Company.
New to the company is Jamie Parker ("Messenger"), who recently appeared as Estragon in Waiting for Godot at City Theatre; also as a guest artist at UT-Austin in Karlstad. St. Edward's University in Marisol and Texas State University in Psychos Never Dream.He has an M.F.A. from SMU's Meadows School of the Arts Professional Theatre Training Program.
The nurse is Johanna Whitmore, long-time theater teacher at Round Rock High School. She delighted audiences in Austin Shakespeare's Othello (Emilia) and Pride & Prejudice (Mrs. Bennet/Lady Catherine de Burgh). She studied Theatre at the University of Maine, UT Austin, and spent the summer of 2004 in the Teaching Shakespeare Through Performance program at The Globe Theatre in London.
---
Medea
by Euripides
Austin Shakespeare
Thursdays-Sundays,
February 17 - March 06, 2016
Rollins Theatre
Long Center
701 Riverside at South First,
Austin, TX, 78704
Rollins Theatre, Long Center, Austin, February 17 - March 6, 2016
preview performance on Wednesday, February 17.
Thursdays - Saturdays at 8 p.m.; Sundays at 3 p.m.
Tickets available via Long Center Box Office -$32, $37 plus $5.75 service fee ($27 plus fee for last row); $18 + $2.75 fee for preview performance.
Tickets start at $21 and may be purchased by calling the Long Center box office at (512) 474-5664 or online
http://thelongcenter.org/event/medea/.
Student and senior discounts available.