Mar. 03 - Mar. 20, 2016
Thursdays-Sundays
In a world of empty celebrity and economic crisis, how's a queen to keep her head? David Adjmi's reimagined modern take on cake enthusiast and infamous one-percenter Marie Antoinette examines the lust for the famed ruler before, during, and after her death. MARIE ANTOINETTE holds a mirror up to our contemporary society that might just be entertaining itself to death.
Directed by Rosalind Faires. Cap T is proud to present the regional premiere of this funny and dark play that wowed audiences at Steppenwolf, Yale Rep, and Soho Rep. MARIE ANTOINETTE stars Cap T standout Indigo Rael (EXIT, PURSUED BY A BEAR) as the titular queen of France with a supporting ensemble including Claire Grasso, Uyen-Ann Dang, Nicholas Saenz, Nick Mills, Karina Dominguez, Matt Frazier, and Delante Keys.
Lighting Design by Patrick Anthony Scenic Design by Leslie Turner
Costume Design by Talena Martinez
About the Playwright
David Adjmi - Playwright
David Adjmi was called "virtuosic" by the New York Times, one of the "best and most original theatre artists of a generation" by Vogue, and one of the Top Ten in Culture by The New Yorker magazine. He is developing his play Stereophonic with Daniel Aukin and Will Butler (Arcade Fire). His play Marie Antoinette received a critically acclaimed world premiere co-production with A.R.T. and Yale Rep. The play won 3 Connecticut Critics Circle Awards including Best Play. Marie Antoinette received a New York premiere at Soho Rep was produced at Steppenwolf, Woolly Mammoth and other theaters around the world this past season. 3C received its world premiere at Rattlestick Playwrights Theater (with Rising Phoenix and Piece by Piece Productions) in June 2012, and was dubbed "revelatory" by the Times and "the most divisive and controversial play of the season" by the New York Post. 3C was selected as one of the top ten plays of 2012 by the Post, Time Out New York and the Advocate. Elective Affinities, which premiered at the Royal Shakespeare Company, received a U.S. premiere this December at Soho Rep (with Rising Phoenix and Piece by Piece Productions) starring Zoe Caldwell (Top 10 of the year in Time Out New York, New Yorker.)
Other plays include Stunning (LCT3/Lincoln Center Theater, Woolly Mammoth Theatre Company), The Evildoers (Sundance, Yale Repertory Theatre), Caligula (Soho Rep Studio Series), and Strange Attractors (Empty Space).
David was awarded a Mellon Foundation Playwrights Residency, the Guggenheim Fellowship, the Whiting Writers' Award, the Kesselring Prize for Drama, the Steinberg Playwright Award (the "Mimi"), McKnight and Jerome fellowships, the Helen Merrill Award, the Marian Seldes-Garson Kanin Fellowship, the Fadiman Prize and the Bush Artists Fellowship, among others. He is the recipient of residencies from the American Academy of Rome, the Bogliasco Foundation, The MacDowell Colony, Corporation of Yaddo, Ucross and others. He currently holds commissions from Lincoln Center Theater, Yale Rep, Berkeley Rep, the Royal Court (UK), and the Center Theatre Group.
David has served on panels for the Luminato Festival, National Endowment for the Arts, the McKnight Foundation, Massachusetts Cultural Council and others. He has taught workshops and seminars at the Iowa Playwrights Workshop, Harvard University, Yale School of Drama, Rutgers University, Primary Stages, NYU, Mark Taper Forum, CalArts, Southampton Writers Conference, and the University of Rochester.
He is a member of New Dramatists, the Dramatists Guild, MCC Theater Playwrights' Coalition, and Soho Theatre's "The Hub." A collection of David's work, Stunning and Other Plays, is published by TCG, and his work is included in The Methuen Drama Book of New American Plays.

About the Cast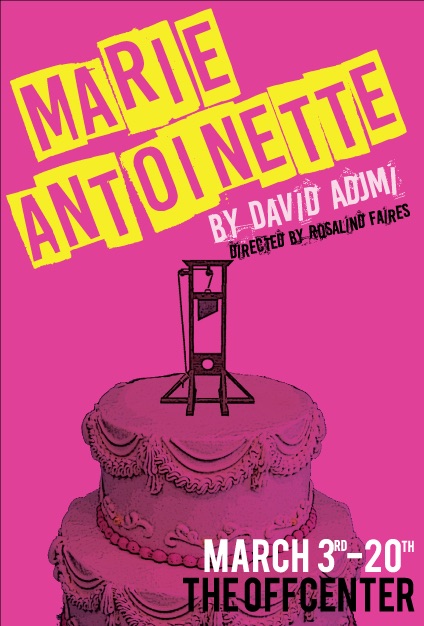 Marie Antoinette - Indigo Rael
Indigo last collaborated with Capital T in EXIT PURSUED BY A BEAR as Sweetheart, THE PAIN AND THE ITCH as Kalina, and THE MOTHERFUCKER WITH THE HAT as Veronica. Recently, she has performed as a puppeteer with Trouble Puppet Theatre's FRANKENSTEIN as Elizabeth, and Glass Half Full Theatre's PETER AND THE WOLF as the Duck. Other theatrical roles include Tanya in THE NORTH PLAN, and Constance in SHE STOOPS TO CONQUER. Notable film credits are Larry Clark's MARFA GIRL, Matt Muir's THANK YOU A LOT and the self-produced POLLY MERMAID.
Lamballe/Royalist - Claire Grasso
This is Claire's first appearance with Capital T. Claire was most recently seen in Street Corner Arts' production of SKYLIGHT. Up next, she will be playing Phyllida in THE EXPLORERS CLUB at Austin Playhouse. Claire is an Acting Company Member of Austin Playhouse where she has appeared in THE NORWEGIANS, CHICAGO, SHE STOOPS TO CONQUER for which she received a B. Iden Payne nomination for Outstanding Lead Actress in a Comedy, ROARING, THE LIAR, MAN OF LA MANCHA, and A ROOM WITH A VIEW for which she received an Austin Critics' Table nomination for Best Actor in a Leading Role. Other credits include WAITING FOR LEFTY (Street Corner Arts), and IT'S A WONDERFUL LIFE (Penfold Theatre Company). She holds a Bachelors of Arts in Musical Theatre from The University of Tulsa.
Polignac/Mrs. Sauce - Uyen-Anh Dang
Uyen-Anh Dang previously appeared in Capital T's PUNKPLAY as Sue Giki. She graduated from UT at Austin with a B.A. in Theatre and Dance with a focus in Acting. She is a company member of Pollyanna Theatre and has previously been seen in PATTERN PEOPLE, SARAH THE DINOSAUR, & THE BIG BOLT (the last two earning B. Iden Payne's Nominations for Outstanding Actress in Theater for Youth). Other acting credits include: EYE OF THE BEHOLDER (UT/Laboratory Theatre), Berkeley in CHEESE (Salvage Vanguard Theater), Marjoram in THE TRANSITION OF DOODLE PEQUENO (Oscar Brockett & Dallas Children's Theater), JUNIE B. JONES: JINGLE BELLS, BATMAN SMELLS (Paramount Theatre), and other productions during her time at UT as well as various film productions around Austin.
Joseph/Mr. Sauce - Nicholas Saenz
Nicholas previously appeared in Capital T Theatre's DEOXYRIBONUCLEIC ACID last year as Mark. This past January, he concluded a production of AND STILL THE DEAD ONE LAY MOANING, which had its original debut at Frontera Fest 2016. Offstage, Nicholas has performed in numerous film and television projects, most notably NBC Television's Revolution and a recent recurring role on the ABC Television drama, American Crime. His upcoming performance in the film The Superlative Light will world premiere at the 2016 South By Southwest Film Festival.
Louis XVI- Nicholas Mills
Nicholas Mills is honored to make his stage debut in Austin with Capital T Theatre. With a BFA in Theatre from Stephen F. Austin State University, he's proud to have spent time studying abroad at Rose Bruford College in London and the Estonian Academy of Music and Theater in Tallinn, Estonia. He excelled in the practices of Grotowski, Chekhov, Stanislovski, and Meyerhold, which have greatly influenced his acting and teachings as a Drama teacher at Austin High School and O' Henry Middle School today. His current acting credits include Garcin in Firecracker Productions' NO EXIT, the supporting role of TJ in the feature film Bright Ideas, the lead Mike in the web series Placeholders, and lead actor/ writer/ producer in the web series 25 and Married.
Revolutionary/Guard- Karina Dominguez
This is Karina's first appearance with Capital T. She was last seen in the second season premiere episode of John Ridley's American Crime now airing on ABC and in the most recent season of The Leftovers on HBO. Other credits include Amiga Gringa in IN THE BLOOD (Altered Stages), Klytemnaistra/Fury in ORESTES (Cambiare Productions), Pele in OCEANA (Vortex Repertory Company), SYMPHONY OF CLOUDS and THE FUNNYBUN FAMILY PICNIC (Pollyanna Theatre Company), LA PASTORELA (ALTA) and several site specific plays with The Exchange Artists. Also, for the past 5 years she has been working at Fort Hood as part of live, interactive training for soldiers on domestic violence awareness & prevention, and suicide awareness & prevention.
Sheep - Matt Frazier
This is Matt's first acting appearance with Capital T. He most recently appeared as Booth in TOPDOG/UNDERDOG (Viceroys), and Paul, in the Central Park art exhibition DRIFTING IN DAYLIGHT (Creative Time). He splits his time creating in Austin and NYC.
Fersen/Executioner - Delante Keys
This is Delanté's first appearance with Capital T Theatre. Previous credits include ALL THE WAY (ZACH Theatre), LYLA SCHOOL (UT New Theatre), HOPE STREET AND OTHER LONELY PLACES and KID SIMPLE (Azuka Theatre), THE BORROWERS (The Arden Theatre Co.), ONE WHO FLEW OVER THE CUCKOO'S NEST (People's Light & Theatre Co.), ETCHED IN SKIN ON A SUNLIT NIGHT (PlayPenn), THE SEX TAPE PLAY (Philadelphia Theatre Workshop), THE 8: REINDEER MONOLOGUES (BCKSEET Productions), FATEBOOK (New Paradise Laboratories), ROAD, THE NUTCRACKER, and WHAT THE BUTLER SAW (Curio Theatre), SIX DEGREES OF SEPARATION (Allen's Lane Arts Center), BLACK GOLD (InterACT Theatre Co.). Delanté holds a BFA in acting from Arcadia University.
About Director Rosalind Faires
Rosalind is an Austin, Texas-based director, actor, and producer. Last May, she graduated from the University of Texas at Austin with dual degrees in Plan II Honors and Theatre & Dance. Recent directing projects include her undergraduate thesis production of MACBETH at the Off Shoot, a staged reading of C. Denby Swanson's GABRIEL at Southwestern University, and assistant directing Kate Hamill's new adaptation of SENSE AND SENSIBILITY at Dallas Theater Center alongside Sarah Rasmussen.
Capital T's interview with director Rosaline Faires
About Capital T
Capital T Theatre has quickly established itself as one of the leading young theatre companies in Austin. In its brief eight year history Capital T's 32 productions have been nominated for over 150 awards and the plays have been met with both critical and box office success. Every year at least one of Capital T's productions have been nominated or won an award for outstanding production from the B Iden Payne Awards and/or the Austin Critics Table Awards.
Capital T Theatre was founded in October 2005 when theatre artists Tal Lostracco and Mark Pickell sought opportunities for ambitious young artists to present their work in Austin. Since the success of their first production of Edward II, Capital T has fully produced 25 plays in Austin including: A Brief History of Helen of Troy by Mark Schultz, La Dispute by Marivaux, Mr. Marmalade by Noah Haidle, Happy Days by Samuel Beckett, i google myself by Jason Shafer, Blackbird by David Harrower, The Bird and The Bee by Al Smith and Matt Hartley, Killer Joe by Tracy Letts, I ♥ Walmart an Original Script, Sick by Zayd Dohrn, Dying City by Christopher Shinn, Bug by Tracy Letts, Hunter Gatherers by Peter Sinn Nachtrieb, Spirits to Enforce by Mickle Maher, A Lie of the Mind by Sam Shepard, Precious Little Talent by Ella Hickson, and boom by Peter Sinn Nachtrieb, Exit Pursued by a Bear by Lauren Gunderson, The Pain and the Itch by Bruce Norris, Gruesome Playground Injuries by Rajiv Joseph, and The Lieutenant of Inishmore by Martin McDonagh, and The Motherfucker with the Hat by Stephen Adly Guirgis, There is a Happiness That Morning Is by Mickle Maher, Gidion's Knot by Johnna Adams, Punkplay by Greg Moss, Detroit by Lisa D'Amour, Fool for Love by Sam Shepard, DNA by Dennis Kelly, The Strangerer by Mickle Maher, and Year of the Rooster by Eric Dufault, The Dumbwaiter by Harold Pinter.
---
Marie Antoinette
by David Adjmi
Capital T Theatre
Thursdays-Sundays,
March 03 - March 20, 2016
Off Center
2211-A Hidalgo Street
near Robert Martinez and E. 7th Street, behind Joe's Bakery
Austin, TX, 78702
THREE WEEKS ONLY
March 3rd-20th, 2016
Thursday-Sunday at 8pm
The Off Center 2211 Hidalgo St, Austin, TX 78702
Tickets - $15-$30 Sliding Scale Pay-What-You-Can-Afford
www.capitalT.org or 512-537-CAPT
Running Time: 90 minutes without intermission.