Let The Dead Now Speak - A Séance
by Mercurial Theatre
Oct. 14 - Oct. 30, 2016
Fridays-Mondays
ABOUT THE EXPERIENCE
On the cusp of night, in a dimly lit parlor, a wake is taking place. You quietly take your seat among the others, not quite sure why you're here. After all, you didn't know Sarah that well. Maybe you don't belong.
A stranger stands, uninvited. "Would you like to speak to Sarah?" he asks the grieving family. "I can help you speak to her."
Nervous, you move to the table with the others, forming a circle of hands as lights are lowered, candles lit, and the séance begins.
"Sarah? Are you there?"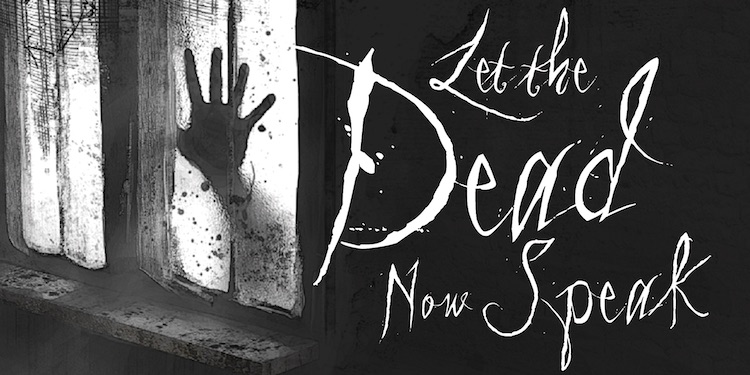 Let the Dead Now Speak is a theatrical experience of immersive and psychological horror. Those in attendance will not be mere onlookers, but active participants directly at the center of the events.
Written and directed by Justin M. West.
Seating for each performance is extremely limited, so advance purchase is recommended or seating cannot be guaranteed.
This show is recommended for mature audiences, and should not be attended by those with heart conditions, a predisposition to seizures, or who have a sensitivity to flashing or strobe lights.
---
Let The Dead Now Speak - A Séance
by Justin M. West
Mercurial Theatre
Fridays-Mondays,
October 14 - October 30, 2016
FRI-SAT OCT 14-29, 2016 AND Monday, Halloween Evening, October 31
Extremely Limited Seating
Recommended for mature audiences
(Doors open 30 minutes before listed time)
Fri, October 14 - 8pm, 10pm
Sat, October 15 - 8pm, 10pm
Fri, October 21 - 8pm, 10pm
Sat, October 22 - 8pm, 10pm
Fri, October 28 - 8pm, 10pm
Sat, October 29 - 8pm, 10pm
Halloween Night - 8pm, 10pm
at
SESSIONS ON MARY , 604 W. MARY ST, AUSTIN, TX, (Click for Directions)
THE CAST

REGAN GOINS
DUSTIN VELASQUEZ
AMBER WILSON
RICHARD ANTHONY
LAUREN GIEBITZ
Get notified when the tickets go on sale: Click to sign up for e-mail notifcation (see bottom of the show paga)