Jun. 17 - Jul. 02, 2016
Fridays-Saturdays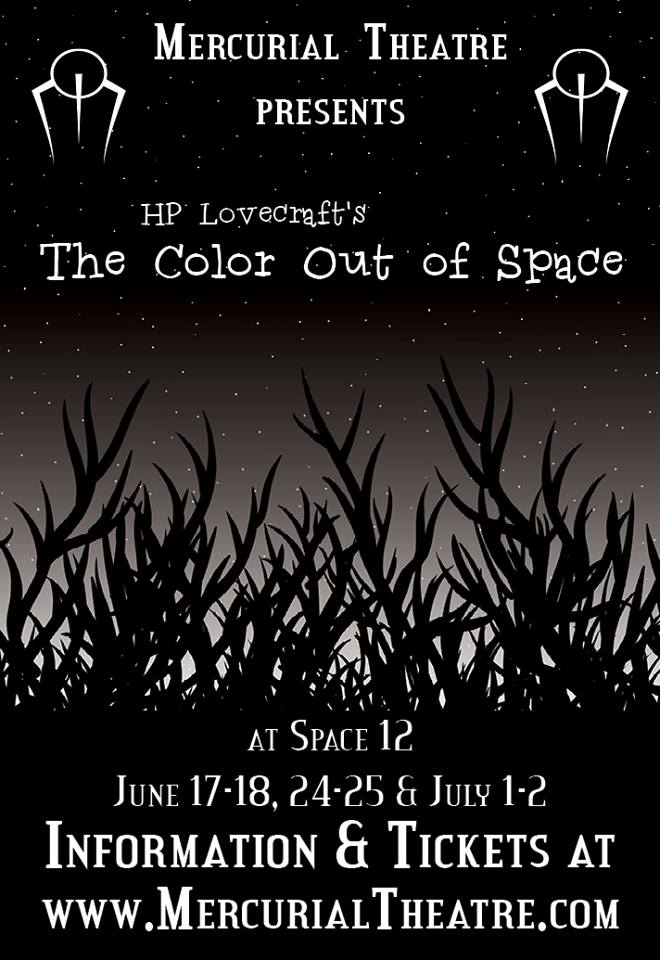 Three strangers arrive on an isolated farm, only to find that their host is nowhere to be found. As night approaches, dread builds as friends of the missing family divulge what has happened since a fateful day when a shooting star touched the land. And when the missing farmer turns up without his family, his madness may be the fate of all who entered that place and saw the color out of space.Adapted and directed by company co-founder Dan Wolff, The Color Out of Space marks the first adaptation for the stage of the HP Lovecraft work of the same name.
Widely regarded as one of HP Lovecraft's finest works, even by Lovecraft, himself, The Color Out of Space represented Lovecraft's first venture into blurring the lines between science fiction and horror.
Join us for this, Mercurial Theatre's maiden performance, as we descend into the dim world of Lovecraft's creation, headlong into the unknowable gray depths of human fear.
THE CAST
Dustin Velasques as Nahum
Tim Olivares as John
Justin West as Garrett
Amber Hales as Lillian
Richard Anthony as Ammi
Michael Rodriguez as Brennon
Adapted from the original short story and directed for the stage by Dan Wolff
www.mercurialtheatre.com
---
The Color Out of Space
by adapted by Dan Wolff from H.P. Lovecraft
Mercurial Theatre
Fridays-Saturdays,
June 17 - July 02, 2016
Space 12
3121 E 12th Street
Austin, TX, 78702
Fridays and Saturdays, June 17 - July 2, 2016
Tickets $16.82 including fees in advance on-line (CLICK HERE) or $20 at the door. General admission.
at Space 12, 3121 E. 12th Street, just west of Airport Blvd, Austin, 78702 (click for map)