Apr. 03 - May. 03, 2015
Fridays-Sundays
Georges is the suave owner of a glitzy drag club on the French Riviera. Partnered romantically with his high-strung star performer, Albin (who goes by the stage name Zaza), the pair live a charmed life—until Georges' son, Jean-Michel, turns up engaged to the daughter of a conservative right-wing politician who's coming to dinner.
Glitter, feathers, and glam sprinkle onto the Woodlawn Theatre's stage this spring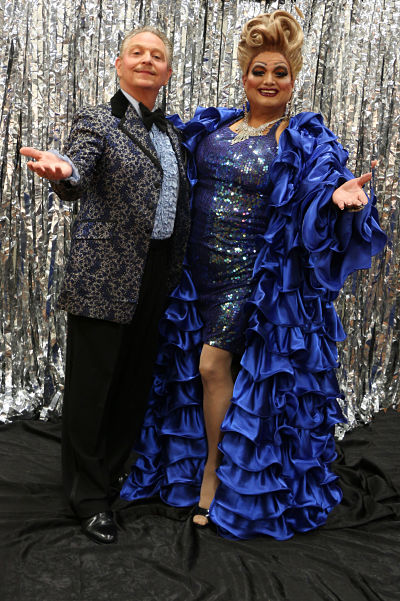 The glamorous production La Cage Aux Folles, a "modern family musical" and Broadway comedy revival, is coming to San Antonio! The show opens Friday, April 3 at the Woodlawn Theatre under the direction of Tim Hedgepeth.
Based on the play by Jean Poiret and book by Harvey Fierstein, La Cage tells the story of Georges, the suave owner of a glitzy drag club on the French Riviera and his partner Albin, the clubs' star performer 'ZaZa'. ZaZa is played by Greg Hinojosa, the Woodlawn Theatre's Artistic Director. The romantically paired couple live a charmed life until George' son, Jean Michel, turns up engaged to the daughter of a conservative right-wing politician who's joining them for dinner.
The production features music and lyrics written by Jerry Herman, which are masterfully directed by Andrew Hendley. Choreographed by Chris Rodriguez, this wild and warmhearted production promises to charm audiences of all ages.
The revival of La Cage Aux Folles is the only musical to win two Tony Awards for Best Revival of a Musical in 2005 and 2010. The original Broadway production was nominated for nine Tony Awards in 1984, winning six of them, including Best Musical, Best Score and Best Book. La Cage later inspired the hit film "The Birdcage" in 1996, starring Robin Williams and Nathan Lane.
The Woodlawn Theatre is San Antonio's historic local theatre, located in the heart of the Deco District at 1920 Fredericksburg Road, just south of Hildebrand. Free parking with security patrol is available.
Click to read feature at www.OutInSA.com, March 27
THE COMPANY:
ALBIN Greg Hinojosa
GEORGES DuWayne Greene
M. DINDON Bob Galindo
MME. DINDON Rebecca Trinidad
JEAN-MICHELE Brian Hodges
ANNE Lauren Silva
JACOB Rick Sanchez
JAQUELINE Amber Nixx Armendariz
FRANCIS Auggie Rodriques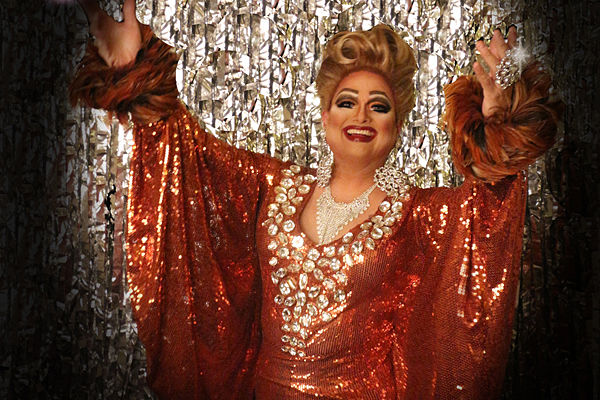 "LES CAGELLES"
MERCEDES Isidro Medina
HANNA Michael J Gonzalez
CHANTAL Joshua Goldberg
MONIQUE AJ Salazar
DERMA Louis Canales
NICOLE Luis Garcia
ANGELIQUE Aaron Tapia
BABETTE Alonzo Corona
BITELLE Alison Hinojosa
LO SINGH Melissa Gonzales
ODETTE Crystal Vera
Clo Clo Alyssa Lopez
TOWNSPEOPLE
M. RENAUD Kristopher Delgado
MME. RENAUD Michelle Vidaurri
HERCULE John Perez
ETTIENE Eric Garcia
TABARRO Josics Bermea
PEPE Alex Valverde
---
La Cage aux Folles, musical
by Harvey Fierstein and Jerry Herman, based on the play by Jean Poiret
Wonder Theatre (formerly Woodlawn Theatre)
Fridays-Sundays,
April 03 - May 03, 2015
La Cage Aux Folles plays through May 3 every Friday and Saturday at 7:30 p.m. and Sunday at 3 p.m. except for Sunday, April 12 at 7:30 p.m. Tickets are on sale now at www.woodlawntheatre.org, at Vendini, or by calling the box office at 210-267-8388. Prices are $17 for students and children, $23 for seniors and military, and $26 for adults. Groups of 10 people or more receive at 20% discount.