Jul. 16, 2016
Saturday
Austin Shakespeare, central Texas' classical theater company, will collaborate with ACMC for the first time to create a music-filled production of Shakespeare's Henry VIII at 7:30 pm on Saturday, July 16th at the University of Texas' beautiful Bates Recital Hall. Part of the 20th Anniversary Austin Chamber Music Festival, this one night only event will feature professional actors in Tudor period costume performing alongside a piano quintet.
Shakespeare's historical drama focuses on the life and times of King Henry VIII, who annuls his marriage with his first wife in order to marry Anne Boleyn, changing England forever in the process. The selected scenes from Henry VIII will be accompanied by acclaimed pianist Michelle Schumann and festival musicians, who will play a variety of composers from Brahms to Borodin and Schubert to Smetana.
Austin Shakespeare Artistic Director Ann Ciccolella expressed her enthusiasm for the collaboration, "We have been seeking to create a provocative evening with ACMC Artistic Director Michelle Schumann. After seeing a film underscored with chamber music, Michelle became inspired to use various composers under Shakespeare! The Romantic era music selections are gorgeous, and the blistering dramatic scenes are rarely performed."
Actors include Equity Union members André Martin as the younger Henry VIII and Babs George as his bold Queen Katherine. They'll be joined by Austin actors Michael Miller as the clever Cardinal Wolsey; Liz Beckham as Shakespeare's winsome take on Anne Boleyn; Sam Grimes as the political Archbishop Cranmer; and Robert Faires in multiple roles including Thomas Cromwell.
The Austin Chamber Music Festival quintet includes Michelle Schumann, piano; Leigh Mahoney and Christabel Lin, violins; Ames Asbell, viola; and Douglas Harvey, cello.
CREATIVE TEAM
Director – Ann Ciccolella
Costume Designer – Jennifer Rose Davis
Lighting Designer – Patrick Anthony
ABOUT AUSTIN SHAKESPEARE: Founded in 1984 and the only professional classical theater company in Central Texas, Austin Shakespeare presents professional theatre of the highest quality with an emphasis on the plays of William Shakespeare, bringing to the public performances that are fresh, bold, imaginative, thought-provoking, and eminently accessible, connecting the truths of the past with the challenges and possibilities of today. In the fall and spring, Austin Shakespeare produces plays by Shaw, Schiller, and Stoppard at The Long Center for the Performing Arts Rollins Studio Theatre. Austin Shakespeare's ongoing "Shakespeare Aloud" reading group and "Artist's Way" sessions invite new participants weekly. Austin Shakespeare's education program 20/20 sends professional actors into the schools to encourage love of language.
ABOUT AUSTIN CHAMBER MUSIC CENTER: The Austin Chamber Music Center was founded in 1982 and is dedicated to serving Central Texans by expanding knowledge, understanding, and appreciation of chamber music through the highest quality instruction and performance.
Austin Shakespeare and Austin Chamber Music Center are proud members of the Austin Creative Alliance.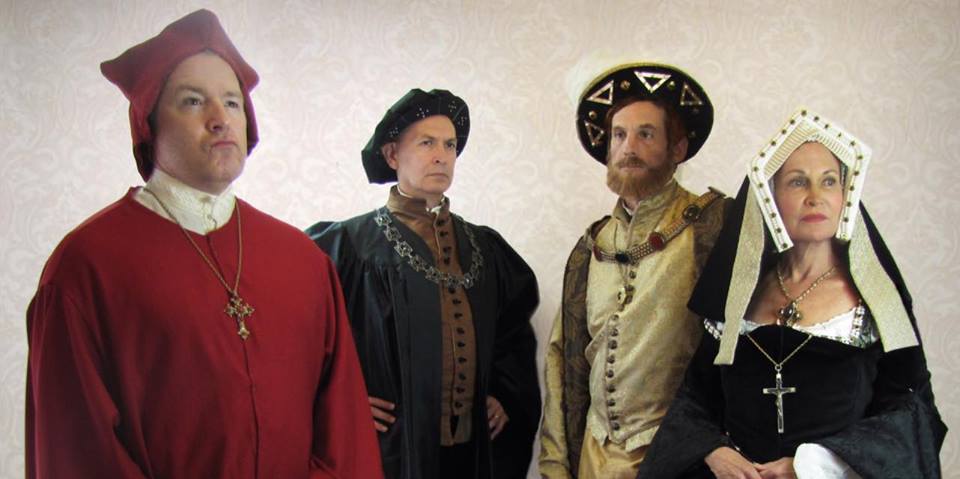 in period costume by Jennifer Rose Davis with André Martin as Henry; Babs George as Queen Katherine; Lizzie Beckhamas Anne Boleyn; Michael Miller as Cardinal Woolsey; Samuel Grimes as Cranmer.
---
Henry VIII scenes
by William Shakespeare, adapted by Alex Garza
Austin Shakespeare
Saturday,
July 16, 2016
Bates Recital Hall
2406 Robert Dedman Drive
Butler School of Music, University of Texas
Austin, TX, 78712
Tkts now on-sale via

Box Office opens at 6:30 pm, doors open at 7 pm
Premium Seating $50 - Guaranteed general admission seating in Rows A-F

General Admission $25- any seat in Rows G-Z


If you need Wheelchair seating please contact the box office directly at 512.454.0026Bates Recital Hall, Butler School of Music
ATTENTION: NO FREE PARKING ON CAMPUS AT ANY TIME.
The University of Texas has removed any and all free parking on campus. We know parking can be an issue so we've included some helpful information on how and where to park. Be sure to read all signs carefully to avoid getting a ticket. Even on the weekends so please give yourself plenty of time to find a parking space.
Parking in the LBJ Library Parking lot is for UT parking permit holders only.
PAY TO PARK GARAGES: The closest Parking Garage to Bates Recital Hall is the San Jacinto Garage located at 2401 San Jacinto Boulevard. Additional parking for performances at Bates can be found at the Manor Garage (2017 Robert Dedman Dr corner of Clyde Littlefield & Robert Dedman).
FREE PARKING OPTIONS: There are parking meters that extend all along Dean Keeton and Red River. These belongs to the City of Austin and are FREE after 6pm Mon-Sat and all day Sunday. Please be sure to check the meters to verify times. They accept coins and Visa or MC. Anything else on campus, including the LBJ Library belongs to UT and requires a permit at all times.