Oct. 28 - Nov. 15, 2015
Wednesdays-Sundays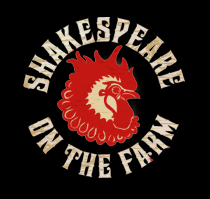 En Route Productions and Shakespeare On The Farm present "As You Like It"
We are happy to announce some cosponsors for this event including The Steeping Room, Hops and Grain Brewery, and Dripping Springs Vodka. So you know what that means, bring a blanket and enjoy the bard with an assortment of free beverages!

Anyone and everyone is welcome and as always, Shakespeare on The Farm is free! But we certainly do love donations. throw us a $20 or throw us some change, every penny goes to support creating these magical events.

All the world is indeed a stage, come see us take over a farm!
As You Like It follows its heroine Rosalind as she flees persecution in her uncle's court, accompanied by her cousin Celia to find safety and, eventually, love, in the Forest of Arden. In the forest, they encounter a variety of memorable characters, notably the melancholy traveller Jaques who speaks many of Shakespeare's most famous speeches (such as "All the world's a stage" and "A fool! A fool! I met a fool in the forest"). Jaques provides a sharp contrast to the other characters in the play, always observing and disputing the hardships of life in the country.
[-- Wikipedia]
[photo via Enroute Production]
[poster by Sarah at Eye Like Productions]
---
As You Like It
by William Shakespeare
En Route Productions
Wednesdays-Sundays,
October 28 - November 15, 2015
7:30 p.m. at Rain Lily Farm, AUstin.
Opening weekend rained out; Wednesday performances added for following weeks.
Free for all; donations accepted on-line and at the venue.