Sep. 22 - Oct. 15

Opening our 24th season is the delightfully dark comedy about women scorned in Minnesota and the really, really nice gangsters-Norwegian hit men-they hire to whack their ex-boyfriends. Austin Playhouse produced the Austin premiere by local playwright C. Denby Swanson in 2015. We're thrilled to bring back Tor, Gus, Olive, and Betty for another round!
Casting for The Norwegians includes Austin Playhouse Acting Company members Sarah Zeringue as Olive, Ben Wolfe as Gus, Sarah Fleming Walker as Betty, and Lowell Bartholomee as Tor.
Feature by Michael Barnes, Austin Statesman, September 20, 2023
Review by Bob Abelman, Austin Chronicle, September 28, 2023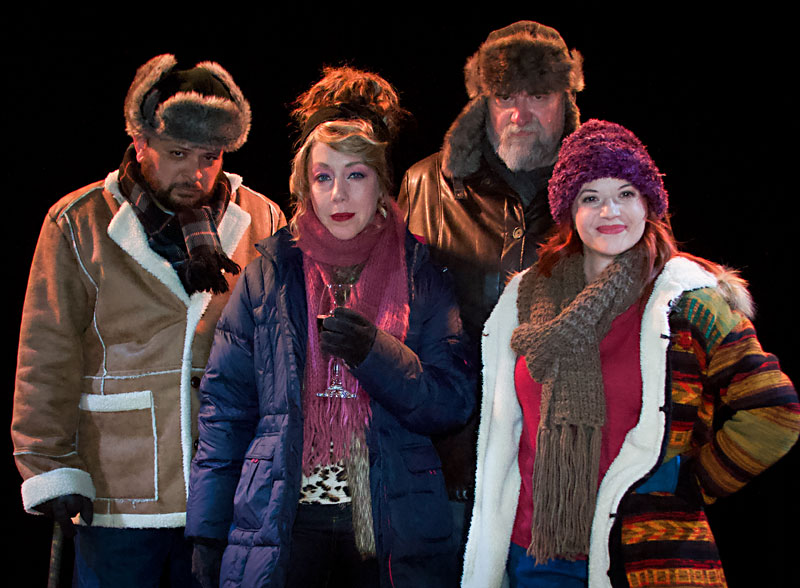 "I am more excited than is Norwegianly appropriate for Austin Playhouse's second at-bat with my play. During the Great Pandemic Summer of 2020, some people focused on fitness or health. I tried to write more jokes," said playwright C. Denby Swanson. "So, this new draft of The Norwegians is still that dark comedic take on love, betrayal, and connection, but more efficient and more filled with laughter. The creative team of this production is already a joy before we've even started rehearsal. I'm super excited to see them hit it out of the park."
Directed by Lara Toner Haddock. The production team also includes costume design by Glenda Wolfe, lighting design by Mark Novick, set design by Mike Toner, properties design by Sarah Chong Dickey, sound design by Robert S. Fisher, video design by Lowell Bartholomee, with Barry Miller as the Stage Manager.
The performances will take place at Austin Playhouse's new interim performance space located in the heart of West Campus at 405 West 22nd. Free street parking is available with paid parking conveniently located one block away at the UT Co-Op Parking Garage at 2214 San Antonio.
*THE NORWEGIANS is for mature audiences and contains adult language and themes.
---
The Norwegians
by C. Denby Swanson
Austin Playhouse
September 22 - October 15, 2023
September 22 - October 15, 2023
Thurs – Sat at 8:00 p.m. | Sun Oct 1 & 8 at 5:00 p.m. | Sun Sept 24 & Oct 15 at 2:00 p.m.
Added matinee at 2 p.m. on Saturday, October 14
Austin Playhouse (new West Campus location) | 405 West 22nd | Austin TX 78705
austinplayhouse.com/norwegians
Tickets are $34-38; with Pick-Your-Price Thursdays and Half-Price Student Tickets are available at austinplayhouse.com.
Group discounts are available for parties of 10+ with a pre-show party reception room available. Group inquiries can be made at boxoffice@playhouse.com