Mar. 04 - Mar. 07
Thursday-Sunday
The story of Alice Murphy whose path is woven with that of a young man named Billy, with whom she shares a mysterious connection. As a teen, Alice Murphy is in love with Jimmy Ray, the mayor's son. Although their love was pure, it falls victim to the interference of ambitious parents, and their infant son is whisked away before their happy ending could ever begin. More than two decades later, Alice is the successful editor of The Asheville Southern Journal and meets a promising young writer named Billy. Eventually, they realize that they share a hometown, and when Alice sees the handmade sweater she knitted for her baby twenty years before in his personal belongings, she realizes that he is the son she lost so long ago.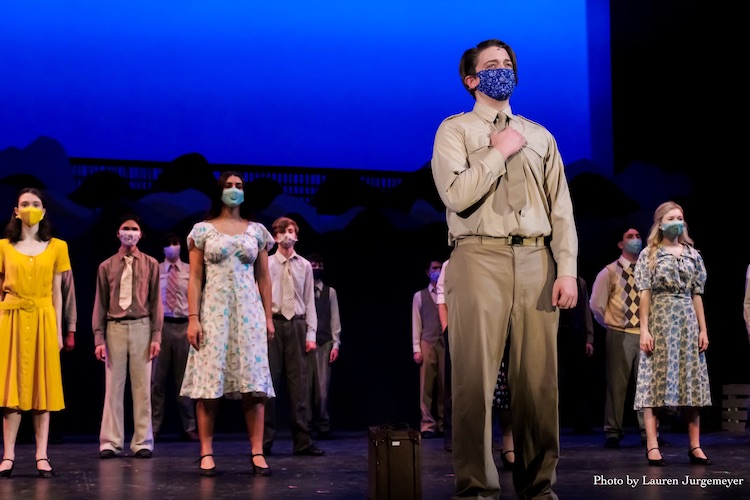 Written and composed by Steve Martin and Edie Brickell, the musical was up for several Tony Awards in 2016; but was overshadowed by the debut of "Hamilton." The musical is based on the story of William Moses Gould Helms or the Iron Mountain Baby. Helms was found as a baby in a suitcase under a railroad trestle after being throw from a train.
In truth, the circumstances surrounding Helms' abandonment never came to light. Still, Martin and Brickell crafted a story inspired by Helms that satisfies audiences by offering context and closure—both of which the true-story does not feature.
Set in North Carolina during the '40s, the plot features contextual flashbacks to the '20s. Dramaturg Kristina Silva heavily researched the two eras so that modern students can execute the story to the best of their abilities.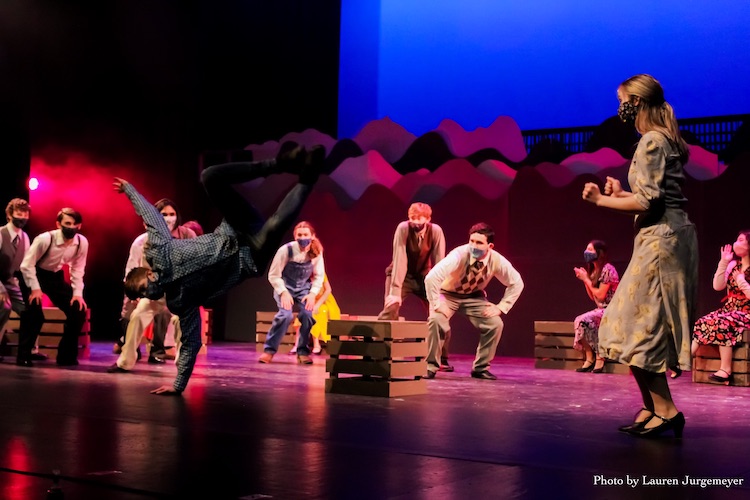 "With a show like this one that takes place 100 years ago," Silva said, "It's crucial to get your facts and research straight."
Silva--is also part of the ensemble and a dance captain--supplied her castmates with a presentation on her findings. Silva said she tried to provide everyone with historical events, social and geographical facts relevant to the period.
"After sharing information like this, you see people make their own stories," Silva said, "Even in the chorus, where they become more than background support, but bartenders, lively teenagers, or nagging farmers in this town we have created."
Alice Murphy (Olivia White) opens the musical with "If You Knew My Story," which foreshadows the events that occur throughout the musical—most of which-- happened in the past. The musical takes place simultaneously in the '20s and post-World War II '40s.
Teenage Alice Murphy and her paramour Jimmie Ray Dobbs (Noah Ricciardelli) are the centers of the '20s storyline, taking place in Zebulon, North Carolina. Billy Cane (Josh Tolosa), the protagonist of the '40s timeline, meets adult Alice Murphy, a magazine editor when he submits stories to the journal. With the two's paths converging, more about Alice Murphy's past is revealed, and the connection between the two characters becomes more evident throughout the show.
"Vocally speaking, this role is definitely the hardest and most trying opportunity I've had," White said. "Singing with accuracy, while also staying in touch with the emotional aspect of the character is tough, but I'm so grateful for the challenge."

Cast:
Alice Murphy: Olivia White
Billy Cane: Josh Tolosa
Daddy Cane: Brett Chelf
Margo Crawford: Carolyn Lindberg
Darryl Ames: Ryan Swetonic
Lucy Grant: Emma Sanchez
Mama Murphy: Anna Housley
Daddy Murphy: Cameron Duggins
Mayor Josiah Dobbs: Jack Jurgemeyer
Jimmy Ray Dobbs: Noah Ricciardelli
Stanford: Josiah Galindo
ACTING ENSEMBLE:
Trevor Strock. William Moeller, Ransom "Steven" Entrekin, Alex Parra, Dylan Richmond, Ryan Healy, Preston White, Lina Antunes, Allison Lutz Gabriela Rivera, Emma Beck, Cassie Westlund, Kristina Silva, Aundrea Suhl
VOCAL ENSEMBLE:
Reganne Ardourel, Soraya Manuele, Zoey Guerra, Gabriella Rice, Catarina Contreras, Cooper Lutz, Shaun Thornton, Jackson Wilder, Mason Oberlin
Photos and Artwork by Lauren Jurgemeyer
---
Bright Star
by Steve Martin, Eddie Brickell
Reagan Stage
Thursday-Sunday,
March 04 - March 07, 2021
Streaming
via internet
Everywhere, TX, 78700
Streaming via BookTix with streaming passes available on reaganstage.org
Five Performances: Thursday, March 4- Sunday, March 7, 2021
Thursday, March 4 at 7:00 p.m.
Friday, March 5 at 7:00 p.m.
Saturday, March 6 at 7:00 p.m.
Sunday, March 7 at 2:00 p.m.
Tickets: $20 household, $10 individual