Nov. 18 - Nov. 21, 2020
Wednesday-Saturday
A dramatized, partially fictitious account of the Salem witch trials. When a group of young girls in Puritan Massachusetts become afflicted by what they claim to be witchcraft, the town goes into a frenzy of accusations against one another. With innocents being claimed by the noose, Miller's classic play provides an allegory for McCarthyism and the Red Scare of the '50s.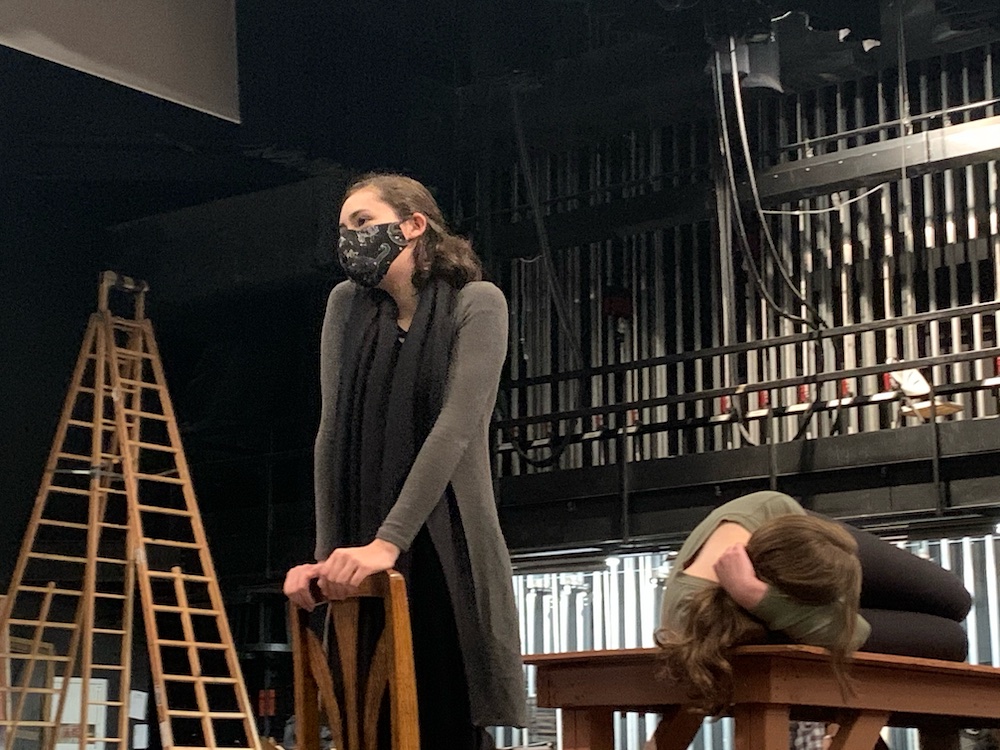 Ronald Reagan High School theatre students in San Antonioare preparing to film a virtual production of Arthur Miller's "The Crucible" that will be available Nov. 18-21, 2020.
"The Crucible," was written as an allegory for McCarthyism and the Red Scare in the '50s. Quinn Kent, the stage manager, said that though the play is nearly 70 years old, it is still relevant and is similar to the current political and social climate in America.
"I think everyone is going to take something different out of the show, whether it's about self-victimization, deflection of blame, cancel culture or any of the other topics the show casts light on," Kent said. "' The Crucible' is always socially relevant, especially considering all the controversies and arguments surrounding our current political environment."
Initially, the Miller classic was going to be in Reagan's Black Box Theatre; however, directors James Kaiser and Paul Fillingim opted to move the show to the larger mainstage theatre to comply with CDC and district regulations.
Junior Peyton Richard (Judge Danforth) said this production has a particular challenge: an intimate text with socially-distanced blocking. She explained that having a scene partner so far away during an emotionally tense scene has been something that the students have had to work around.
Fellow student senior Kristina Silva (Abigail Williams) agreed with the difficulty, but she said there has also been a silver lining. Reagan Stage students are now learning film acting rather than only stage acting.
"It's cool that we can bend a few of the rules that you usually have to follow onstage," Silva said. "Like sometimes we can have our backs completely to the audience for the cinematic effect of it all."
Along with her fellow students, Silva is working hard to put together a behind-the-scenes vlog series to countdown to opening night. Visit Reagan Stage's Instagram (reaganstagesa) to keep up with the daily videos.
Reagan Stage's production of Miller's "The Crucible" will be presented virtually on Nov. 18-21 at 7:00 p.m. Streaming passes for individuals and households are available through reaganstage.org.
Cast:
Samuel Parris: Josh Martinez
Betty Parris: Mackenzie Oberlin
Tituba: Traniece Burnett
Abigail Williams: Kristina Silva
Susanna Walcott: Aundrea Suhl
Ann Putman/Sarah Goode: Cassie Westlund
Thomas Putnam: Josiah Galindo
Mercy Lewis: Mia Annillo
Mary Warren: Emma Beck
John Proctor: Jack Jurgemeyer
Rebecca Nurse: Olivia White
Giles Corey: Noah Ricciardelli
Reverend John Hale: Brett Chelf
Elizabeth Proctor: Emma Sanchez
Francis Nurse: Dylan Richmond
Judge Hawthorne: Lauren Perkins
Dept. Gov. Danforth: Peyton Richard
Marshall Herrick: River Phillips
Ezekiel Cheevers: Katie Eanes
Hopkins: Ryan Healy
GUARDS/PEOPLE OF THE COURT
Jackson Wilder, William Lunsford
Poster design by Lauren Jurgemeyer
---
The Crucible
by Arthur Miller
Reagan Stage
Wednesday-Saturday,
November 18 - November 21, 2020
Streaming
via internet
Everywhere, TX, 78700
Streaming via ShowTix4U with streaming passes available on reaganstage.org
Four Performances, Wednesday, Nov. 18- Saturday, Nov. 21, 2020
Wednesday, Nov. 18 at 7:00 p.m.
Thursday, Nov. 19 at 7:00 p.m.
Friday, Nov. 20 at 7:00 p.m.
Saturday, Nov. 21 at 7:00 p.m.
Cost:
$15 household, $8 individual per device