May. 08 - May. 26
Wednesdays-Sundays
Austin Shakespeare will bring the romance, comedy and dramatic clashes of The Merchant of Venice to the Beverly S. Sheffield Zilker Hillside Theater in May.
Produced in collaboration with the City of Austin Parks and Recreation Department for the 35th year, Shakespeare's famous play will be performed under the stars from May 9 to May 26, 2019 on Thursdays to Sundays at 8 p.m., with a preview performance on Wednesday, May 8.
Austin Shakespeare's interpretation of The Merchant of Venice will be set in the Belle Époque of 1890s Italy, which was characterized by fashionable women and flashy gentlemen. "Venice was the center of multi-cultural trade and lively romance," said Austin Shakespeare Artistic Director Ann Ciccolella on the choice of setting. "The late 19th Century is a time of change from old aristocracy struggling with a powerful merchant class. Plus it's simply a gorgeous time for our costumes."
At the center of the play is the dramatic courtroom conflict between Shylock, played by Marc Pouhé as a Black Jew in an unusual twist, and Portia, disguised as a male lawyer, battling over "a pound of flesh."
"Surprisingly, Shakespeare himself called the play a romantic comedy with its plots of love and mystery," Ciccolella said. "We often forget that there are three romantic couples by the end of 'Merchant'. The play will climax with a light-hearted waltzing masquerade."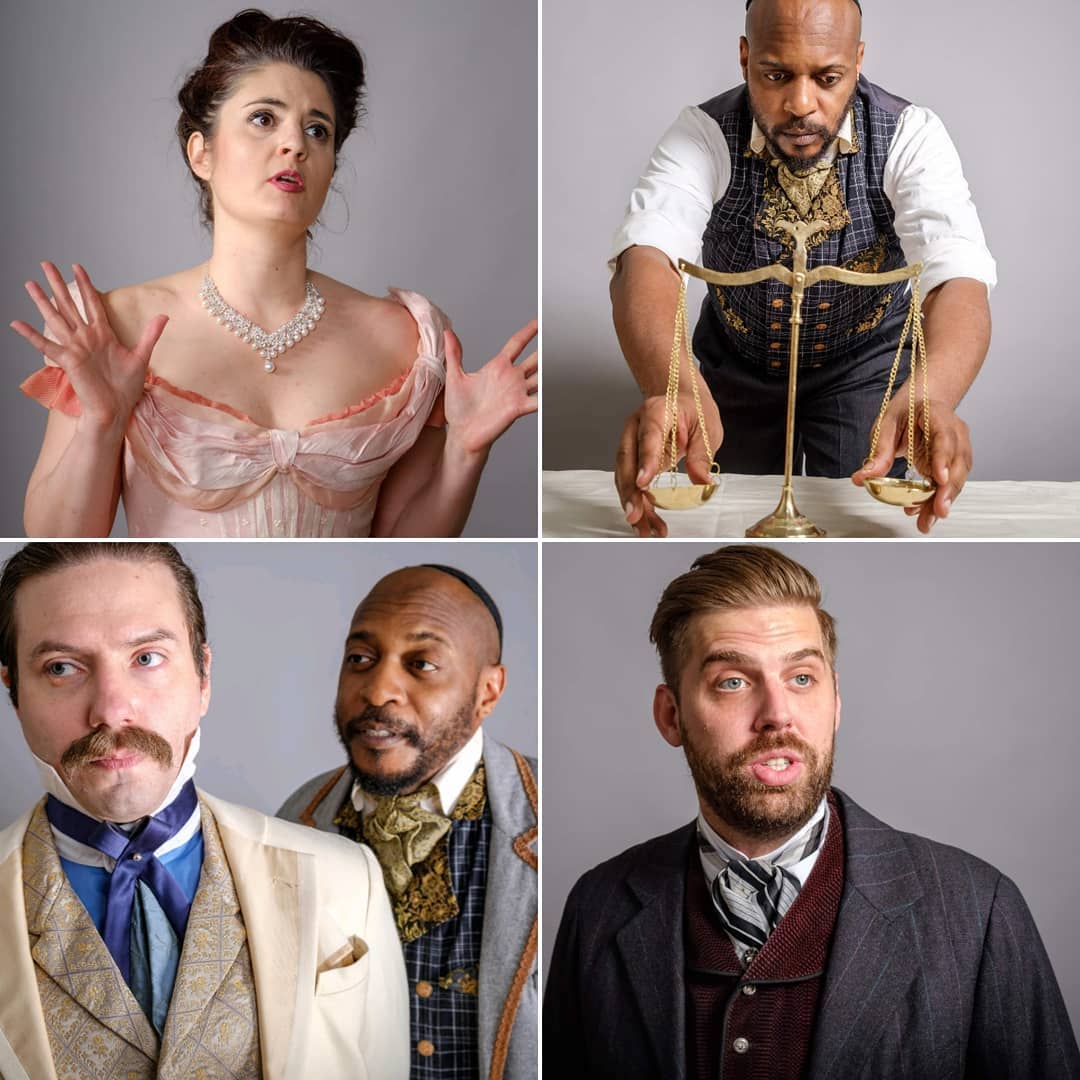 Professional Actors' Equity Austin Shakespeare alumn Gwendolyn Kelso will appear as Portia. Kelso portrayed Maggie this fall at the Long Center's Rollins Theater in Cat on a Hot Tin Roof. Devin Finn plays the romantic young man, Bassanio, who must borrow money through his good friend, the merchant, played by Keith Paxton. From Austin Shakespeare's recent Indian Ink cast are Sidd Kumar and Christopher Gonzalez. Max Green is the clown, Launcelot Gobbo; Patrick Schmidt, the judge; Valoneecia Tolbert as Shylock's daughter, Jessica. Emily Christine Smith plays Portia's side-kick, Nerissa--and the singer in the romantic turning point. Actors new to Austin Shakespeare are Zach Barrett, Nick Ivons, and Michael Connelly as the comic Gratiano.
The audience is encouraged to bring blankets, low chairs, and a picnic to enjoy their evening on the grassy hillside. Some chairs are available. The City of Austin is committed to compliance with the American with Disabilities Act. Zilker Hillside Theater is accessible to all audience members. Alcohol and glass containers are prohibited in all City of Austin parks.
CREATIVE TEAM:
Artistic Director: Ann Ciccolella
Scenic & Light Designer: Patrick Anthony
Costume Designer: Aaron Kubacak
Sound Designer: Lowell Bartholomee
ABOUT ANN CICCOLELLA, Artistic Director: Ann Ciccolella joined Austin Shakespeare as artistic director in August 2007, following an eight-year tenure at Austin's ZACH Theatre as managing director and executive director at Austin Circle of Theaters for nine years. Ciccolella led the Renaissance Theater Company for ten years, producing and directing Off-Off Broadway shows. Prior to moving to Austin, Ciccolella served for three years as associate director for Shakespeare on Wheels at the University of Maryland, Baltimore County. In 2013 for Austin Shakespeare she directed a new adaptation of Ayn Rand's Anthem, adapted by Jeff Britting, Off-Broadway at the Baryshnikov Arts Center.
ABOUT AUSTIN SHAKESPEARE: Founded in 1984 and the only professional classical theater company in Central Texas, Austin Shakespeare presents professional theater of the highest quality with an emphasis on the plays of William Shakespeare, bringing to the public performances that are fresh, bold, imaginative, thought-provoking, and eminently accessible, connecting the truths of the past with the challenges and possibilities of today. In the fall and spring, Austin Shakespeare also produces plays by Williams, Schiller, and Stoppard as a Resident Company of the The Long Center for the Performing Arts, Rollins Studio Theatre. Austin Shakespeare's ongoing Shakespeare Aloud reading group and Artist's Way sessions invite new participants weekly. Austin Shakespeare's education program 20/20 sends professional actors into the schools to encourage love of language.
---
The Merchant of Venice
by William Shakespeare
Austin Shakespeare
Wednesdays-Sundays,
May 08 - May 26, 2019
May 9 - 26, 2019
Thursdays - Sundays at 8 pm
Preview on Wednesday, May 8 at 8 pm
Beverly S. Sheffield Zilker Hillside Theatre
across from Barton Springs Pool
FREE TO THE PUBLIC
Bring a blanket and a picnic after a swim in Barton Springs Pool and enjoy one of Austin's great traditions.
[poster by Mackenzie Dunn]