Apr. 29 - May. 12, 2019

Austin Playhouse is excited to announce the world premiere of local author Katherine Catmull's adaptation of her middle grade novel Summer and Bird.
Starring as sisters Summer and Bird are Sarah Chong Harmer, recently seen in Hyde Park Theatre's A Doll's House Part 2 and Madi Palomo, who starred in Austin Playhouse's Theatre for Youth production of The Smartest Girl in the World last season.
When their parents disappear, young sisters Summer and Bird are transported to the fantasy bird world, Down, in a quest to reunite their family. Summer and Bird are quickly separated and go in very different directions as they seek their missing parents, vanquish the evil Puppeteer, lead the talking birds back to their Green Home, and discover the identity of the true bird queen. The two sisters learn valuable lessons along the way, but the most important lesson is that the strength of a families' love exists no matter the distance.
Austin Playhouse commissioned Katherine Catmull's adaptation of Summer and Bird from her acclaimed middle grade novel.
Interview of author Katherine Catmull by Marie Fahlgren, May 3, 2019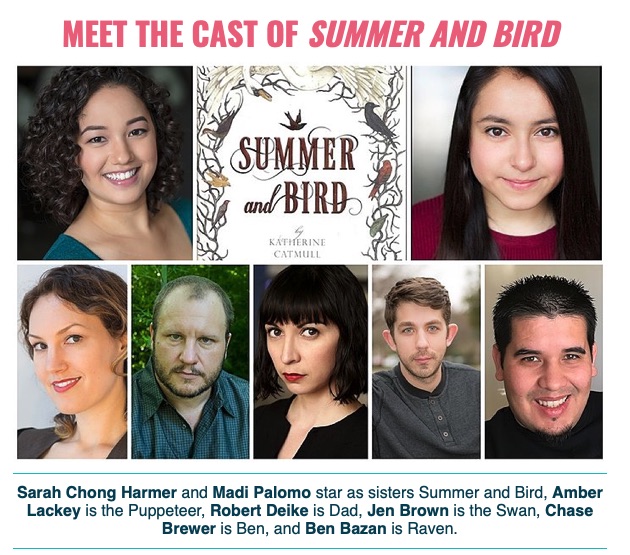 ---
Summer and Bird
by Katherine Catmull
Austin Playhouse
May 3 - 12, 2019
Recommended for ages 7 - 12, but appropriate for the whole family.
Children under 4 will not be admitted to evening shows.
Fridays at 7:30pm, Saturdays at 2pm and 7:30pm, and Sundays at 2pm.