Apr. 03 - May. 12, 2019
Wednesdays-Sundays
Take a journey through the world of TIME Magazine's #1 Show of the Year, Roald Dahl's Matilda The Musical! Matilda is an extraordinary little girl who dares to take a stand and change her destiny. When she has finally had enough of her unscrupulous parents and tyrannical headmistress, she enlists the help of her friends—and favorite teacher Miss Honey—and bravely takes matters into her own hands to become the biggest little hero. Matilda is sure to delight and empower audiences of all generations.
ZACH Theatre announces cast for the Austin premiere of the Tony Award®-winning hit Roald Dahl's Matilda The Musical, running April 3 – May 12, 2019 in The Topfer. Based on the much-loved children's book by Roald Dahl, featuring music and lyrics by Tim Minchin, and a Tony Award®-winning book by Dennis Kelly, ZACH's Associate Artistic Director Abe Reybold and Director of Education Nat Miller will co-direct this riotously uplifting musical that will make audiences of all generations burst with joy.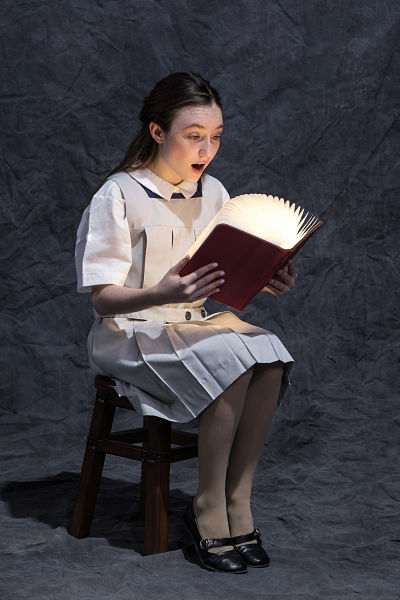 ZACH's Associate Artistic Director Abe Reybold explains why co-directing Matilda the Musical with Nat Miller (Director of Education) is important to him. "Matilda celebrates the power of the imagination and the courage it takes to take a stand. We are thrilled to be working with a marvelous design team, 30 talented students from ZACH's pre-professional programs and classes along with seasoned local actors participating together in one of the largest and most exciting productions in ZACH's recent history. Matilda will be performing several school shows over its run, giving more than 5,000 local students the opportunity to experience a production from ZACH's Mainstage Season."
Expanding on co-directing Matilda the Musical, Director of Education Nat Miller states, "I am very excited about giving school groups the ability to see matinees of one our mainstage shows, ensuring that all kids have access to the Topfer no matter their economic background. This helps us keep our promise that we turn no child away and are fully committed to arts education in central Texas. I'm also thrilled that so many of our students will be featured in this show, as it will showcase the incredible Pre-Professional Company as one of the top musical-training programs in the country. The development of this young talent is a huge testament to Jen Young and Josh Weschler and the program they have built."
The title role of Matilda will be shared by the talented performers CHLOE VAN DE GRAAF and ALEXA NELAN.
Matilda the Musical will also star J. ROBERT MOORE as terrible headmistress Miss Trunchbull; LAURA LYMAN PAYNE as Matilda's caring teacher Miss Honey; ANDRÉ MARTIN and SARA BURKE as Mr. and Mrs. Wormwood, Matilda's insufferable parents; and LARA WRIGHT as the loveable librarian Mrs. Phelps.
Matilda will be joined at Crunchem Hall Primary Schoo by the other pupils l played by WILL MAY and WILKES GOODNER as Bruce; SLOANE JOHNSON and BLAKENEY MAHLSTEADT as Lavender; LOGAN MARCUM and RYAN GU as Nigel; PAIGE RILEY and STELLA BLUE FRYE-GINSBERG as Amanda; BRUCE BOWEN and CAMERON REDWINE as Eric; ALYSA SPIRO and SAMANTHA BEAM as Alice; MARIELA DENSON and ELLI GRACE HODGES as Hortensia; BEATRIX McDANIEL and ELLA RUTMAN as Tommie; with JACK WEAVER and BRECKIN MURPHY as her brother Michael Wormwood.
Rounding out the adult cast: TYLER JONES as The Escapologist; PAUL SANCHEZ as Doctor/Sergei/Cool; ERNEST SAUCEDA as Rudolpho; EBONY CRICHLOW as Acrobat; BEN GIBSON as Counselor; JAUKEEM BALCOM as Dad; MERCY BOVIK, CAMRYN LAMONTAGNE, ZOE PARKINSON, AUSTIN DUNN, CARLI VINCIGUERRA, OWEN SCALES, and ANDERSON ZOLL as ensemble members; and ALEXA GRACE GODWIN and ARAYA FEENEY as swings.
Directed by ABE REYBOLD and NAT MILLER, the production team also includes ALLEN ROBERTSON as Music Director, JEN YOUNG as Choreographer, MICHELLE NEY as Scenic Designer, STEPHANIE BUSING as Projection Designer, SUSAN BRANCH TOWNE as Costume Designer, SERRET JENSEN as Hair and Makeup Designer, MATT WEBB as Lighting Designer, CRAIG BROCK as Sound Designer, SCOTT GROH as Properties Designer, AMANDA COOLEY DAVIS as Dialect Coach, and CATHERINE ANNE TUCKER as Stage Manager.
Age recommendation: 6 and up; No children under the age of 3 will be admitted into the theater.
Run time: Two hours and 30 minutes including one intermission.
CAST
J. Robert Moore – Miss Trunchbull
Laura Lyman Payne – Miss Honey/Mum
Sara Burke – Mrs. Wormwood
André Martin – Mr. Wormwood
Tyler Jones – The Escapologist/Henchmen #2/Dad
Paul Sanchez – Doctor/Sergei/Cook
Ernest Sauceda – Rudolpho/Dad/Dance Captain
Lara Wright – Mrs. Phelps/Mum
Ebony Crichlow – Acrobat/Mum/Henchmen #4
Ben Gibson – Counsler (aka Party Entertainer)/Henchmen #1
Jaukeem Balcom – Dad/Henchmen #3
Chloe Van De Graaf – Matilda
Alexa Nelan – Matilda
Will May – Bruce
Wilkes Goodner – Bruce
Sloane Johnson – Lavender
Blakeney Mahlsteadt – Lavender
Logan Marcum – Nigel
Ryan Gu – Nigel
Paige Riley – Amanda
Stella Blue Frye-Ginsberg – Amanda
Bruce Bowen – Eric
Cameron Redwine – Eric
Alysa Spiro – Alice
Samantha Beam – Alice
Mariela Denson – Hortensia
Eli Grace Hodges – Hortensia
Beatrix McDaniel – Tommie
Ella Rutman – Tommie
Jack Weaver – Michael Wormwood/Ensemble
Breckin Murphy – Michael Wormwood/Ensemble
Mercy Bovik – Ensemble
Camryn Lamontagne – Ensemble
Zoe Parkinson – Ensemble
Austin Dunn – Ensemble
Carli Vinciguerra – Ensemble
Owen Scales – Ensemble
Anderson Zoll – Ensemble
Alexa Grace Godwin – Swing
Araya Feeney – Swing
Claire Sarman – U/S Miss Honey
PRODUCTION TEAM
Abe Reybold – Director
Nat Miller – Director
Allen Robertson – Music Director
Jen Young – Choreographer
Michelle Ney – Scenic Designer
Stephanie Busing – Projection Designer
Susan Branch Towne – Costume Designer
Serret Jensen – Hair and Makeup Designer
Matt Webb – Lighting Designer
Craig Brock – Sound Designer
Scott Groh – Properties Designer
Amanda Cooley Davis – Dialect Coach
Catherine Anne Tucker – Stage Manager
Megan Cathleen Smith – Assistant Stage Manager
Kat Kennedy – Assistant Stage Manager
About ZACH Theatre
A non-profit organization, ZACH creates intimate theatre experiences that ignite the imagination, inspire the spirit, and engage the community. As Austin's leading professional producing theatre, ZACH employs more than 250 actors, musicians, and designers annually to create its own diverse array of nationally recognized plays and musicals under the leadership of Producing Artistic Director Dave Steakley and Managing Director Elisbeth Challener. Each year, ZACH serves nearly 128,000 Central Texans – 55,000 of whom are children and youth who participate in our education and outreach programs and inspiring camps and classes. ZACH Theatre is honored to host private and community events across the beautiful rental-ready spaces on our three-stage campus located in the heart of Austin. Founded in 1932, ZACH is the longest continuously running theatre company in the state of Texas, and one of the ten oldest in the country. Visit www.zachtheatre.org for more information.

ZACH Theatre's 2018–19 Season is sponsored in part by The Moody Foundation, Baylor Scott & White Health, Dell, and Holiday Inn-Lady Bird Lake; and by grants from The Shubert Foundation, Junior League of Austin, The National Endowment for the Arts, Texas Commission on the Arts, the Cultural Arts Division of The City of Austin Economic Development Department, and Applied Materials.
---
Matilda, the musical
by Dennis Kelly, Tim Minchin, after Roald Dahl's book
Zach Theatre
Wednesdays-Sundays,
April 03 - May 12, 2019
Wednesdays through Saturdays at 7:30 pm and Saturday and Sundays at 2:30 pm, with matinee performances at 11 am on Wednesdays and Thursdays.
April 3 – May 12, 2019
The Topfer at ZACH | 202 S. Lamar Boulevard | Austin, TX 78704
Special Events in Celebration of Matilda the Musical:
Pride Night – Thursday, April 4, 2019
Press Night – Saturday, April 6, 2019
Wednesday Post-Show Discussion – Wednesday, April 10, 2019
ASL Interpreted, Open Captioned, and Audio Described – Wednesday, April 10, 2019
Champagne Opening – Thursday, April 11, 2019
ASL Interpreted and Open Captioned – Saturday, April 13, 2019 at 2:30 p.m.
Tickets start at $25 and are available online at zachtheatre.org, by phone at 512-476-0541, or in person at the ZACH Theatre Box Office, in the Topfer Theatre, 202 South Lamar Boulevard (corner of Riverside Drive and South Lamar) Monday through Saturday, 12–5p.m. ZACH Theatre is wheelchair accessible. Student Rush Tickets are $20 one hour before show time (with valid ID). A limited amount of Pay–What–You–Will tickets are available the day–of for Mainstage preview performances only. Groups of 8 or more may request reservations by calling 512-476-0594 x.245 or by emailing groupsales@zachtheatre.org.
VISA is Leading Sponsor of Matilda the Musical with Carl and Claire Stewart as Executive Producers Plus, Michelle and Eric Natinsky, The Honorable Harriet O'Neill and Kerry Cammack, and Jay and Gary Pickle are Executive Producers, and DLA Piper, KMFA, Norton Rose Fulbright, and DO512Family as Supporting Sponsors.