Review #1 of 2: Matilda, the musical by Zach Theatre
by Brian Paul Scipione
The Tony- and Olivier-award-winning Roald Dahl's Matilda the Musical! is playing at Zach's Topfer Theatre until May 12th. It is not part of their ongoing Theatre for Families series, as one might expect, but the company recommends it for ages 6 and above. Presentations in Theatre for Families generally have earlier showtimes, shorter runtimes, and longer runs (Wake Up, Brother Bear!, aimed for the very young, opened at Zach Theatre North last October, has just moved to their downtown Whisenhut stage to run through the end of 2019).
Matilda the Musical is based on Dahl's 1988 children's novel about the adventures and mischief of a telekinetic 5-year-old girl who loves reading and learning. At odds with her loony parents and cruel headmistress, Matilda finds clever ways to rebel. It's counted in the top 30 children's books of all time. The story was made into a very popular 1996 movie, an audiobook, a radio show, and a 2010 musical in Stratford-upon-Avon. This musical was adapted by Dennis Kelly (who won a Tony for his work) with music and lyrics by Tim Minchin. The hit musical soon moved to London and to Broadway. It has moved on to international tours and productions around the world including in the US, the UK, Australia, the Philippines, Korea, South Africa, and more.
Suffice it to say, Zach Theatre had some shoes to fill.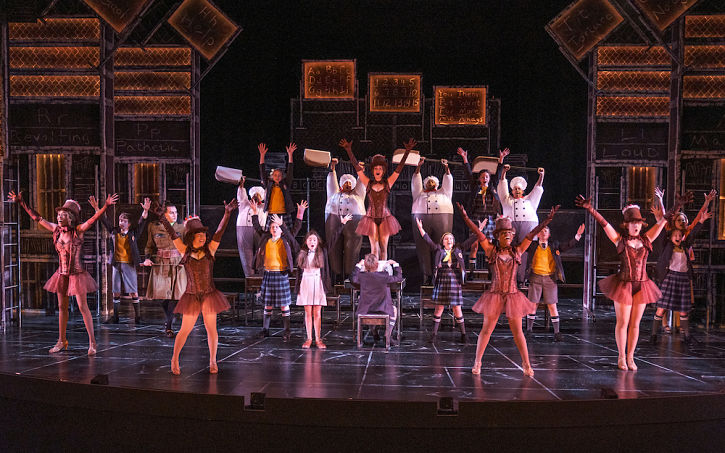 Nat Miller and Abe Reybold co-direct this production. Allen Robertson is the music director and Jen Young Mahlstedt is the choreographer. The production features 30 students from Zach's pre-professional programs and classes, divided into a Blue Cast and an Orange Cast. The company will be performing this show for local schools at greatly reduced prices.
Michelle Ney's phenomenal set provides the first impression of this production. Dominated by drab colors in gray, black, and faded white it strikes the eye as very minimalist. Chalk boards with clever messages scrawled across them are mounted aside and above the playing area (my favorite was the simple 'help'). Other props are outlined in chalk. Ney's design is a witty cross between an elementary school, an asylum, and a dystopian factory. One of the ensemble pieces during the second act conjured up for me the powerful images of the school scenes in Pink Floyd's The Wall.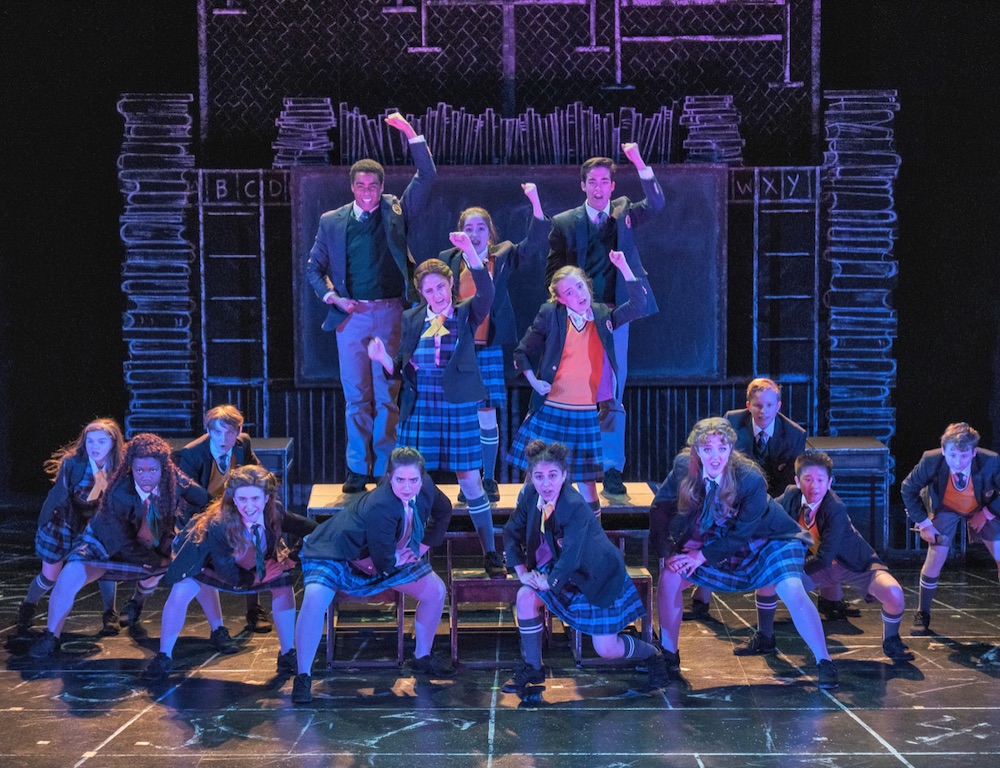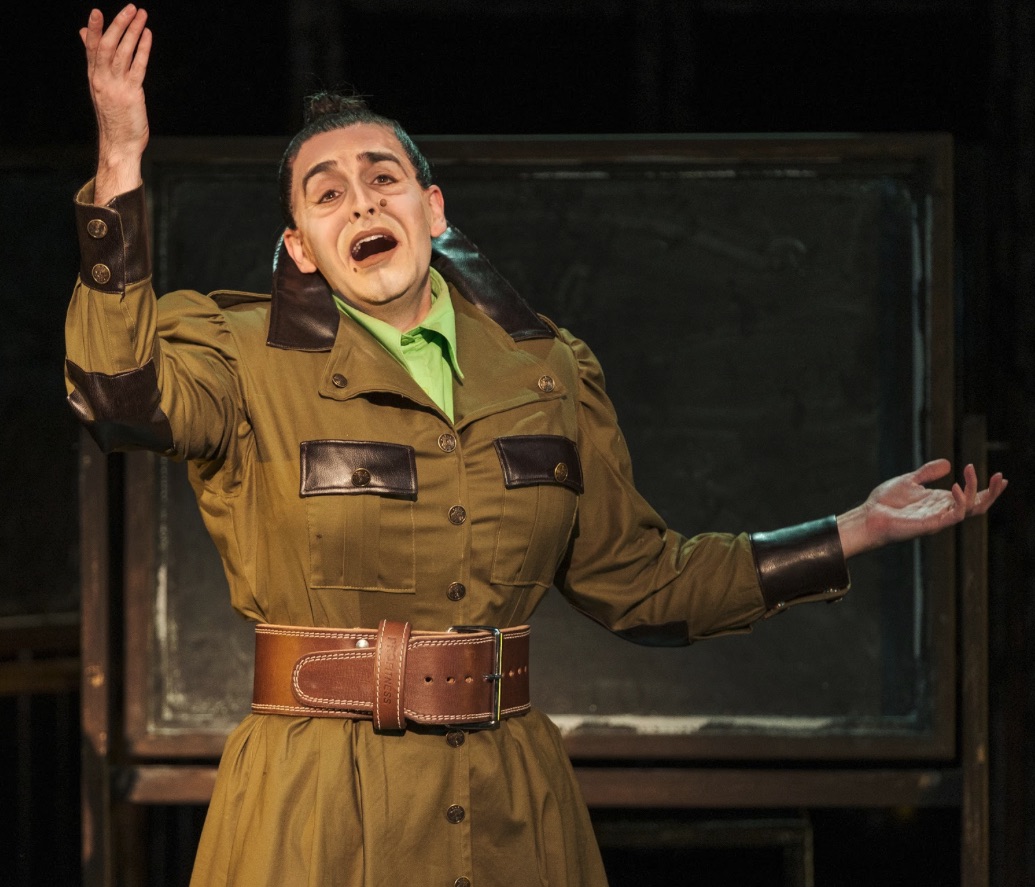 The over-the-top design matches the overtly cartoonish vibe of the play, further enhanced by the great work of costume designer Susan Branch Towne and Zach's hair and makeup designer Serret Jensen. The use of wigs is flagrantly obvious, but as they turn out to essential to the plot, the 4th wall remains intact. Costumes range from outrageous to classic with excellent attention to detail. Dance captain Ernest Sauceda as Rudolpho, sleazy dancing partner to Matilda's mother Mrs. Wormwood (Sarah Burke), looks like a lucha libre pro crossed with a disco dancer. The appearance of formidable headmisstress Miss Trunchbull (J. Robert Moore) has enough subtle touches to bring to mind a fascist leader, and Tyler Jones as the escapologist looks like F. Scott Fitzgerald in that floor-length smoking jacket. Townes's attention to extra detail surpasses usual practice and is eye-catching for the audience.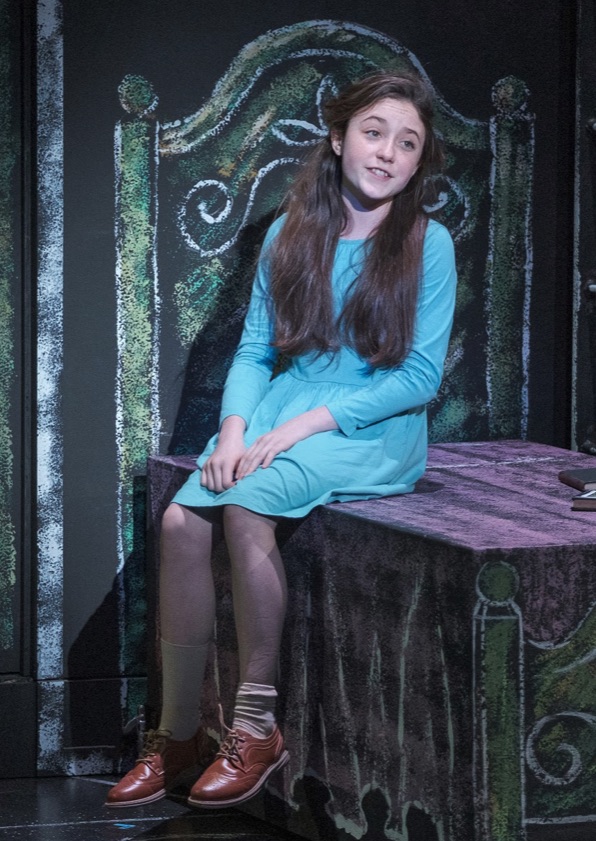 Matilda's story may be familiar to many in the audience. It was new for me, and though the plotline was predictable, one could easily appreciate the subtle changes of the characters throughout. Matilda, a role played either Chloe van de Graaf and Alexa Nelan, is of course a tough little cookie from the start and takes on a gamut of bullies, but her inner mind is exposed through the story she tells the librarian. Her tale creates unexpected pathos in the second act. The villains surrounding her are appropriately played in strict pantomime with large doses of hyperbole. Miss Trunchbull physically tortures the students and Matilda's parents emotionally torture her. Matilda stands up to every bully without a sign of trepidation, and the stakes continue to rise.
The cast of this production has a lot to live up to, and the best summary of their performance is that enthusiasm is everything. The night's best moment is the triumphant presentation of the song "Revolting Children." The young actors gleefully sink their teeth into this song and throw a tremendous amount of verve and vigor into every moment. It's the rousing pinnacle of a story full of outrageous events, such as the hurling of a little girl miles up into the sky. As the play proceeded the audience's glee intensified into hilarity. The mere appearance on the stage of a beloved character sent them into peals of delight. I must assume that many in the audience were there to cheer on their schoolmates.
Whether you know the story or not, this present production is a fervent tribute to Dahl's vision of inanity.
EXTRAS
Click to view excerpts from Zach Theatre's program for Roald Dahl's Matilda the Musical
Zach Theatre promo video for Matilda
---
Matilda, the musical
by Dennis Kelly, Tim Minchin, after Roald Dahl's book
Zach Theatre
Wednesdays-Sundays,
April 03 - May 12, 2019
Wednesdays through Saturdays at 7:30 pm and Saturday and Sundays at 2:30 pm, with matinee performances at 11 am on Wednesdays and Thursdays.
April 3 – May 12, 2019
The Topfer at ZACH | 202 S. Lamar Boulevard | Austin, TX 78704
Special Events in Celebration of Matilda the Musical:
Pride Night – Thursday, April 4, 2019
Press Night – Saturday, April 6, 2019
Wednesday Post-Show Discussion – Wednesday, April 10, 2019
ASL Interpreted, Open Captioned, and Audio Described – Wednesday, April 10, 2019
Champagne Opening – Thursday, April 11, 2019
ASL Interpreted and Open Captioned – Saturday, April 13, 2019 at 2:30 p.m.
Tickets start at $25 and are available online at zachtheatre.org, by phone at 512-476-0541, or in person at the ZACH Theatre Box Office, in the Topfer Theatre, 202 South Lamar Boulevard (corner of Riverside Drive and South Lamar) Monday through Saturday, 12–5p.m. ZACH Theatre is wheelchair accessible. Student Rush Tickets are $20 one hour before show time (with valid ID). A limited amount of Pay–What–You–Will tickets are available the day–of for Mainstage preview performances only. Groups of 8 or more may request reservations by calling 512-476-0594 x.245 or by emailing groupsales@zachtheatre.org.
VISA is Leading Sponsor of Matilda the Musical with Carl and Claire Stewart as Executive Producers Plus, Michelle and Eric Natinsky, The Honorable Harriet O'Neill and Kerry Cammack, and Jay and Gary Pickle are Executive Producers, and DLA Piper, KMFA, Norton Rose Fulbright, and DO512Family as Supporting Sponsors.