Review #2 0f 2: Matilda, the musical by Zach Theatre
by Michael Meigs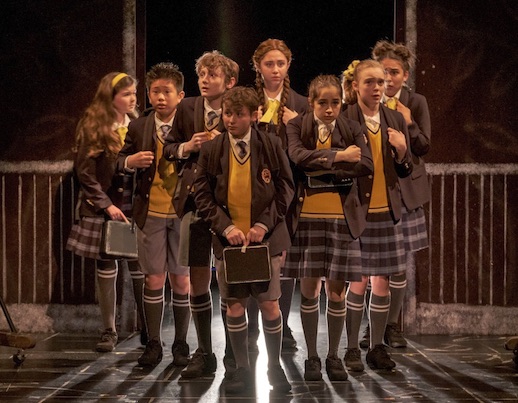 Austin's Zach Theatre has thrown all of its considerable artistry into the stage musical version of Roald Dahl's Matilda, and the result is a big bright shining noisy ball of fun. Directors Nat Miller and Abe Reybold scooped up young performers from the theatre's pre-professional company to assemble two casts, orange and blue, for the spectacular and demanding dancing and clowning that create this fantasy world. The young artists hit their marks and create vivid characters, much to the roaring approval of the audience. We sat next to a middle-school theatre enthusiast so excited he seemed ready to fling himself down the aisle into the stage mêlée.
While waiting for the action to commence, one can study Michelle Ney's clever set, where blackboards hung about the playing space explicate the alphabet with some somewhat eerie examples: T for Tragedy, for example. Ney uses chalk throughout, outlining objects and defining spaces, to remind us that Matilda's school isn't quite real. It's a worst-case imagination of a British public school (i.e., in plain American parlance, a private school). The atmosphere is so oppressive that one could imagine these plaid-clad pupils launching themselves into the equivalent of a Cell Block Tango or Jailhouse Rock.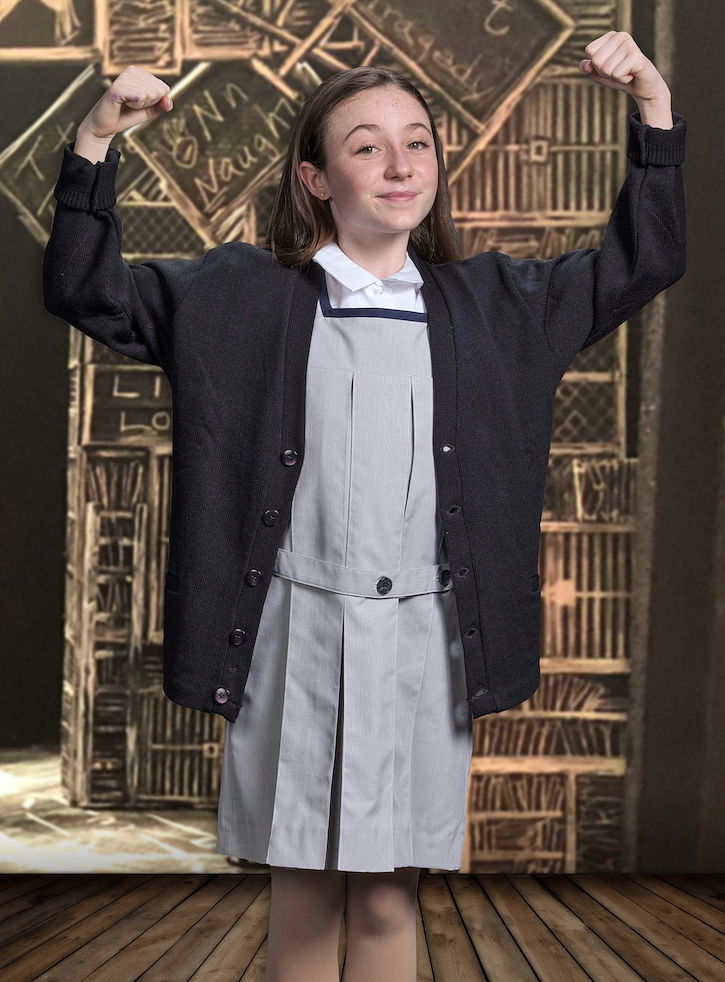 Speaking of which: the pre-show soundtrack is a medley of pop hits so ancient that only the grandparents treating later generations to this entertainment could recognize them. Charlie Brown? The Purple People Eater? Surely those oldy moldy hits flew straight past the young folks in the audience. Tim Minchin's music and words, entertaining but forgettable, speak standard Broadway, and furnish a musical palette for the showy choreography. Alan Robertson and the orchestra hidden below stage send everyone surging around the playing space.
Dahl's book about Matilda is a whimsical tale about the sly shenanigans of a tiny but super-intelligent girl who's unfazed by the stupidity of her parents and the brutality of feared headmistress Miss Trunchbull. Dahl keeps Matilda front and center as he tells the story, an optimistic reassurance to the young that they need not be trod underfoot by society. The author's no good, 'orrible villains are exaggerated but hardly menacing to a child of Matilda's aplomb.
Dennis Kelly's book for Matilda, the Musical takes that reassuring little fable, but the visuals, movement, noisy music and three-times-life-size villains quite cover up the demure young woman playing the title role (Chloé van de Graaf on opening night, with Alexa Nelan at other performances). Van de Graaf was sweetly confident and impressively talented as Matilda, but her quiet good sense attracted less attention and approval than the wild caricatures around her.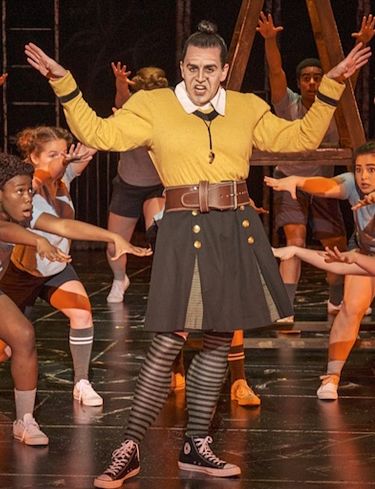 This piece could more accurately have been titled Trunchbull, for Jimmy Moore as the haughty, nasty, intolerant former shot-put champion dominates the action. Moore's headmistress is born of nightmares, and there wasn't a soul among the cast's characters or in fact in the audience who wasn't aching for a comeuppance. It's a comic portrtait with a vicious edge -- appropriate for the world of Roald Dahl but at times perhaps too believable
Moore's not the only villain, either. André Martin entirely fills the sneaky shoes and gaudy jacket of Matilda's father, the aptly named Mr. Wormwood, while Austin favorite Sara Burke gives lively idiot life to his missus. Dahl imagined Matilda's mother as an uncaring bingo addict, while Kelly expands the character, almost literally, into a peroxided disco-dancing harridan of questionable morality. The revision provides her with a star turn in the number "Loud" (which Burke happily is, as well as dazzling in her moves with dance captain Ernest Sauceda as the sleazy Rudolpho).
Unfortunately, Matilda's brother is played as a brainless dolt. This was not funny; it was offensive and insensitive to the differently abled.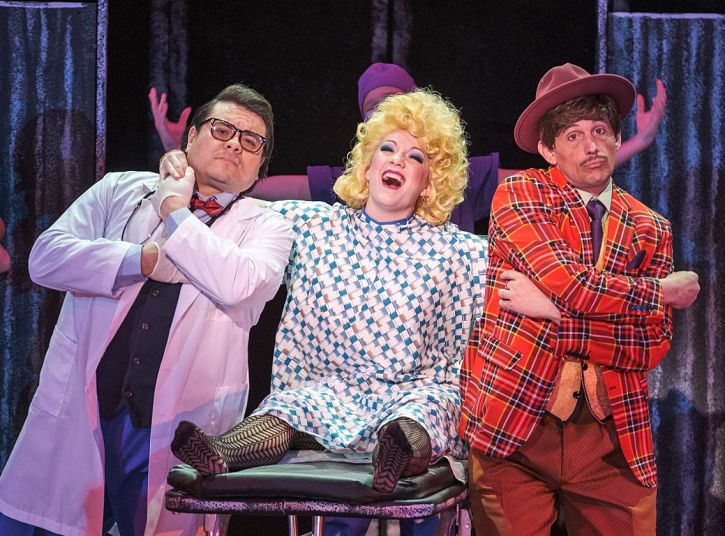 From there the book balloons, for evidently Kelly didn't find enough material in the original. Somewhat like Matilda's father Mr. Wormwood the dishonest used-car salesman, he tinkers and transforms. The original Wormwood poured sawdust into the vehicles' oilpans to make them run smoothly before they quickly burned out; Kelly inserts an entirely new auxiliary story to keep the audience in suspense. In his rewrite our Matilda invents a story for Mrs. Phelps the librarian with episodes about a gallant Houdini-like escapologist, his beautiful acrobat-dancer wife, and the baby they so happily expect. These tales from Matilda in Act II constitute interrupted therapy sessions, redeemed somewhat by the fact they're illustrated upstage by the serenely smiling Tyler Jones and the wonderfully graceful Ebony Crichlow.
Oh, and for additional frosting there are Russian gangsters in hats and black shirts, wielding baseball bats as they close in on the mendacious Mr. Wormwood. Paul Sanchez has a good time in the role as their boss.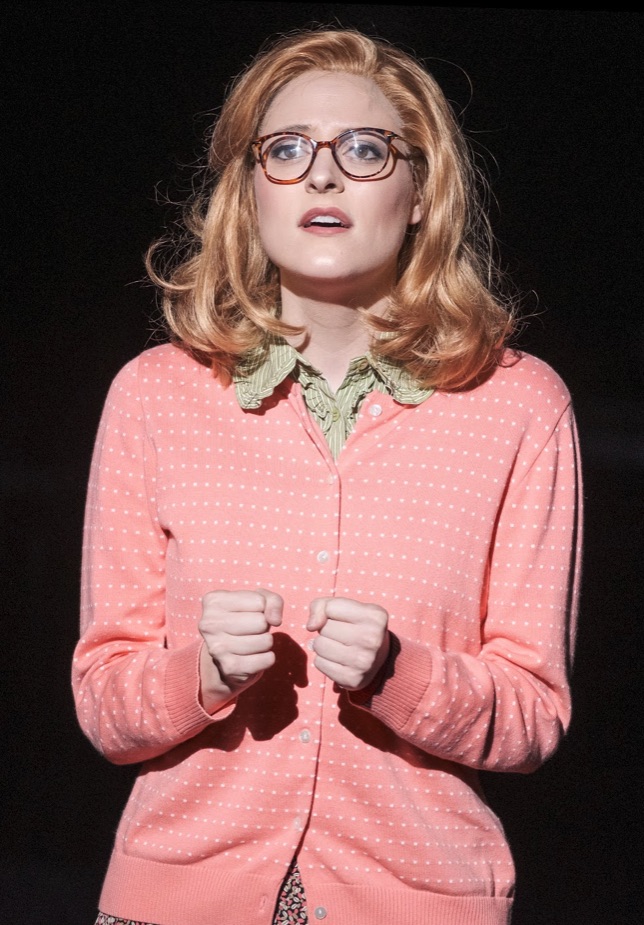 There are good guys, of course, for life cannot be unremittingly evil, especially not in a fantasy prison. Lara Wright as the librarian does some silly cheerleading for Matilda's invented stories. Matilda's teacher Miss Honey, Laura Lyman Payne, radiates kindness and tries to stand up to Trunchbull. Her character will be rewarded at the last, in a satisfying plot turn that comes directly from Dahl and involves Matilda's discovery of telekinetic powers. Payne has exquisite, unselfconscious diction, illustrated in her two solos "Pathetic" and "This Little Girl," both in Act I.
Matilda, the Musical is a bit of a mess in the telling, especially if you've read Dahl's tale either to yourself or to a younger generation, but it's a whirlwind of entertainment. Congratulations to all those young talents on stage, valiantly interpreting the story as they've been so meticulously instructed to do. Bravo to Matilda, and to all the gifted zanies in the character roles.
EXTRAS
Click to view excerpts from Zach Theatre's program for Matilda, The Musical
Zach promo video for Matilda
---
Matilda, the musical
by Dennis Kelly, Tim Minchin, after Roald Dahl's book
Zach Theatre
Wednesdays-Sundays,
April 03 - May 12, 2019
Wednesdays through Saturdays at 7:30 pm and Saturday and Sundays at 2:30 pm, with matinee performances at 11 am on Wednesdays and Thursdays.
April 3 – May 12, 2019
The Topfer at ZACH | 202 S. Lamar Boulevard | Austin, TX 78704
Special Events in Celebration of Matilda the Musical:
Pride Night – Thursday, April 4, 2019
Press Night – Saturday, April 6, 2019
Wednesday Post-Show Discussion – Wednesday, April 10, 2019
ASL Interpreted, Open Captioned, and Audio Described – Wednesday, April 10, 2019
Champagne Opening – Thursday, April 11, 2019
ASL Interpreted and Open Captioned – Saturday, April 13, 2019 at 2:30 p.m.
Tickets start at $25 and are available online at zachtheatre.org, by phone at 512-476-0541, or in person at the ZACH Theatre Box Office, in the Topfer Theatre, 202 South Lamar Boulevard (corner of Riverside Drive and South Lamar) Monday through Saturday, 12–5p.m. ZACH Theatre is wheelchair accessible. Student Rush Tickets are $20 one hour before show time (with valid ID). A limited amount of Pay–What–You–Will tickets are available the day–of for Mainstage preview performances only. Groups of 8 or more may request reservations by calling 512-476-0594 x.245 or by emailing groupsales@zachtheatre.org.
VISA is Leading Sponsor of Matilda the Musical with Carl and Claire Stewart as Executive Producers Plus, Michelle and Eric Natinsky, The Honorable Harriet O'Neill and Kerry Cammack, and Jay and Gary Pickle are Executive Producers, and DLA Piper, KMFA, Norton Rose Fulbright, and DO512Family as Supporting Sponsors.