Nov. 01 - Nov. 08, 2018
Tuesday-Saturday

Ebenazio - A Winter's Tale of Old San Anto is a theatrical work of historical fiction that is sweet and serious, but also spicy and silly. Set in 1731 in a tiny village that would become known as San Antonio, Texas, Ebenazio presents certain events and conversations that occur between November 2 (El Dia de Los Muertos - Day of the Dead) and December 25 (you know, Christmas), dropping in on such dates as the winter solstice and Our Lady of Guadalupe's feast day.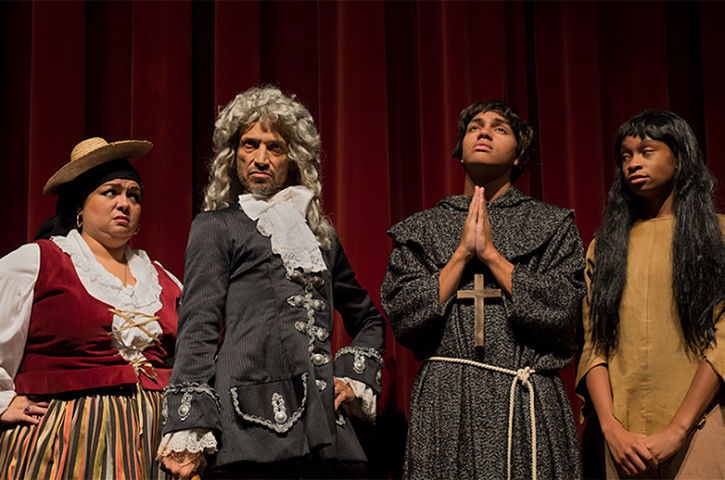 A night when ancestors return, ushered in by the season's first blustery blue norther and punctuated by an eclipse, also sees the arrival of settlers from the Canary Islands, sponsored by the King of Spain. These strangers bring change to the existing community. Already here are five Franciscan missions, dedicated to bringing into their fold the Coahuiltecan natives who had roamed and made camp in the area for hundreds of years. Spanish and mestizo military men and their families are attached to a fort presided over by the captain and acting governor, Ebenazio, who is charged with the protection of the friars and the newly converted.

The play is populated with sixteen vivid characters representing these groups who struggle with issues quite familiar to San Antonians today – land use, water rights, class clashes and a cultural divide. A parade of ghosts and visions illuminate and confuse. But common goals and surprising romantic attractions bring the folks together. By the end of the play, while problems remain, each character has changed, especially the selfish, bitter Capitán Ebenazio. His epiphany stands for hope for the future of old San Anto.



Cast/Crew: Jesse Borrego as Ebenazio
Lisa Suarez as Hortenzia
Marisela Barrera as Maria Christina
Pamela Dean Kenny as Tila
Salvador Valadez as Amac
Anthony Castro as Sapo
Julio Alberto Sepulveda as Padre Paddy
And the students of Northwest Vista Drama Program

Directed by Mellissa Marlowe
Designed by Todd Deaver, Billy Munoz, Kim Corbin, and Alex Coy


---
Ebenazio: A Winter's Tale of San Anto
by Kim Corbin, Robert Rehm, and Chuck Squier
Jump-Start Performance Company
Tuesday-Saturday,
November 01 - November 08, 2018
November 1, 2, 3, 6, 7, 8 at 7:30 pm and November 3 at 2 pm
Palmetto Theatre at Palmetto Center for the Arts

Admission:
$5 - ACCD Students / Faculty / Staff
$5 - Students: K-12 & Higher Education
$8 - Senior / Military
$10 - General

FREE NIGHT FOR ALL
Tuesday, November 6