Aug. 09 - Aug. 25, 2018
Thursdays-Saturdays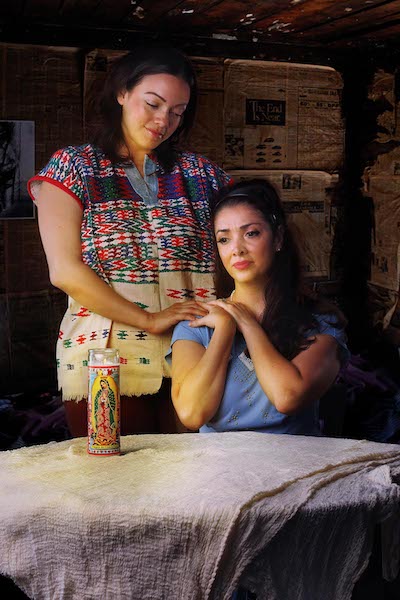 Ground Floor Theatre announces the world premiere of There and Back by Austin playwright Raul Garza. This new work opens up dialogue about the current immigration crisis with an eye towards the fraught history between the US Government and Mexicans seeking that "shining city upon a hill."
Gloria travels from her native Mexico, to join her husband, Victor, on a migrant farmworkers' camp. Her arrival on the day of President John F. Kennedy's inauguration reveals stark contrasts between the American dream and her reality. A series of visits by a liberated, contemporary Virgen de Guadalupe offers Gloria a glimpse of her life and legacy in the context of other presidential eras–Reagan and Trump, and presents a life-altering choice: stay in the United States, and accept her status as a member of the underclass, or abandon the agreed-upon plan and her future family to claim dignity and fulfillment. There and Backdefines the tipping-point of injustice to immigrants mandated by the Trump presidency and offers a human voice to narrate the long American journey there.

Ground Floor Theatre co-director Patti Neff-Tiven directs this new work by Raul Garza (National Latino Playwriting Award winner for Fantasmaville), with a cast that includes Karina Dominguez (Enfrascada - Teatro Vivo, The Leftovers) as Gloria, Mical Trejo (Confessions of a Mexpatriate, Latino Comedy Project) and Giselle Marie Muñoz (Christmas Belles - City Theatre, 1 Minute Play Fest) as Guadalupe. Set design by Payne and Critics' Table award-winner, Ia Ensterä (Thr3e Zisters - Salvage Vanguard, The Aliens - Hyde Park), Lighting by Natalie George (Natalie George Prods, 2017 Critics pick Best Out There Designer-Producer, 11:11), Costumes by Pam Fletcher-Friday (Performance Park - The Vortex, Scriptworks 10-Minute Play Fest) and Sound Design by Lowell Bartholomee (Critics' Table award, Grounded- Street Corner Arts, The Effect- Cap T). This project is supported in part by the Cultural Arts Division of the City of Austin Economic Development Department.
Feature by Dr. Cliff Cunningham, Sun News, Austin, August 12, 2018
Raul Garza is an Austin-based playwright who tells stories that resound with culture and sense of place. His full-length play Fantasmavillereceived the National Latino Playwriting Award, and earned a B. Iden Payne Award nomination for Outstanding Original Script. His short play MyHEBgarnered FronteraFest 2015 Best of Fest recognition. Raul's full length plays include Fantasmaville, Sanctuary, Cura, Confessions of a Mexpatriate, Ruby, There and Back,and El. His short story "In the Room" won the 2014 Austin Chronicle Short Story Contest, and "Running Bear" and "LeBaron" were cited for Honorable Mention by the 2017 and 2014 Texas Observer Short Story Contest. When not writing, Raul explores kundalini yoga, devours pop culture, and serves as creative director of TKO Advertising.
About Ground Floor Theatre:
Ground Floor Theatre concentrates on works by and for underrepresented communities. It serves as an incubator to foster and grow new and groundbreaking works that shine a light on groups that are often overlooked. It is also a home for the Austin theatre community to come together and learn from one another in order to help Austin continue to excel as a leader in the national theatre community. For more information visit www.groundfloortheatre.org.
---
There and Back
by Raul Garza
Ground Floor Theatre
Thursdays-Saturdays,
August 09 - August 25, 2018
Ground Floor Theatre
979 Springdale Rd
Austin, TX, 78702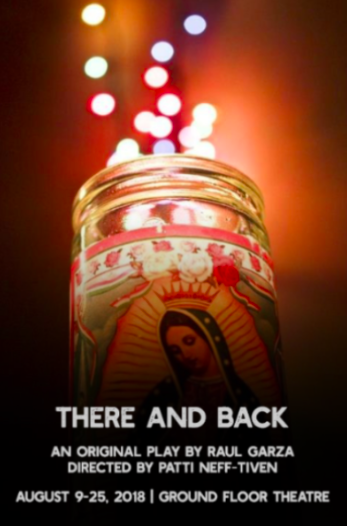 Performances run August 9 - 25, 2018 at Ground Floor Theatre, 979 Springdale Road, Austin, TX at the corner of Springdale and Airport. Performances are Thursday through Saturday nights at 8:00 PM and Sundays at 5:00 PM. The "First Friday" performance on August 10 includes a champagne reception.
Ground Floor Theatre believes in "theatre for everyone" regardless of ability to pay, so tickets are always "Pay What You Wish". Tickets can be purchased at groundfloortheatre.org