Review #1 of 2: There and Back by Ground Floor Theatre
by Michael Meigs
Raul Garza's new work is a tribute to the courage and resiliency of Mexican women.
His story of Gloria, arrived in the United States without papers in the mid-50's, extends to the present day, and it touches upon some of the principal developments in U.S. migration policy. Scenes of prejudice, discrimination and violence are inevitable in those six deades and more, but they're handled deftly and briefly. The story is unexceptional, even ordinary, and given the audience on opening night at the Ground Floor Theatre, one could almost see it as preaching to the choir.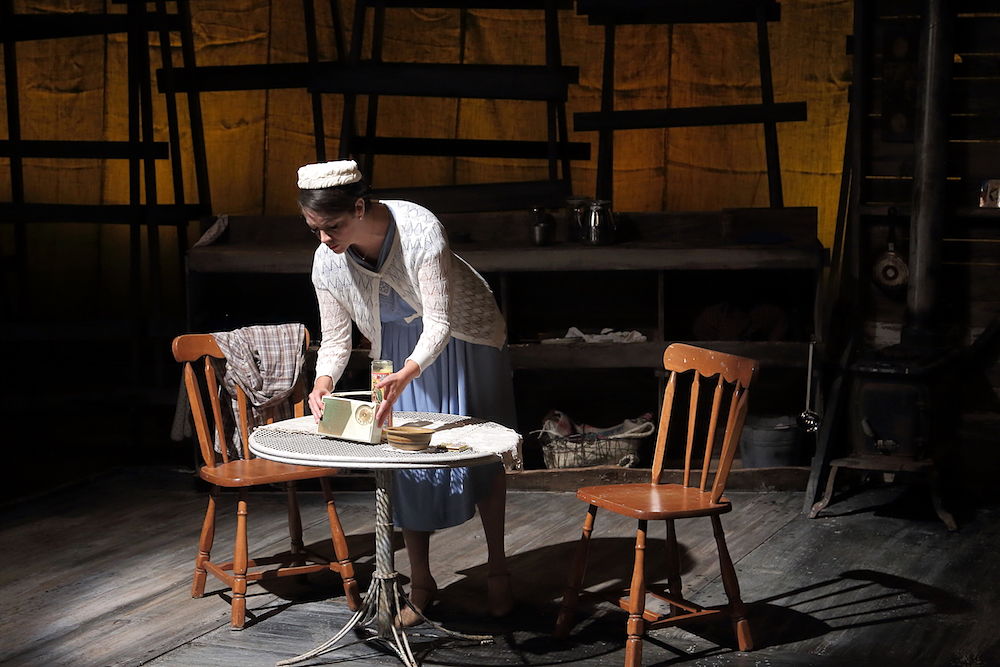 It's a familiar, almost predictable story, but director Patti Neff-Tiven presents Garza's work through an extraordinary actress. Karina Dominguez as Gloria is on stage almost every minute of this two-hour, two-act play, in a role so demanding in duration and scope that she's the only actor in this three-person cast who's never given the opportunity to change her costume.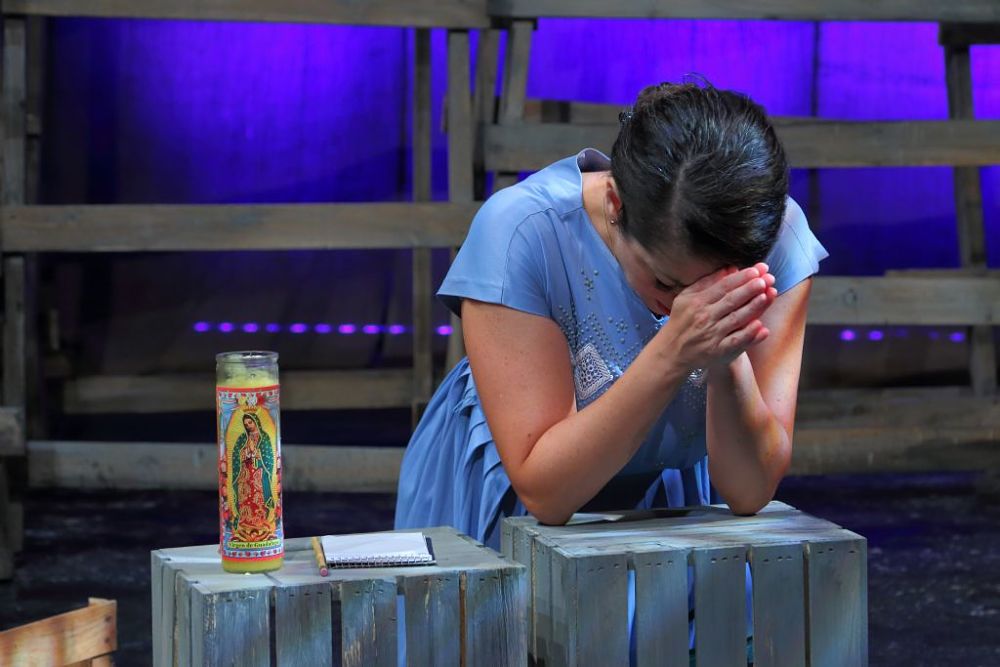 Sixty years in the same dress! There's a message there, if you reflect upon it. That decision by Neff-Tiven and Pam Fletcher-Friday was made in full conscience. Dominguez is provided with various accessories. She first appears in a deliciously long silent scene as she arrives at the shack where her husband has been living, and she's wearing a delicate white pillbox hat and a simple white sweater. In the unexpected final scene -- the "back again" -- Garza has Gloria ceremoniously vested once more in that same attire for an ending that surprises, puzzles, and eventually nudges the audience into a different understanding of the message of the piece.
It would be simplistic to view Gloria's story as one of the contradictions and reversals of U.S. immigration policy. Those elements are certainly there, tied to audio tracks of speeches by JFK, Ronald Reagan and this nation's current president. And Garza emphasizes the long descent of policy subject to buffets of gathering xenophobia. But those trials are exacerbated by the actual villains of the piece: Mexican males full of conceit and self regard. Gloria is bright, courageous and ambitious; her husband, son and grandson, all played by Mical Trejo, fail to appreciate, defend or cherish Gloria. The silhouetted figure who wrecks Gloria's humble house and kicks her literally while she's down is meant to be a far-right white extremist, but in a symbolic sense the violence of that scene is not too far different from what her own family and some of her own people have done to her.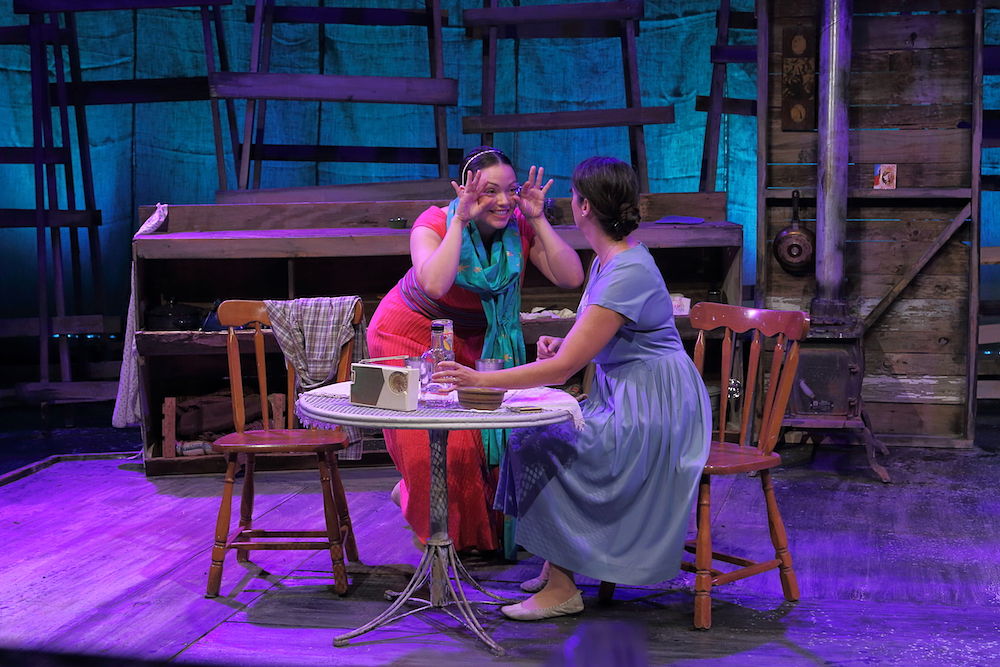 Gloria's only support is her untutored Catholic faith. Garza provides his heroine with a life-long confidante whom in moments of crisis Gloria can summon by praying over a folkloric glass candle painted with the image of the Virgen de Guadalupe. The Virgin, in the person of Giselle Marie Muñoz, responds to those appeals. As foil and alter/altar ego to the distressed Gloria, Muñoz is a pragmatic and serene presence. The Virgin does not rage or grieve; in fact, at one point she gently rebukes Gloria for being a "llorona" (the weeping woman of Mexican folklore, at times confounded with the Virgin herself).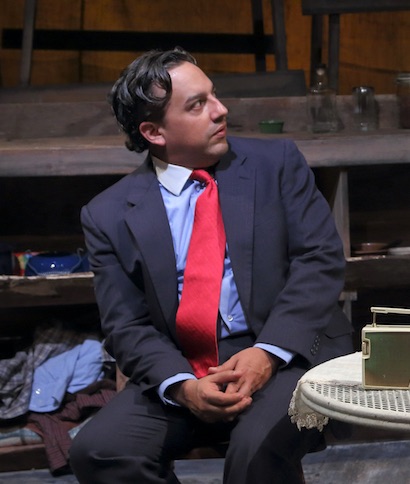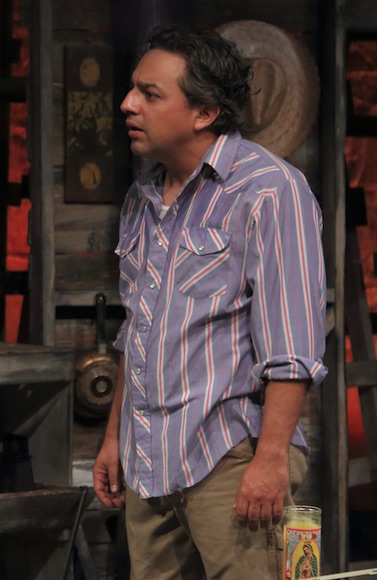 Michael Trejo appears as the males in Gloria's family, each of them quite different. Victor married Gloria and then disappeared across the border in search of work, allowing her to follow only six years later. His pleasure at her arrival appears real, but his controlling, macho personality and faithlessness wrecks the marriage. Their son Ray returns to visit in the mid-1980's, a successful attorney who has bought into the system and hasn't visited her in the tawdry shack for more than two years. Gloria's pride and Ray's negligence combine to unfortunate effect when amnesty is offered to the undocumented. And in the present day her grandson Max has little concept of his grandmother's life story.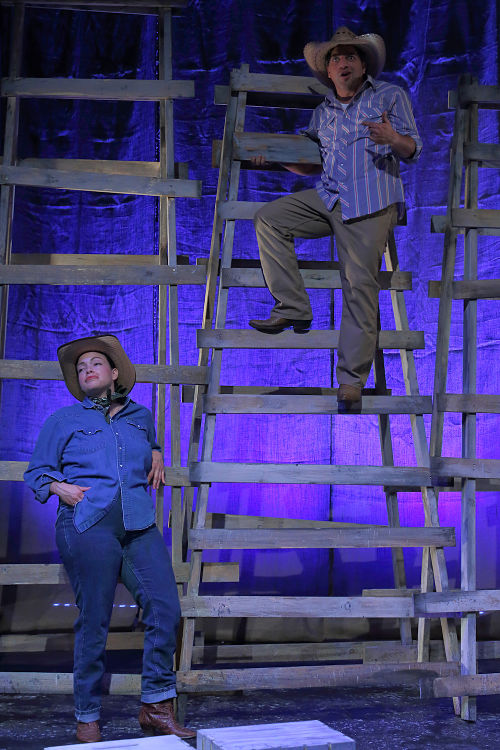 Giselle Marie Muñoz, portraying the Virgin, is pressed into service as various secondary characters, each of them inimical to Gloria's aspirations and dismissive of her personal dignity. This decision by the playwright and the director isn't particularly effective, though the fault is not that of Muñoz. The audience may initially be confused when Muñoz stands smirking in cowboy gear next to Gloria's husband Victor, who boasts to the character and suggests a visit to a local bordello. Using the same individual for the Virgin and for each of the outsiders who make Gloria's life difficult delivers a mixed message at best.
Technical aspects of the production are excellent. Fletcher-Friday's costumes are appropriate and vivid; Ia Ensterä's chicken-coop-turned-shanty is evocative, and the looming irregular construction of enormous ladders across the back of the stage suggests work sites, menacing scaffolds and the threatened border wall. Natalie George's lighting defines the playing areas but endows Enterä's set with great depth and symbolism.
Lowell Bartholomee's work with the audio tracks was painstaking, but use of the battered transistor radio that just happens to capture only key phrases from presidential speeches beggared suspension of disbelief. Perhaps a better approach would have been to bring those comments out of the ether without the prop. To be fair, however, the little plastic radio does serve a plot function, as contrast to the television that Gloria away because it was unnecessary.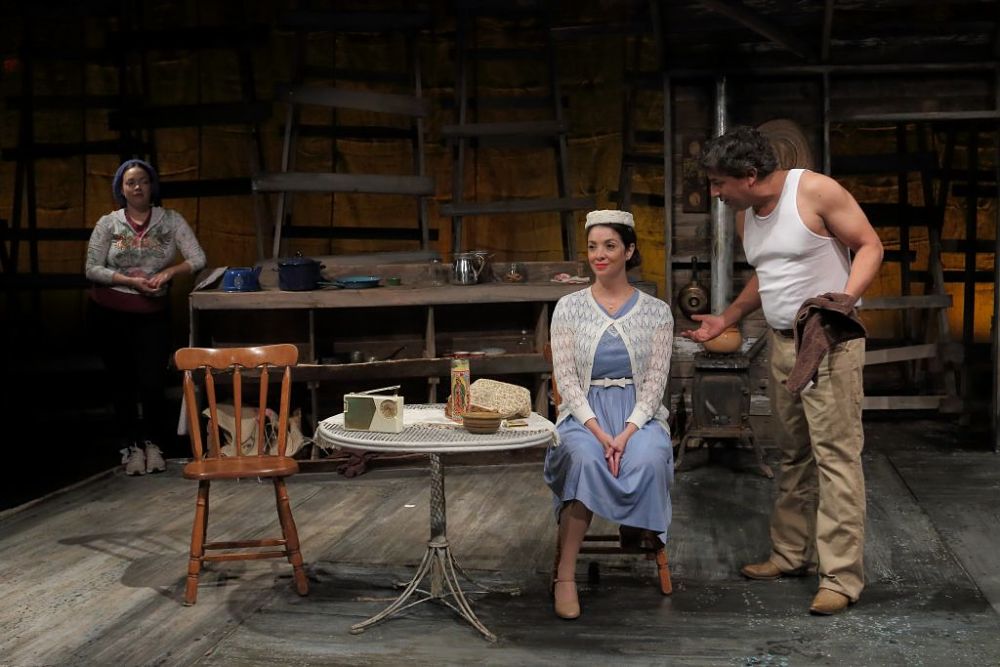 It all comes back to Karina Dominguez, though -- her stamina and her subtly modulated performance endow Gloria the protagonist with the transcendence required to represent decades and generations of Mexican women -- not just the undocumented -- whose pure endurance leaves us all in awe.
EXTRA
Click to view the Ground Floor Theatre program leaflet for Raul Garza's There and Back
---
There and Back
by Raul Garza
Ground Floor Theatre
Thursdays-Saturdays,
August 09 - August 25, 2018
Ground Floor Theatre
979 Springdale Rd
Austin, TX, 78702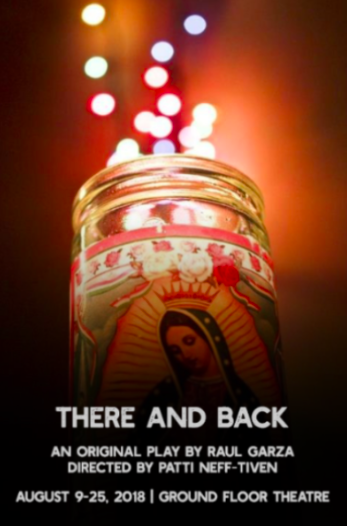 Performances run August 9 - 25, 2018 at Ground Floor Theatre, 979 Springdale Road, Austin, TX at the corner of Springdale and Airport. Performances are Thursday through Saturday nights at 8:00 PM and Sundays at 5:00 PM. The "First Friday" performance on August 10 includes a champagne reception.
Ground Floor Theatre believes in "theatre for everyone" regardless of ability to pay, so tickets are always "Pay What You Wish". Tickets can be purchased at groundfloortheatre.org