Review #2 of 2: There and Back by Raul Garza, Ground Floor Theatre
by David Glen Robinson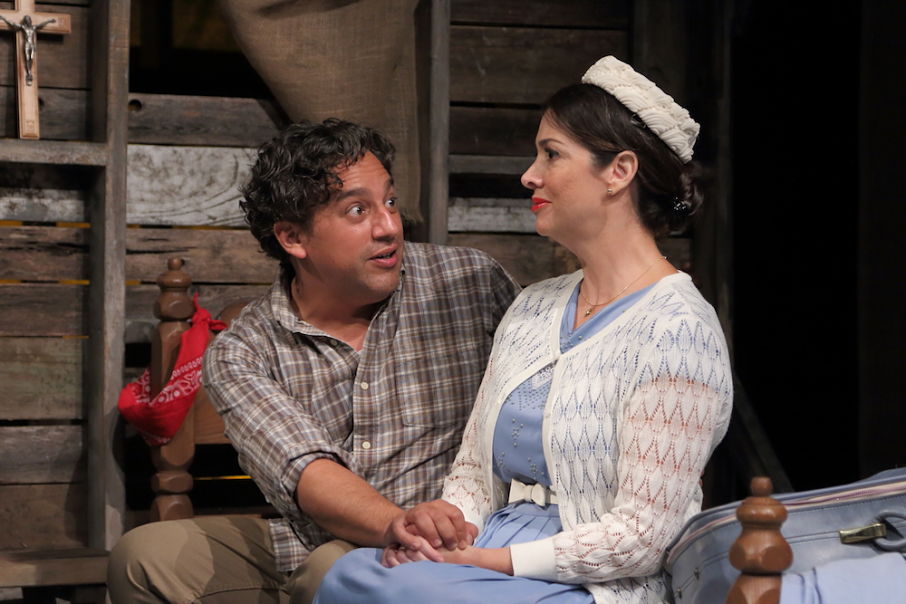 Have you ever felt your home was not really your home, even when it is merely a converted chicken coop? And have you been told by all around you that the land you work with your hands is not your country? This deep-striking sense of dislocation is one of the first conveyances of There and Back, assisted mightily by Ia Ensterä's exploded set, centered on the aforementioned avian shelter. Raul Garza's cry from the heart is presented in earth tones, a diversity tale of one of the most heavily marginalized subcultures in the Americas. But the essential genius of the play is that it is a universal tale, inviting the willing of every culture to participate in the story as insiders, and it draws in that audience firmly yet subtly, as family members, to suffer the characters' betrayals, heartbreaks, and dislocations.
Ground Floor Theatre is hitting its stride after the fits and starts of its beginnings, fulfilling its commitment to telling the stories of underrepresented communities in Austin and the region. In this go-round, that all means presenting a truly world class world premiere of Garza's There and Back, a tale of three generations of Mexican American immigrant life in far, far, south Texas.
Unlike many new original plays recently presented, There and Back establishes a conventional narrative thread following one character through two acts and three generations of her life. Within that, literary magical realism takes us through much of the journey.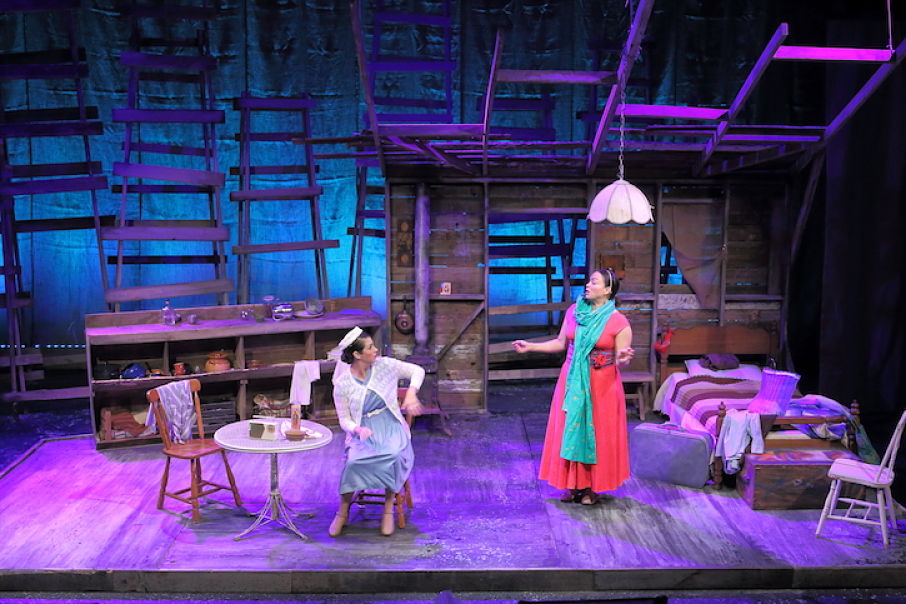 The focal character is Gloria, played by Karina Dominguez. She arrives north of the river (there) to live with her new husband, Victor (Mical Trejo), also a migrant. Together, they seek a life in the agricultural industries of the Rio Grande Valley. The year is 1961, and they have arrived in time to hear JFK's inaugural speech on their beat-up 60s plastic transistor radio. The radio is the playwright's device to bring forward the theme of the dominant culture's political and social betrayal of Mexican-Americans and all unskilled laborers. We hear a succession of presidents speechifying on their reforms to labor, laborers, immigration, and social welfare policies. The lack of political follow-through at the top is enough to create profound cynicism, a point the play makes abundantly clear.
Victor's ambition to succeed invites intense pressure. The realities of male-dominated Latino families in that era were such that almost all the pressure would fall on him, and predictably he leaves Gloria, but not before they have started the task of reproduction. The boiling point is reached when she brings home a check from her job, and she has earned more than he. This is an insult to a certain common brand of Latin male. The irony is that Gloria had just quit that job because the foreman spread lies and rumors about her for refusing his advances. This is less a myth than an oft-repeated reality.
Karina Dominguez as Gloria embraces the play and the multigenerational story as an expression of love. She is onstage practically the whole time, but she holds the play lightly, like a feather in the hand. The other cast members, Mical Trejo and Giselle Marie Muñoz, play multiple characters. Trejo portrays husband Victor, son Ray, and grandson Max, and various unnamed characters. Interestingly, he plays Ray and Max with quirky humor against Victor's fiery but failed ambitions.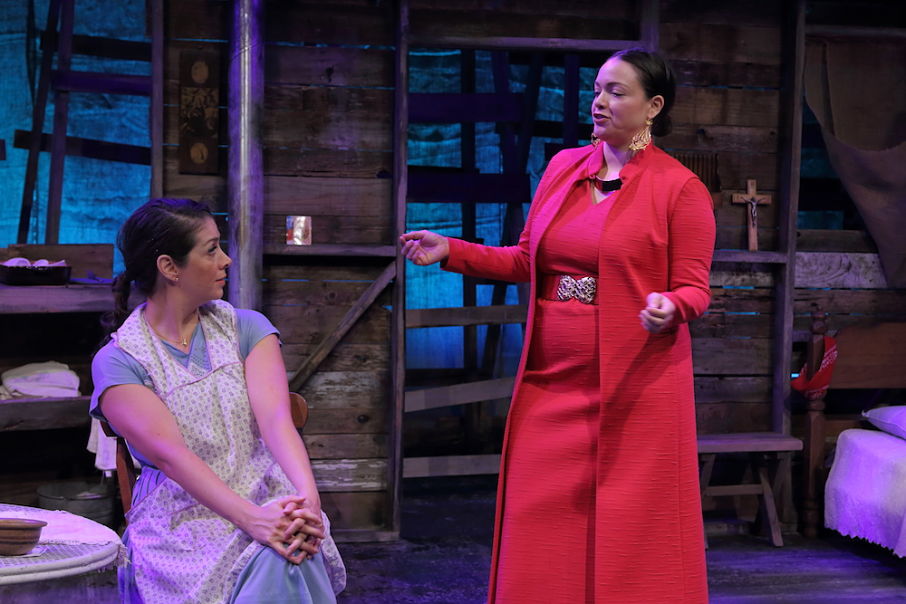 Giselle Marie Muñoz is a relative newcomer to Austin theatre, and she comes in with impressive national credits in film and TV. Expect much more from her in Austin. She plays many characters in There and Back, but on the program she is listed only as the Virgen de Guadalupe. Certainly, the Virgin is her primary character, but her other characters, male and female, all seem to possess and convey a refraction of the goddess as well. We watch them all with fascination, receiving little lessons in divinity as we gaze. And in word, deed, and visage, Muñoz's Virgin is an earth goddess. It's more than an imitation, and it is greatly assisted by Pam Fletcher Friday's costumes, all of which comprise one of Friday's best ensembles ever.
But this quality of seeing the face of God in the lowly is just one of the whiffs of magical realism in the play. Gloria conjures the Virgin by accident when she lights a Dollar Store prayer candle dedicated to the Virgin and prays. This initial chance conjuring works for her every time in the play. Gloria prays a lot and comes to rely on the Virgin as her counselor and friend.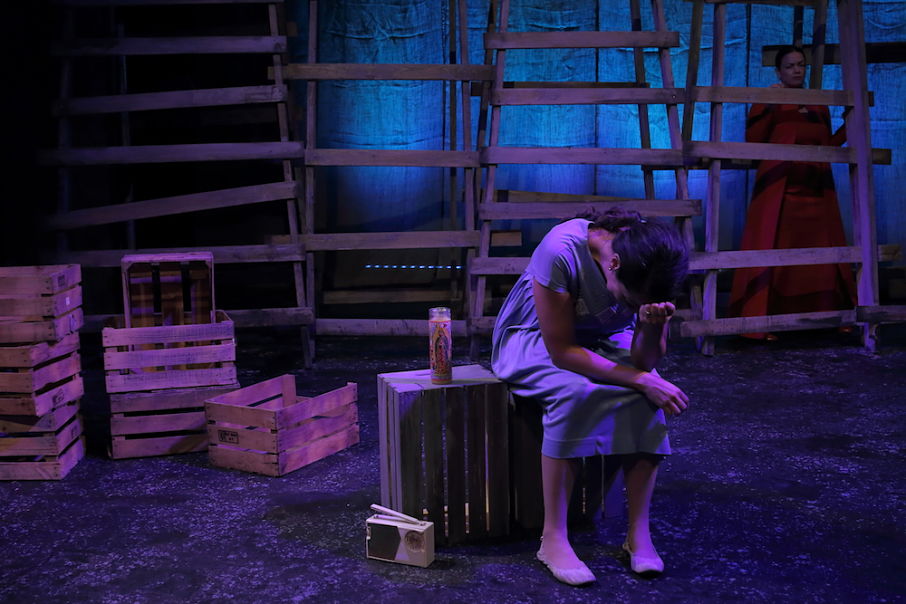 The design fields sparkle in this play, greatly facilitating the magical realism of the story and influencing our perceptions and impressions. In addition to the built-out chicken coop, Ia Ensterä lines the back of the set with looming ranks of fruit-picking orchard ladders, the ramshackle kind field owners hammer together on site and stack on the property in the off season. At once they symbolize the orchard trees in the abstract and the prison bars of the mind and body that confine the laborers and suppress their ambitions. Victor climbs on one of them to address an assembled crew of fruit pickers (in effect, the audience), but he never makes it all the way to the top.
Natalie George adds lighting in harmony with the atmosphere of the play, creating with light many diverse locations around the flat South Texas landscape in several breakout scenes. Briefly seen characters populate those scenes, but Pam Fletcher Friday's costumes on the actors create an instant sense of character as soon as they walk into the light.
Time advances are marked by the radio playing presidential speeches. Sound designer Lowell Bartholomee gives voice to the radio, and this contribution is probably his most creative media work since last year's The Repentance of St. Joan. Master electrician Sadie Langencamp keeps the electrons flowing in the proper directions through all the electrical fields.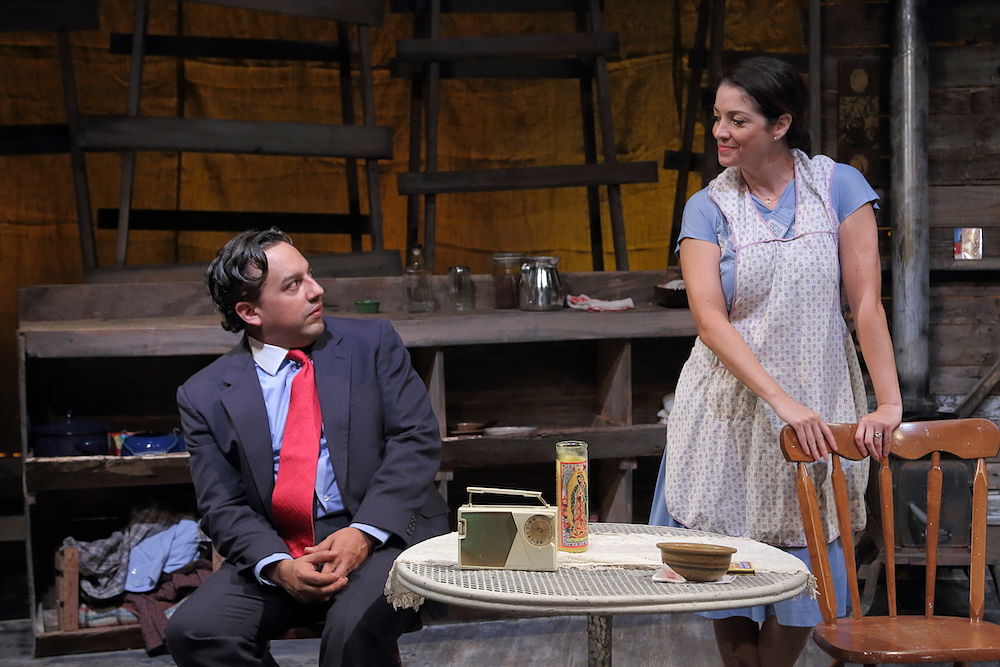 The design fields make for a brilliant play, and even cover its flaws. That's exactly why strong design is so necessary.
The action of the piece continues to the present day, until Gloria is stooped and beyond caring about anything but her grandson Max. Max comes to her asking her for refuge and understanding but also advising her to "go dark." This conversation casually reveals that while raising her son Gloria became a teacher and community activist. She applied for green card status three times and was rejected completely. She insisted on contributing humanely to a society that didn't want her. But she was proud. These were all her choices.
In the last bit of magical realism, Garza reverses time to take Gloria back to her expansive, optimistic days as a bride. It is suggested that Gloria's choices create only things that ought to be and will be regardless. The characters seem to dissolve more than exit in the growing darkness, but a single light remains. Garza leaves us with tiny, flickering hope of Gloria's prayer candle.
One hopes Gloria's story gains legs to take it to Lincoln Center, the Kennedy Center, and places like that. In a time of invective and hyperbole about these very matters, her story, so well founded in history and the heart, needs to be told widely and with the passion that Ground Floor Theatre and Raul Garza give it.
There and Back runs from August 9 to 25, 2018 at Ground Floor Theatre.
EXTRA
Click to view the Ground Floor Theatre program leaflet for There and Back
---
There and Back
by Raul Garza
Ground Floor Theatre
Thursdays-Saturdays,
August 09 - August 25, 2018
Ground Floor Theatre
979 Springdale Rd
Austin, TX, 78702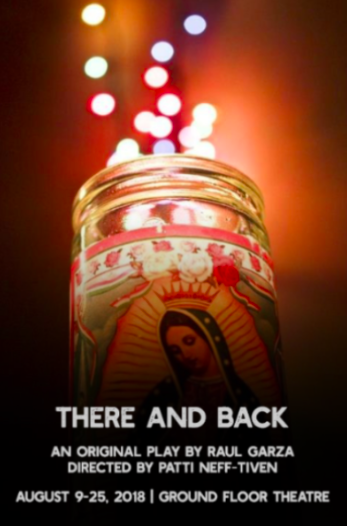 Performances run August 9 - 25, 2018 at Ground Floor Theatre, 979 Springdale Road, Austin, TX at the corner of Springdale and Airport. Performances are Thursday through Saturday nights at 8:00 PM and Sundays at 5:00 PM. The "First Friday" performance on August 10 includes a champagne reception.
Ground Floor Theatre believes in "theatre for everyone" regardless of ability to pay, so tickets are always "Pay What You Wish". Tickets can be purchased at groundfloortheatre.org