May. 03 - May. 27, 2018
Thursdays-Sundays
Austin Shakespeare will transform the Beverly S. Sheffield Zilker Hillside Theater into the world of a classic '50s sitcom for their Free Shakespeare in the Park production of The Merry Wives of Windsor. Produced in collaboration with the City of Austin Parks and Recreation Department for the 34th year, Co-directed by artistic director Ann Ciccolella and Gwendolyn Kelso, this year's play will be a nostalgic tribute to shows like "I Love Lucy."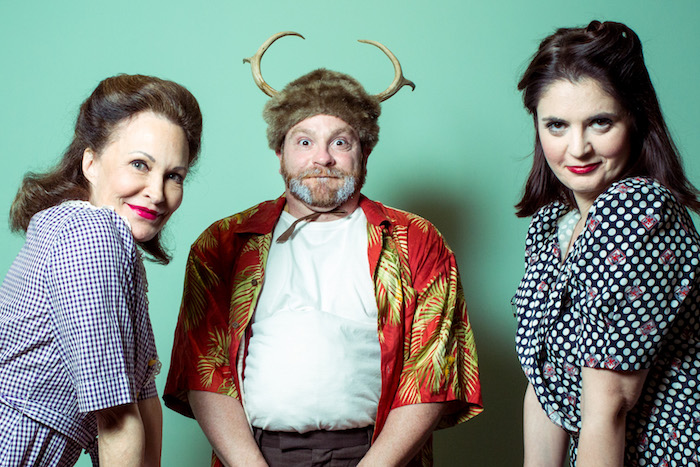 Toby Minor will play the legendary Falstaff, who plans to hustle his way to a comfortable retirement by seducing two wealthy "merry wives" played by Austin Shakespeare regulars Babs George and Gwendolyn Kelso. Their husbands, the irate Mr. Ford and the mild-mannered Mr. Page, will be performed by Nick Lawson and Chuck Winkler. Other Austin Shakes alumni actors include Johanna Whitmore as the lively Mistress Quickly and Michael Lucas as the zany Dr. Caius.
Actors new to Austin Shakespeare include: Clara Hayes as the ingénue Anne Page; Jared Tseng as the reluctant suitor Slender; Chris Thompson as Shallow; and James Byers as the Welsh Reverend Hugh Evans.
The audience is encouraged to bring blankets, low chairs, and a picnic to enjoy their evening on the grassy hillside. Some chairs are available. The Zilker Hillside Theater has an accessible area for all audience members in front of the stage.
CREATIVE TEAM:
Artistic Director: Ann Ciccolella
Co-Director: Gwendolyn Kelso
Set & Light Designer: Patrick Anthony
Costume Designer: Benjamin Taylor Ridgway
Sound Designer: Lowell Bartholomee
Special Music: Peter Stopschinski
Video feature at CBS Austin, May 7, 2018
ABOUT GWENDOLYN KELSO, Co-Director: Austin Shakes: (Beatrice) Much Ado about Nothing, (Blanche) A Streetcar Named Desire, and (Kate) The Taming of the Shrew. Regional: Repertory Theatre of Saint Louis, Saint Louis Shakespeare Festival, Cincinnati Playhouse in the Park, Saint Louis Shakespeare Company, Gamut Classic Theatre, Hedgepig Ensemble Theatre, New York. Awards: 2014 Best Acting award at the International Fringe Festival for Tennessee William's Interior: Panic. Training: BFA Acting, Conservatory at Webster University, MFA Classical Acting, Shakespeare Theatre DC. Directing: Cymbeline for American Academy of Dramatic Arts (NYC), Honk for Imagination State (MD). Gwendolyn lives and teaches in New York and is a founding member of Hedgepig Ensemble Theatre.
ABOUT ANN CICCOLELLA, Artistic Director: Ann Ciccolella joined Austin Shakespeare as Artistic Director in August 2007, following an eight-year tenure at Austin's ZACH Theatre as managing director and executive director at Austin Circle of Theaters for nine years. Ciccolella led the Renaissance Theater Company for ten years, producing and directing Off-Off Broadway shows. Prior to moving to Austin, Ciccolella served for three years as associate director for SHAKESPEARE ON WHEELS at the University of Maryland, Baltimore County. In 2013 for Austin Shakespeare she directed Off-Broadway at the Baryshnikov Arts Center, a new adaptation of Ayn Rand's Anthem, adapted by Jeff Britting.
ABOUT AUSTIN SHAKESPEARE: Founded in 1984 and the only professional classical theater company in Central Texas, Austin Shakespeare presents professional theater of the highest quality with an emphasis on the plays of William Shakespeare, bringing to the public performances that are fresh, bold, imaginative, thought-provoking, and eminently accessible, connecting the truths of the past with the challenges and possibilities of today. In the fall and spring, Austin Shakespeare also produces plays by Shaw, Schiller, and Stoppard as a "Resident Company" of the The Long Center for the Performing Arts, Rollins Studio Theatre. Austin Shakespeare's ongoing "Shakespeare Aloud" reading group and "Artist's Way" sessions invite new participants weekly. Austin Shakespeare's education program 20/20 sends professional actors into the schools to encourage love of language.
---
The Merry Wives of Windsor
by William Shakespeare
Austin Shakespeare
Thursdays-Sundays,
May 03 - May 27, 2018
May 3 – 27, 2018
Thursdays – Sundays at 8 pm at the Sheffield Hillside Theatre in Zilker Park
Preview on Wednesday, May 2 at 8 pm
FREE ADMISSION FOR ALL