The Smartest Girl in the World
by Austin Playhouse
Apr. 03 - Apr. 14, 2018
Tuesdays-Saturdays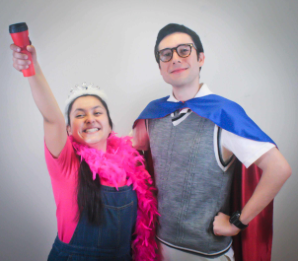 Austin Playhouse is excited to announce their spring Theatre for Youth Production of Miriam Gonzales's The Smartest Girl in the World. This heartwarming and witty play tells the story of studious Leo Martinez and his young sister Lizzy, two latch-key children of hardworking parents. Leo is convinced that winning a local TV quiz show and becoming "the smartest kid in the world" can create a better life for his family. When Mami and Papi refuse to let Leo participate due to his chronic illness, Lizzy studies up to compete in his place. Along the way, Leo and Lizzy discover that there are many ways to be smart—and that different people are smart in different ways.
Austin Playhouse believes that an early introduction to theatre helps students learn creativity, social skills and critical thinking. Students should be challenged to actively listen, imagine new worlds, and relate to the struggles of characters on stage. At its best, theatre introduces new cultures and ideas, as well as new ways of looking at our own culture and ideas.
Because Austin Playhouse believes cost should not be a factor, all public performances for our Theatre for Youth production will have pick-your-price tickets starting at FREE.
The Smartest Girl in the World is targeted to children grades 2 – 6, but is appropriate for the whole family. The show will be directed by Roxanne Schroeder-Arce and star David Barrera as Leo and Madison Paloma as Lizzy with Benjamin Bazan, Kenedi Delgado, and Martinique Duchene-Phillips rounding out the cast. The design team includes Joel Mercado-See (sound design), Mike Toner (set design), and Glenda Wolfe (costume design).
---
The Smartest Girl in the World
by Miriam Gonzalez
Austin Playhouse
Tuesdays-Saturdays,
April 03 - April 14, 2018
The Smartest Girl in the World will have public performances on Tuesday, April 3 at 7 pm and Saturday, April 7 and 14 at 11 am and 2 pm. In addition to public performances, The Smartest Girl in the World is also available for schools and camps throughout Central Texas. For more information, contact Austin Playhouse's Theatre for Youth Coordinator, Marie Fahlgren, at info@austinplayhouse.com.