Feb. 16 - Feb. 17, 2018
Friday-Saturday
An emotionally powerful and intimate musical, The Last 5 Years is the story of two New Yorkers who fall in and out of love over the course of five years. The show's unconventional structure consists of Cathy telling her story backwards, while Jamie tells his story chronologically; the two characters are only on stage together once, at their wedding in the middle of the show.

This is the first Small Tour being presented by TLO & ARIA Creative.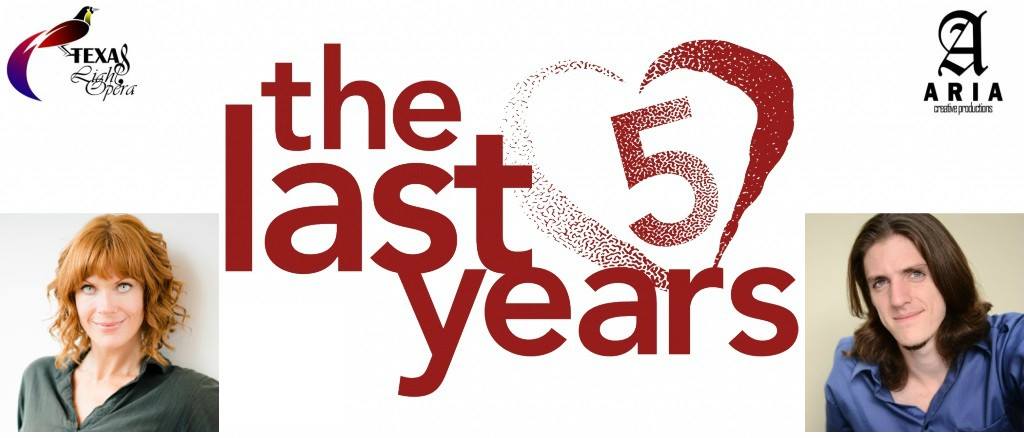 Cast/Crew:

Director Jason Kruger

Music Director Nicole Erwin

Sound Design Chuck Drew

CATHY Ginger Martel

JAIME Joseph Urick

Photos Courtesy of Mary Rath

Interview of Nicole Erwin and Joseph Urick by Kurt Gardner, BlogCritics.org, February 9, 2018
---
The Last Five Years
by Jason Robert Brown
Texas Light Opera
Friday-Saturday,
February 16 - February 17, 2018
Friday & Saturday, Feb. 16 & 17, 7 p.m.
The Texas Theatre teams up with Aria Creative and Texas Light Opera to present Jason Robert Brown's "The Last Five Years."
Show times are 7 p.m. each night.
General Admission tickets are $20. Senior Citizens over 65, those with Military ID's and Students under 12 will be admitted for $15 per person.
Advance tickets available via

Tickets: General Admission $20
Student/Senior/Military/SATCO $15
Purchase online: www.texaslightopera.org
Our Website: www.ariacreativeproductions.com/
Contact/More Information: For Tickets, please contact the specific Theatre Box Office, or, visit texaslightopera.org for information!