Nevermore, an Edgar Alan Poe musical
by Texas Light Opera
Apr. 06 - Apr. 15, 2017
Thursdays-Saturdays
Take a dark and mysterious journey into the life of Edgar Allan Poe. This imaginative musical uses Poe's poetry and short stories as its base and his shifting obsession with the women in his life as its catalyst. With hauntingly beautiful melodies, Nevermore breathes new life into Poe's work and explores a twisted true-life tale that is as bizarre as his classic stories of the macabre.
Director JOSEPH URICK
Music Director DARRIN NEWHARDT
Vocal Coach NICOLE ERWIN
Music MATT CONNER
Lyrics EDGAR ALLAN POE
Book GRACE BARNES
Edgar Allan Poe (Jan 19, 1809) was one of America's finest poets. He was not rich, he was not beloved by all, in fact, he was a brutal critic and lived a life of harsh poverty. His work, however, was universally loved, and long after his untimely death he was crowned a Master of Macabre, and celebrated as one of this world's greatest literary minds.
It is with great pride on this, his 208th birthday, that Texas Light Opera announces its upcoming production, in association with Aria Creative Productions and the Roxie Theatre, "Edgar Allan Poe's NEVERMORE."
Feature by Katherine Stinson for the Rivard Report, March 26, 2017
Feature by Deborah Martin in the San Antonio Express-News, April 6, 2017
Feature at News 4 San Antonio, April 14, 2017

Costume Design by Rose. Kennedy
Wig Design by Denise IncredibleNeisy Ebarra
Choreography by Amanda Thompson
Sound Design by Charles Drew
Photography by Charlie Perez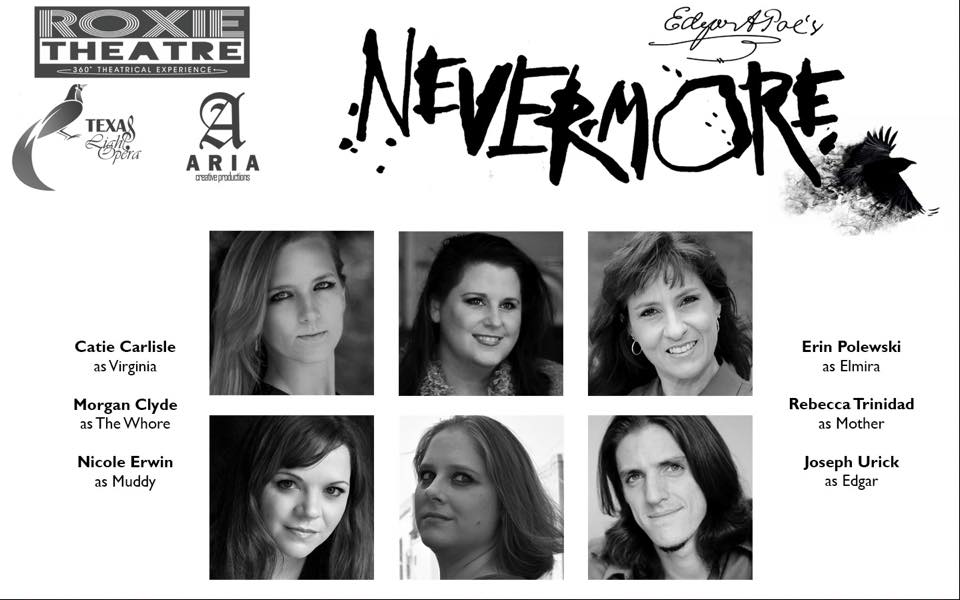 When Texas Light Opera (TLO) was founded, its principle desire was to popularize classical work and music materials through new theatrical productions. Recently, TLO was presented with multiple ATAC Awards for its production of "Road to Madness," which was about the life of F. Scott Fitzgerald. TLO now brings to life another famous literary artist, American poet and macabre icon Edgar Allan Poe.
To deepen our understanding of this most powerful, charismatic and complex poet of early American literature, Texas Light Opera and Aria Creative Productions, in association with the Roxie Theatre, will present "Edgar Allan Poe's NEVERMORE," a bio-drama on the master of macabre himself. This musical is a dark and romantic portrayal of Poe's life, told thru a series of dream-like vignettes that take the audience on a whirlwind thru his life, as well as presents ten of his most brilliant poems as musical numbers, including "Evening Star," "Annabelle Lee," and "The Raven." This production will be the Texas premiere of this musical. The cast includes Catie Carlisle, Morgan Clyde, Nicole Erwin, Erin Polewski, and Rebecca Trinidad. Joseph Urick plays Edgar, as well as directs.
Edgar Allan Poe (1809-1849) was an early Romantic American writer best known for his dark poetry and chilling short stories. He is one of America's literary pioneers, as he popularized the short story, and is often credited to pioneering the detective genre, which even Sir Arthur Conan Doyle drew inspiration from for his iconic Sherlock Holmes tales. Most importantly, Poe was the first established American writer who tried to earn his livelihood through his writing alone, which resulted in crippling financial difficulties, and a tumultuous career as an editor and critic.

"This production is not a typical musical," explains Urick, "It features a non-linear story, told almost as a dream sequence, and whisks the audience thru multiple parts of Edgar's life from when he is a boy, to his adulthood, and back again." The entire musical is presented by a cast of six: Edgar, and the five women who most greatly influenced his life. The Ladies include his biological mother Elizabeth (who died of tuberculosis when Edgar was only 3), his widowed aunt Maria Clemm (dubbed Muddy, a pet name for Mother), her 13-year old daughter Virginia Clemm (who ends up being Edgar's first wife), his childhood sweetheart Elmira, and his muse (aptly named The Whore). "Edgar loved women," continued Urick, "He worshipped them, and idolized them as something sacred, and this allowed the women in his life to heavily influence him. This production showcases that beautifully, but also shows his obsession grew to haunt him, taunt him, and drive him further into his deranged melancholia and madness."

The production is featured at the Roxie Theatre, which offers a unique 360-degree experience for its audience. "We want the audience to experience something very new," says TLO Executive Director, Nicole Erwin, "and having this kind of non-traditional musical told on a traditional proscenium stage simply would not have worked for us. The beauty of the Roxie is in its malleability, giving us opportunities for new and exciting staging. This means you'll be seeing actors not only in front of the audience, but up in the rafters, intermingling in the aisles - really inviting the audience into this weird, twisted world of Edgar Poe."
"The musical is not a biography," Urick said. "It is a romantic memory, so it's incredibly biased, as we only see the story thru Edgar's eyes; but it is the women who haunt him that remind him and us that his life is not quite as we would like to see it. And that, to me, is what is most important about this piece. It allows us to humanize this literary icon and us understand why he wrote the way he did."
While the play is about Edgar's life, it is the women who are the most prominent feature. The ladies of this cast include Catie Carlisle as Virginia. Catie has been seen most recently in productions around San Antonio including "Locolobo" at the Overtime, and "Born Yesterday" at the Classic. The Whore is played by Morgan Clyde, who has won ATAC Awards for her performance of Katherine in "Taming of the Shrew" (Classic Theatre), and her fight choreography for "Born Yesterday."
TLO Executive Director Nicole Erwin portrays Muddy (Maria Clemm). Nicole has been featured on many San Antonio stages, and most recently portrayed Claire Holmes in "The Secret Garden" and The Wardrobe in "Disney's Beauty and the Beast," at The Playhouse San Antonio.
As Edgar's young sweetheart Elmira, Erin Polewski joins the cast after having played Rose in "The Secret Garden" at the Emily Ann Theatre in Wimberley, TX and Rachel Brown in "Inherit the Wind" at the Circle Arts Theatre in New Braunfels.
After overcoming her battle with cancer, Rebecca Trinidad returns to the stage as Elizabeth Poe, Edgar's Mother. Rebecca is the creator and driving force behind "Broadway Nights" at The Woodlawn Theater. Notable performances include "Funny Girl" at The Playhouse San Antonio and Jack's Mother in "Into the Woods" at The Woodlawn Theater. She also recently directed the highly acclaimed "Memphis" at The Woodlawn Theatre.
An important note: This musical shares a name with another, also called Nevermore, also about the life of Edgar Allan Poe. This production is not "Nevermore: The Imaginary Life and Mysterious Death of Edgar Allan Poe."
This production is not recommended young children, and it contains mature situations. The running time is 2 hours and 15 minutes with intermission.
Music Direction is by Darrin Newhardt, Set Design by Jonathan Pennington, Lighting Design by Tim Kelleher, Costume design by Rose Kennedy and Sound Design is by Charles Drew.

The production is presented by Roxie Theatre and co-produced by Aria Creative Productions and Texas Light Opera.
---
Nevermore, an Edgar Alan Poe musical
by Matt Conner, Grace Barnes, adapting Edgar Allan Poe
Texas Light Opera
Thursdays-Saturdays,
April 06 - April 15, 2017
Roxie Theatre
7460 Callaghan Road
Suite 333
San Antonio, TX, 78229
Performances are April 6-15, 2017 at 8 p.m. Thursdays through Saturdays at The Roxie Theatre, 7460 Callaghan Rd., Suite 333. San Antonio, TX 78229.
Tickets are $18-20 for balcony seating or $25 for premium floor seating and can be purchased online at roxietheatrecompany.org or by calling (210) 360-9180.
Ticket range $18-$25.