Nov. 15 - Dec. 03, 2017
Wednesdays-Sundays
Austin Shakespeare kicks off the holiday festivities with Shakespeare's popular romantic comedy Much Ado about NOTHING, running in the intimate Rollins Studio Theatre at The Long Center from November 15 - December 3. Set in the lush "Belle Époque" at the turn of the 20th Century, the witty and battling couple Beatrice and Benedick first trade barbs and then kisses. Music will fill the air in sunny Italy with surprising songs performed in trios and duets, featuring mezzo-soprano vocalist Shelley Auer. Shakespeare aficionados and newcomers will find much to love in Austin Shakespeare's accessible and visually delightful version of this classic play.
Two of Austin Shakespeare's favorite professional actors, Marc Pouhé and Gwendolyn Kelso, will play Benedick and Beatrice. The pair was last seen feuding as Kate and Petruchio in the company's Free Shakespeare in the Park production of The Taming of the Shrew. Director Ann Ciccolella expressed her enthusiasm, saying, "Exuberance is the key to a joyful battle of the sexes, especially between Beatrice and Benedick, two of Shakespeare's most clever characters."
The younger lovers, Hero and Claudio, will be played by Corinna Browning (Present Laughter) and Joseph Banks (A Midsummer Night's Dream). Other Austin Shakespeare actors include Toby Minor as the comic clown Dogberry and Derek Webster, who charmed audiences in The Crucible. New to Austin Shakespeare are Colum Morgan (Don Pedro), Samson Pleasant (Don John), Max Green (Conrade), Susan Myburgh (Verges), Julie Matthews (Ursula), Alaithia Velez (Balthazar), and Patrick David Wheeler (Borachio).
Audio feature with Michael Lee at KUT-FM, November 22, 2017
CREATIVE TEAM:
Artistic Director: Ann Ciccolella
Costume Designer: Benjamin Taylor Ridgway
Set and Light Designer: Patrick Anthony
Sound Designer: Bill Meadows
Music Composer: Gregory Bolin
Voice & Movement Consultant: Jim Hancock
Mask Designer: Jennifer Rose Davis
ABOUT AUSTIN SHAKESPEARE: Founded in 1984 and the only professional classical theater company in Central Texas, Austin Shakespeare presents professional theater of the highest quality with an emphasis on the plays of William Shakespeare, bringing to the public performances that are fresh, bold, imaginative, thought-provoking, and eminently accessible, connecting the truths of the past with the challenges and possibilities of today. In the fall and spring, Austin Shakespeare also produces plays by Shaw, Schiller, and Stoppard at The Long Center for the Performing Arts Rollins Studio Theatre. Austin Shakespeare's ongoing "Shakespeare Aloud" reading group and "Artist's Way" sessions invite new participants weekly. Austin Shakespeare's education program 20/20 sends professional actors into the schools to encourage love of language.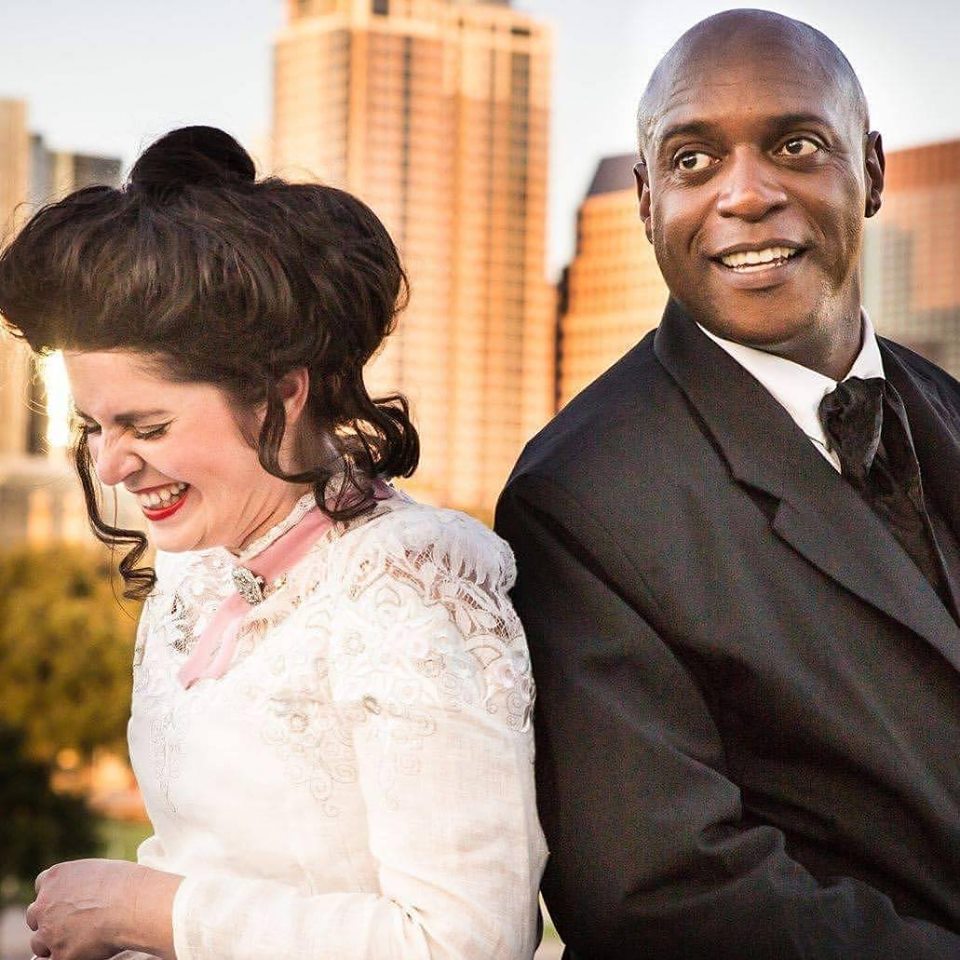 ---
Much Ado About Nothing
by William Shakespeare
Austin Shakespeare
Wednesdays-Sundays,
November 15 - December 03, 2017
Rollins Theatre
Long Center
701 Riverside at South First,
Austin, TX, 78704
November 15 - December 3, 2017
Thursdays - Saturdays at 7:30 pm
Sundays at 3:00 pm
Wednesday, Nov. 15 Preview at 7:30 pm
Added Wednesday, Nov. 22 at 7:30 pm
No Performance on Thanksgiving Day
Tickets at http://thelongcenter.org/event/much-ado-nothing/
(512) 474-5664
Specially-priced student tickets and a number of $5 "eyeGO to the Arts" tickets for High School students are available for every performance. Tickets are also available for a student "Informance" on Thursday, November 30 at 11 am, where students will have a chance to tour The Long Center, see fully-staged scenes, and participate in a Q & A with the actors and director. For more information, contact education@austinshakespeare.org.
[photography: Errich Petersen]