Oct. 07 - Nov. 05, 2017
Fridays-Sundays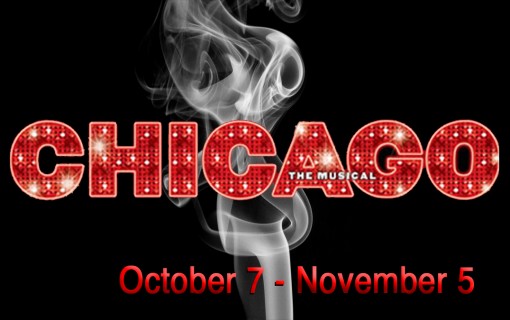 CHICAGO The Musical - In roaring twenties Chicago, chorine Roxie Hart murders a faithless lover and convinces her hapless husband Amos to take the rap...until he finds out he's been duped and turns on Roxie. Convicted and sent to death row, Roxie and another "Merry Murderess" Velma Kelly, vie for the spotlight and the headlines, ultimately joining forces in search of the "American Dream": fame, fortune and acquittal. This sharp edged satire features a dazzling score that sparked immortal staging by Bob Fosse.
Cast list:
Velma Kelly - Twyla LaMont
Kelly Powers (u.s.)
Roxie Hart - Alexandra Taylor
Marissa Hunt (u.s.)
Billy Flynn - Dwight D Robinson
Matron "Mama" Morton - Michelle Burnett
Mary Sunshine: Dick Long
Amos Hart: Daniel Calderon

Hunyak - Elizabeth Potts
Liz - Christina Hawkins
Salina De La Garza (u.s.)
Annie - Marissa Hunt
June - Alexandra Holbrook
Mona - Angelique Gabrielle Paccione
Go To Hell Kitty - Kelly Powers
Analysa De La Garza(US)

Fred Casely: Raul Christopher Riojas
Sergeant Fogarty: Sean Peter
Aaron: Juan Alvarez
Harry/The Jury: Domonic Miramontes
Harrison: Jim Jackson
Judge/Doctor: Ron Chan
Bailiff/Clerk: Kenneth Vargus

Female Company/Swings:
Salina De La Garza
Analysa De La Garza

Tech Crew:
Jessica Williamson
Destiny Dominguez

Director: Jonathan Pennington
Vocal Music Director: Tom Masinter
Band Conductor: Luvine Elias Jr
Stage Manager: Justine Del Toro

Special Thanks to our Sponsor:
Pegasus of San Antonio
---
Chicago
by John Kander and Fred Ebb
Roxie Theatre Company
Fridays-Sundays,
October 07 - November 05, 2017
Roxie Theatre
7460 Callaghan Road
Suite 333
San Antonio, TX, 78229
Fridays and Saturdays at 8 p.m., Sundays at 3:30 p.m.
Tickets $22 - 27 plus service fees