Rikki-Tikki-Tavi and Other Just-So Stories
by Magik Theatre
Oct. 06 - Nov. 04, 2017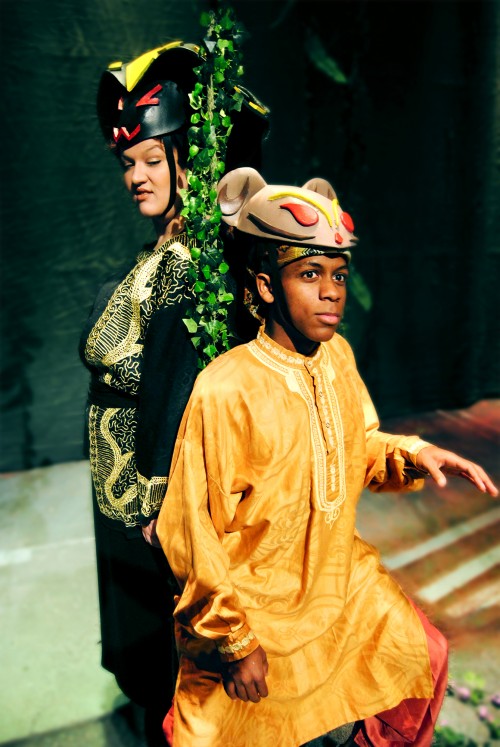 The Magik Theatre, San Antonio's professional family theatre, presents the first show of our 2017-2018 season, Rikki-Tikki-Tavi and Other "Just So" Stories. Based on "Just So" Stories by Rudyard Kipling, the author of The Jungle Book, and adapted by Christina Calvit and Meryl Friedman. Recommended for ages 3 and up, ideal for ages 5-10.
This classic collection of animal fables includes the beloved tales "How the Elephant Got Her Trunk," "How the Camel Got His Hump," and the exciting "Rikki-Tikki-Tavi," the brave mongoose who saves his boy from a vengeful Cobra. Varying from whimsical to moral, these iconic stories are set in colonial India and are peppered with Indian music and dance.

Cast and Production Team

The cast and crew for Rikki-Tikki-Tavi and Other "Just So" Stories:
Jeremy Bilbo (Actor 2), Delvin James (Actor 4), Jovi Lee (Actor 3), Ariel Rosen (Actor 1), Charles Bell (understudy Actor 2 and Actor 4), Randee Lutterloh (understudy Actor 1 and Actor 3).

Directed by Frances Limoncelli, choreographed by Kaushalya Subramanian, stage managed by Rebecca J. Simons, scenic and lighting design by Joe Cooley, props and mask fabrication by Lucian Hernandez, and costume design by Carolyn Dellinger.



About The Magik Theatre
The Magik Theatre is San Antonio's professional family theatre. Founded in 1994, the theatre has presented more than 160 mainstage and touring productions to over 2 million children and their families. The Magik Theatre's mission is to nurture young people's growth and education by providing extraordinary and accessible theatre experiences based on great literature. The Magik Theatre enhances the lives of children with disabilities and at-risk youth through its community accessibility, education, and outreach programs. The Magik Theatre is a 501(c)(3) non-profit organization. For more information, visit magiktheatre.org.
---
Rikki-Tikki-Tavi and Other Just-So Stories
by adapted from Rudyard Kipling
Magik Theatre
October 06 - November 04, 2017

Rikki-Tikki-Tavi and Other "Just So" Stories opens Friday, October 6, 2017 at 6:30 p.m. and runs through Saturday, November 4, 2017. Show times are 6:30 p.m. on Friday, October 6 and Friday, November 3. Saturday and Sunday performances are at 2 p.m. Special community performances listed below. Tickets for The Magik Theatre may be purchased at The Magik Theatre Box Office, 210.227.2751, or by visiting www.magiktheatre.org.
Special Community Performances

The Magik Theatre offers a variety of performances to thank members of our community and become more accessible to others. (Dates are subject to change. Please check the website for the most current dates and times.)

San Antonio Zoo Animal Ambassadors: October 6, 2017 and November 3, 2017 before the 6:30 p.m. performance and October 15, 22 and 29 before the 2 p.m. performance. Join us in the lobby 30 minutes before the show to interact with animals from the San Antonio Zoo!

Educator Night: October 6, 2017 at 6:30 p.m. Educators receive FREE admission with I.D. and 1.5 hours of CPE Credit Hours for attending. They can join us 45 minutes prior to show time for an exclusive reception with information about the show and some prize giveaways.

Neighborhood Day: October 8, 2017 at 2 p.m. The Magik Theatre believes in the importance of a local community and getting to know your neighbor. If you live in one of the following zip codes (in the Downtown, Southtown and King William neighborhoods) you will receive a $10 ticket to our Neighborhood Day performances with the code DOWNTOWN.

Military and First Responders Performance: October 14, 2017 at 2 p.m. We appreciate all the selfless heroes in our community who put their lives on the line. To celebrate them, active or retired members of the military and first responders with I.D. pay $5 per ticket for their entire party for this performance.

Sensory-Friendly Performance: October 21, 2017 at 2 p.m. Sensory-Friendly performances are slightly adjusted for people on the autism spectrum, those with cognitive disabilities, or anyone who might enjoy a more relaxed atmosphere, such as very young children. Lights and sound effects are softened, theatre etiquette is relaxed, and all are accepted and welcomed. Thanks to a grant from University Health System, we are offering a sensory-friendly performance for every show in the 2017-2018 season.

American Sign Language (ASL) Interpreter Performance: October 22, 2017 2 p.m. The Magik Theatre is offering an ASL Interpreter for at least one performance for each show of the 2017-2018 season. Robert Cardoza acts as the main sign language interpreter for San Antonio's theatre community, and was the ASL interpreter for the last production of our 2016-2017 season (Junie B. Jones, the Musical).