Review: Rikki-Tikki-Tavi and Other Just-So Stories by Magik Theatre
by Kurt Gardner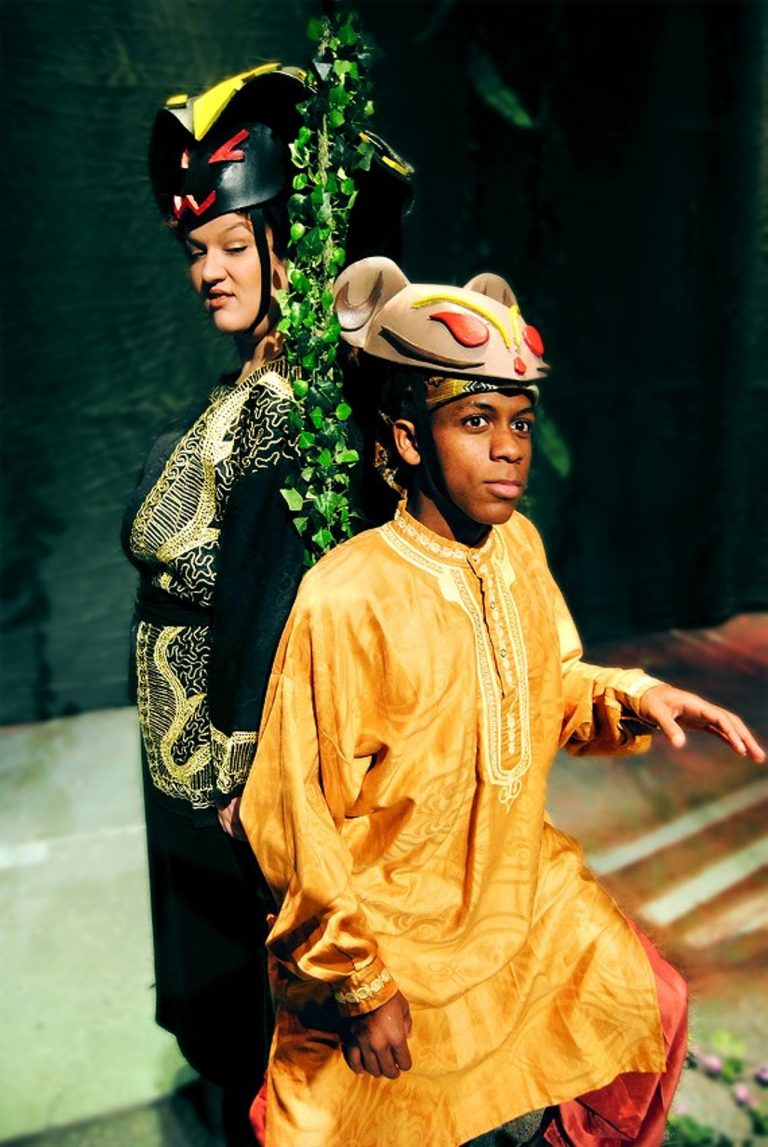 Adapted from the works of Rudyard Kipling by members of the Chicago-based Lifeline Theatre, Christina Calvit and Meryl Friedman, Rikki-Tikki-Tavi and Other 'Just So' Stories comes to San Antonio's Magik Theatre in a delightful production that will entertain children and their parents alike.
The piece is performed by four talented actors: Jeremy Bilbo, Delvin James, Jovi Lee, and Randee Lutterloh. They each inhabit several of Kipling's characters with the aid of evocative costumes designed by Carolyn Dellinger Stillwaggon and stylish headpieces fabricated by Lucian Hernandez. As they take turns narrating the stories, they make their way through Joe Cooley's effective set design to transport the audience to India. Here, long swaths of blue fabric magically transform into rivers, hanging vines become transportation devices, and the arrival of the Djinn is accompanied by an enormous cloud of smoke.
Three of Kipling's most familiar stories are related here — "How the Camel Got His Hump," "How the Elephant Got His Trunk," and "Rikki-Tikki-Tavi," which tells the tale of the brave mongoose that battles the sinister cobras Nag and Nagina to protect his adopted human family. The actors are quite engaging, and they encourage audience participation throughout the show. At the performance I attended last Sunday, even the littlest ones seemed mesmerized. Indeed, at the show's conclusion, when asked if they were ready to leave India, they shouted "No!"
The direction by Frances Limoncelli is fine, and the choreography by Kausi Subramaniam is impressive, especially during the spectacular duel between Rikki-Tikki-Tavi and Nag.
Rikki-Tikki-Tavi and Other 'Just So' Stories plays Saturdays and Sundays at 2:00 p.m. through Nov. 4, with an evening show at 6:30 p.m. on Friday, Nov. 3, at the Magik Theatre, 420 Alamo Street. Tickets are available online or by calling (210) 227-2751. Special community performances will also be featured throughout the run. Consult the theater's website for dates and times.
The Magik Theatre's 2017-2018 mainstage season continues with The Best Christmas Pageant Ever (Nov. 1-Dec. 30); Tomás and the Library Lady (Jan. 26-Feb. 17, 2018); Knuffle Bunny: A Cautionary Musical (Mar. 2-April 7, 2018); Disney's Aladdin: Dual Language Edition (Apr. 24-June 7, 2018); A Wrinkle in Time (May 18-27, 2018); and Madagascar: A Musical Adventure (July 5-Aug. 12, 2018). More details can be found on the theater's website.
Kurt Gardner's theatre reviews also appear at www.BlogCritics.com.
---
Rikki-Tikki-Tavi and Other Just-So Stories
by adapted from Rudyard Kipling
Magik Theatre
October 06 - November 04, 2017

Rikki-Tikki-Tavi and Other "Just So" Stories opens Friday, October 6, 2017 at 6:30 p.m. and runs through Saturday, November 4, 2017. Show times are 6:30 p.m. on Friday, October 6 and Friday, November 3. Saturday and Sunday performances are at 2 p.m. Special community performances listed below. Tickets for The Magik Theatre may be purchased at The Magik Theatre Box Office, 210.227.2751, or by visiting www.magiktheatre.org.
Special Community Performances

The Magik Theatre offers a variety of performances to thank members of our community and become more accessible to others. (Dates are subject to change. Please check the website for the most current dates and times.)

San Antonio Zoo Animal Ambassadors: October 6, 2017 and November 3, 2017 before the 6:30 p.m. performance and October 15, 22 and 29 before the 2 p.m. performance. Join us in the lobby 30 minutes before the show to interact with animals from the San Antonio Zoo!

Educator Night: October 6, 2017 at 6:30 p.m. Educators receive FREE admission with I.D. and 1.5 hours of CPE Credit Hours for attending. They can join us 45 minutes prior to show time for an exclusive reception with information about the show and some prize giveaways.

Neighborhood Day: October 8, 2017 at 2 p.m. The Magik Theatre believes in the importance of a local community and getting to know your neighbor. If you live in one of the following zip codes (in the Downtown, Southtown and King William neighborhoods) you will receive a $10 ticket to our Neighborhood Day performances with the code DOWNTOWN.

Military and First Responders Performance: October 14, 2017 at 2 p.m. We appreciate all the selfless heroes in our community who put their lives on the line. To celebrate them, active or retired members of the military and first responders with I.D. pay $5 per ticket for their entire party for this performance.

Sensory-Friendly Performance: October 21, 2017 at 2 p.m. Sensory-Friendly performances are slightly adjusted for people on the autism spectrum, those with cognitive disabilities, or anyone who might enjoy a more relaxed atmosphere, such as very young children. Lights and sound effects are softened, theatre etiquette is relaxed, and all are accepted and welcomed. Thanks to a grant from University Health System, we are offering a sensory-friendly performance for every show in the 2017-2018 season.

American Sign Language (ASL) Interpreter Performance: October 22, 2017 2 p.m. The Magik Theatre is offering an ASL Interpreter for at least one performance for each show of the 2017-2018 season. Robert Cardoza acts as the main sign language interpreter for San Antonio's theatre community, and was the ASL interpreter for the last production of our 2016-2017 season (Junie B. Jones, the Musical).