Jun. 18 - Jun. 28, 2015
Thursdays-Sundays
The Gilbert & Sullivan Society of Austin presents its summer 2015 grand production of The Sorcerer. Nine performances will be presented at the Worley Barton Theater at Brentwood Christian School, June 18-28. This popular classic was W. S. Gilbert and Arthur Sullivan's third comic opera of their fourteen. The plot is based on a Christmas story, An Elixir of Love, that Gilbert wrote for a magazine in 1876.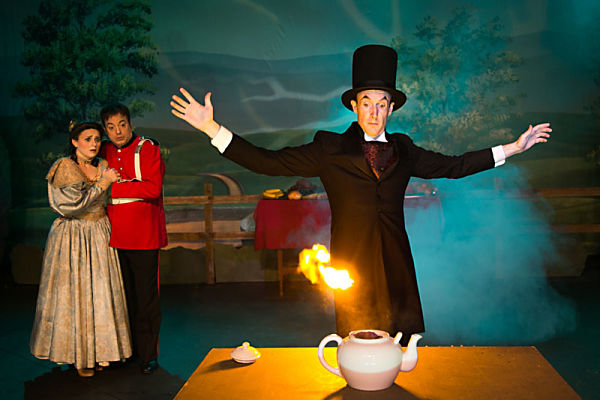 Artistic Director Ralph MacPhail, Jr., returns for his 15th summer with the Society, along with Jeffrey Jones-Ragona, enjoying his 19th season as Music Director. Bill Hatcher returns as Production Manager.


The Sorcerer opened in November of 1877 at the Opera Comique in London, where it ran for 178 performances. It was a success by the standards of that time and encouraged the collaborators to write their next opera, H.M.S. Pinafore. The Sorcerer was the first G&S opera to use all the major character types and typical range of songs that would appear in their later collaborations, such as comic duets, a patter song, and novel ensembles. The chorus is essential, taking part in the action and often acting as an important character in its own right.


The setting is a small rural village inhabited by gentry and country folk. A young man, Alexis, is obsessed with idea of love levelling all ranks and social distinctions. To promote his beliefs, he invites the proprietor of J.W. Wells & Co., Family Sorcerers, to brew a love potion. This causes everyone in the village to fall in love with the first person they see and results in the pairing of comically mismatched couples. In the end, Wells must sacrifice his life to break the spell. The satire in the opera is focused on old-fashioned conventions of aristocratic benevolence and grand opera. It's a magical story, filled with topsy-turvy humor and beautiful music. The Sorcerer sets the stage for the wonderful collaborations that followed during the subsequent two decades of collaboration.
DRAMATIS PERSONAE
Sir Marmaduke Pointdextre (bass baritone)
Alexis (tenor)
Dr. Daly (light baritone)
Notary (bass)
John Wellington Wells (light baritone)
Lady Sangazure (contralto)
Aline (soprano)
Mrs. Partlet (mezzo-soprano)
Constance (mezzo-soprano)
Hercules (speaking role)
CHORUS
Female & Male villagers of Ploverleigh
---
The Sorcerer
by W.S. Gilbert and Arthur Sullivan
Gilbert & Sullivan Austin
Thursdays-Sundays,
June 18 - June 28, 2015
Worley Barton Theater at Brentwood Christian School
11908 N. Lamar | Map |Seating Chart
Tickets Now On Sale - Buy in Advance and Save!
or call 512-474-5664
Tickets by phone available M-F 10am-6pm & Sat 10am-4pm
Advance purchase: $25 Adults | $15 Students over 18 with i.d. | $7 for 18 & under
Price at the Door: $30 Adults | $20 Students over 18 with i.d. | $10 for 18 & under
Group Sales: For discounted group sales of 10 or more, contact Michael Meigs
512-420-0888 or michael@gilbertsullivan.org
Ticket service fees apply on all categories of ticket
Credit card charges will appear as "Long Center"'
Tickets may also be purchased at the Long Center box office
Please note performance start times - Evening Performances at 7:30pm - Matinees at 2pm
9 PERFORMANCES
Thursday
June 18
7:30pm
Opening Night


Reduced Price Tickets

Friday
June 19
7:30pm
Gala Performance


Complimentary Buffet With Cast Follows Performance

Saturday
June 20
7:30pm
Evening Performance
Sunday
June 21
2pm
Matinee


Children's Activities at 1pm

Thursday
June 25
7:30pm
Evening Performance
Friday
June 26
7:30pm
Evening Performance
Saturday
June 27
2pm
7:30pm
Matinee
Evening Performance
Sunday
June 28
2pm
Matinee
All performances with supertitles for dialogue & lyrics.
A complementary buffet with the cast follows the Friday, June 19 Gala Performance. Special children's activities precede the performance on Sunday, June 21 at 1pm.