Review: The Sorcerer by Gilbert & Sullivan Society of Austin
by David Glen Robinson
The Sorcerer by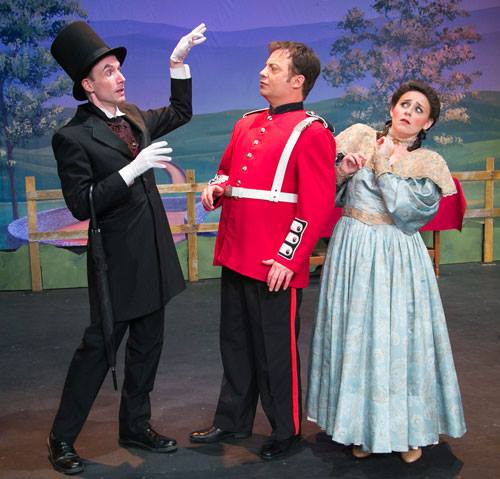 Gilbert and Sullivan is finishing up its current run in Austin at the Brentwood Christian School on North Lamar.The show offers up more lapidary work by the Gilbert and Sullivan Society of Austin (GSSA) doing what it does best: historically faithful renditions of Gilbert and Sullivan's work. Fans of English light opera will be thrilled by the show, as will theatergoers of any type.
The Sorcerer is one of the early works in the long collaboration of W.S. Gilbert and Arthur Sullivan, premiering in 1877, almost 140 years ago. The show was followed shortly by HMS Pinafore; the world never looked back into Pinafore's penumbra to find The Sorcerer. The show remains in relative obscurity, but contains a wealth of Gilbert's and Sullivan's trademark excellent music and song lyrics that play trippingly with language and lots of it. It also shows their signature droll and accessible humor. For instance, the dialogue runs a dry, chuckling laugh on the exact pronunciations of filter and philtre. "Ph-," you know.
Borrowing an ancient theme in opera and myth, Gilbert wrote the show book about the sorcerer (employed by one of the principals) who applies a love philtre to the tea of an entire village, Ploverleigh, to make the tea's partakers fall in love with the first person they see upon waking. This mossy premise provided Gilbert an abundance of hilarious combinations of love-birds. English family humor, then as now, runs frequently to mismatches of body types, age grades, and social classes. Central European variants of the fairy tale feature a nobleman falling in love with a hog. But not here: In The Sorcerer we can see the advancement of the topsy-turvyism for which Gilbert and Sullivan became very well known.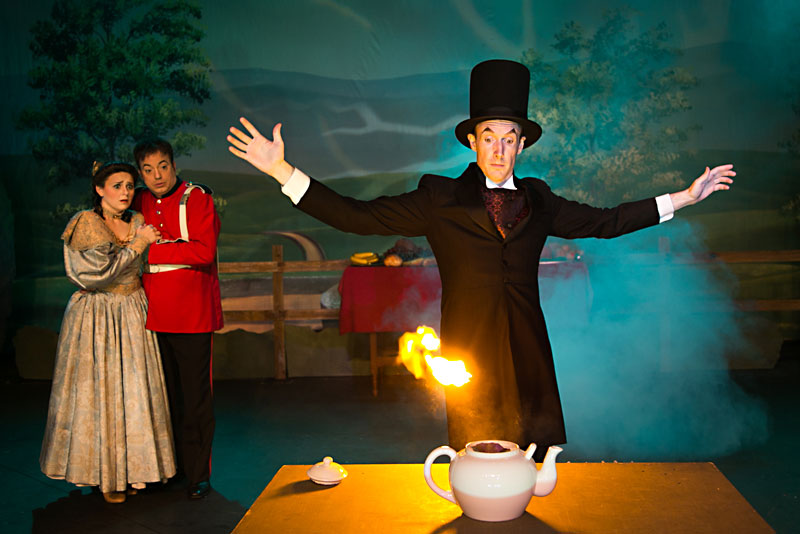 The GSSA always attracts impressive talent, too much to mention by name here. Alexandra Reilman and Holton Johnson played the original love-birds who got the village of Ploverleigh in trouble in the first place.Their noble parents, his and hers, were sung admirably by David Fontenot and Lisa Alexander. Julius Young played Dr. Daly, Vicar of Ploverleigh. The title role was sung bewitchingly by Arthur DiBianca. A special credit goes to Russell Gregory, who played the Notary. Mr. Gregory is impressive of years and strong of voice, and he added much to the production with his stage presence alone.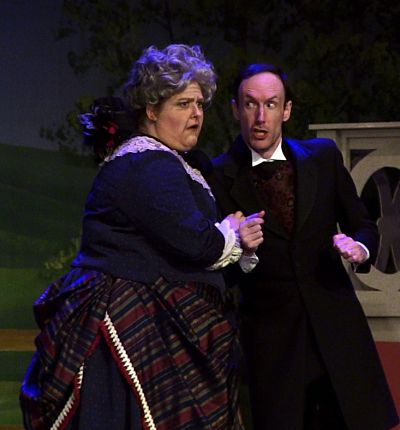 The ensemble of villagers is gifted with singers who are well-experienced. One of several standouts is Daniel Brookshire, who is also a member of Capital City Men's Chorus and a choir member at Trinity United Methodist Church.
Design areas in light opera productions are often fixed in place and so rarely receive notice. The lighting design by Jennifer Rogers, however, was notably creative and pleasing, especially the midnight courtyard scene at the beginning of Act II.
What's really at work here is not sorcery and witchcraft; it is a Victorian fascination with marriage and traditional roles. Song after song offers well-turned lyrics on how he'll work for her and how she'll take care of him; and this goes for the whole village and from top to bottom of the social order. There is no questioning that everyone knows that marriage is the highest of values. Things are different today, and there are many alternatives to traditional marriage—witness our history-pivoting inclusion of same-sex marriage just now by the U.S. Supreme Court—but millions still take comfort in rule-based role-assignments, particularly in marriage and religious practices. Gilbert and Sullivan remained on solid social ground with their witty lyrical play and memorable music. Their humor remains fresh and largely inoffensive.
GSSA knows very well how to preserve mid-Victorian theatrical art. By contrast, playing in town concurrently is Heathers, a 21st century musical which features a well-draped but explicit simulation of sex by teenage characters who sing their love duet en flagrante delicto. How far theatre has come (or gone) in a mere 140 years. Gilbert and Sullivan stand up very well indeed in the face of "progress."
Heartfelt thanks goes to GSSA for polishing this gem from the Gilbert and Sullivan trove. The show will probably be gone by the time this review is posted, but keep the GSSA on your theatre-going radar. They promise The Gondoliers, or The King of Barataria in 2016, to be directed by two-time B. Iden Payne winner (both for G&S roles!) Michelle Haché.
---
The Sorcerer
by W.S. Gilbert and Arthur Sullivan
Gilbert & Sullivan Austin
Thursdays-Sundays,
June 18 - June 28, 2015
Worley Barton Theater at Brentwood Christian School
11908 N. Lamar | Map |Seating Chart
Tickets Now On Sale - Buy in Advance and Save!
or call 512-474-5664
Tickets by phone available M-F 10am-6pm & Sat 10am-4pm
Advance purchase: $25 Adults | $15 Students over 18 with i.d. | $7 for 18 & under
Price at the Door: $30 Adults | $20 Students over 18 with i.d. | $10 for 18 & under
Group Sales: For discounted group sales of 10 or more, contact Michael Meigs
512-420-0888 or michael@gilbertsullivan.org
Ticket service fees apply on all categories of ticket
Credit card charges will appear as "Long Center"'
Tickets may also be purchased at the Long Center box office
Please note performance start times - Evening Performances at 7:30pm - Matinees at 2pm
9 PERFORMANCES
Thursday
June 18
7:30pm
Opening Night


Reduced Price Tickets

Friday
June 19
7:30pm
Gala Performance


Complimentary Buffet With Cast Follows Performance

Saturday
June 20
7:30pm
Evening Performance
Sunday
June 21
2pm
Matinee


Children's Activities at 1pm

Thursday
June 25
7:30pm
Evening Performance
Friday
June 26
7:30pm
Evening Performance
Saturday
June 27
2pm
7:30pm
Matinee
Evening Performance
Sunday
June 28
2pm
Matinee
All performances with supertitles for dialogue & lyrics.
A complementary buffet with the cast follows the Friday, June 19 Gala Performance. Special children's activities precede the performance on Sunday, June 21 at 1pm.