Cast Announced for "A Christmas Carol"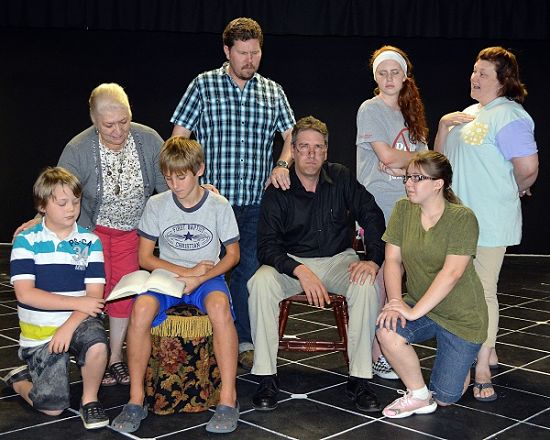 The Hill Country Community Theatre is pleased to announce the cast for its holiday production of "A Christmas Carol", by Christopher Schario, adapted from the book by Charles Dickens. "A Christmas Carol" will be directed by Bridget Farias Gates and will begin performances on December 4.
The ensemble includes Patrick Lescarbeau (Scrooge), Gus Henry and Kellan Koch (Actor #1: Schoolboy, Dick Wilkins, Tiny Tim, Turkey Boy (alternating nights)), Glen Bird (Actor #2: Bob Cratchit, Marley's Ghost, Fezziwig, Old Joe), Ocean Fillingim (Actor #3: Fay, Christmas Present, Peter Cratchit), Grace Ann Todd (Actor #4: Gentlewoman #1, Fan, Mrs. Fezziwig, Belle, Martha, Laundress), Cindy Callihan (Actor #5: Gentlewoman #2, Christmas Past, Mrs. Cratchit, Charwoman), Martha Good (Townsperson), Mia Pineda (Townsperson), Spencer Stephens (Fiddler). Tomey McGowen will serve as Stage Manager.
This charming adaptation of "A Christmas Carol" focuses on Dickens' powerful language, humor and warmth. This stylized production, performed by a small cast, begins with a child reading the story for the first time. As the scenes play out behind him, the child becomes totally caught up in the story and is finally invited by the other characters to enter the play as one of them. With live sound effects, traditional carols, and English folk tunes creating the proper atmosphere, the world of Scrooge, Fezziwig and Tiny Tim comes alive, igniting the holiday spirit for young and old alike.
Directing at the Hill Country Community Theatre for the first time, the award-winning Bridget Farias Gates holds a BFA in Acting and a BFA in Directing from Texas State University. Having studied for two summers with the Royal Shakespeare Company in Stratford, England, Bridget is now the Artistic Director of the EmilyAnn Theatre & Gardens in Wimberley. She has worked professionally with City Theatre, ZACH, Scottish Rite Children's Theatre, Austin Shakespeare, Troupe Texas, The Baron's Men, and Trinity Street Players.
"A Christmas Carol" will open on December 4 and run through December 14. Performances will be on Thursdays, Fridays, and Saturdays at 7:30 PM and Sunday matinees at 2:15 PM. Tickets will go on sale November 24 for HCCT members and November 26 for the general public.
The Hill Country Community Theatre's mission is to present and promote quality theatre activities and programs that entertain, educate and encourage community participation in the support of performance and related cultural arts. Since 1985, the Hill Country Community Theatre has served the public as a showcase for extraordinary local talent. HCCT is one of the oldest continuously operating community theatres in Texas.
---
A Christmas Carol
by Charles Dickens
Hill Country Community Theatre (HCCT)
December 04 - December 14, 2014
Performances will be on Thursdays, Fridays, and Saturdays at 7:30 PM and Sunday matinees at 2:15 PM