Feature: Andrea Ariel Dance Theatre and REIMAGINING: CELEBRATING 30 YEARS (April 29 - May 1), by Dr. David Glen Robinson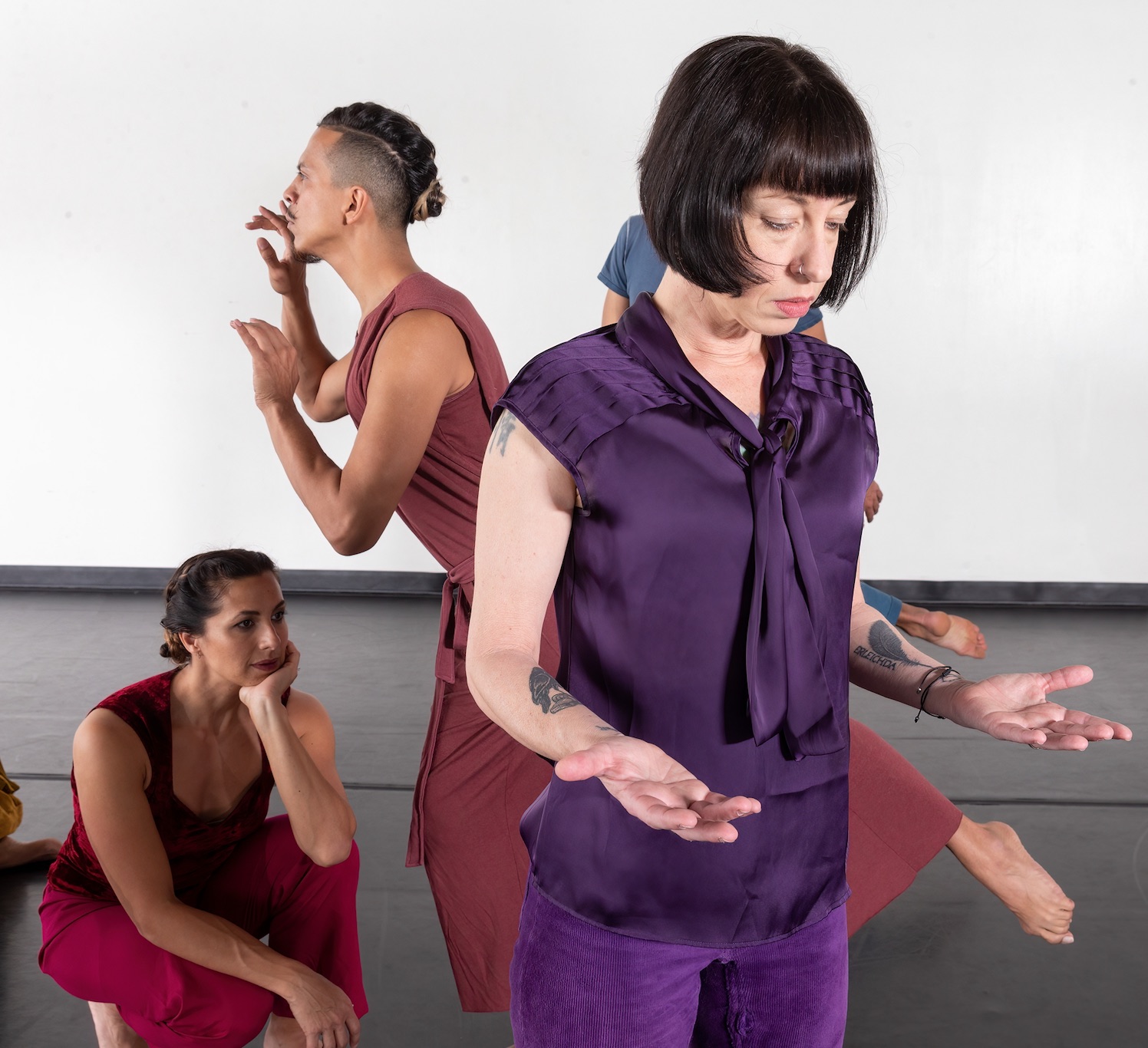 Andrea Ariel and her Andrea Ariel Dance Theatre (AADT) are celebrating their thirty-second season—that's three decades plus of leading-edge contemporary dance in Austin. And they are celebrating with, what else, a new multi-form show entitled Reimagine, for performance at the Long Center. The performance centers around acclaimed works from the AADT repertoire and includes new works choreographed to scores for piano and strings composed and performed by Graham Reynolds.
Ariel had been working on this production for the last few years while continuing her impressive teaching stints. These included work as an arts partner with AADT's ARTSPLUS program through the Austin Independent School District's Creative Learning Initiative and independent Creative Community Voices workshops for adults at all skill levels.
Then, of course, the global coronavirus pandemic shut down the performing arts and much public economic activity in the United States. But rather than stopping Andrea Ariel, the national coronavirus lockdown (not yet quite past as of this writing) deflected her into new creative pathways. Importantly, her new live stage show, Reimagine, initially postponed until 2021, was put off until 2022 while development continued—Reimagine reimagined, so to speak. It looks like nothing can stop her now. Reimagine premieres April 29th at the Long Center for a one-weekend run through May 1.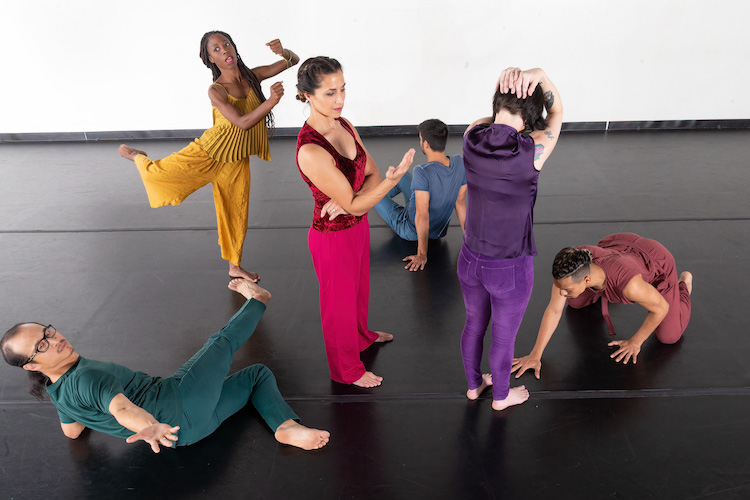 Ariel's intent before Covid had been to help create a bright future while acknowledging that which had come before. She began work on the show in 2019. Now more than ever, Ariel reimagines art from past decades of her own career. Austin-based composer Graham Reynolds created the music; he's joined in performance by musicians Alexis Buffum on violin and Ilia De la Rosa on cello. Reynolds has collaborated with Ariel and AADT in at least twelve of their shows over fourteen years. "Over all these years we both were developing our work, and there are many threads of compositions that are part of my work during that time," Ariel says. "I thought it would be interesting to reimagine older works and create new ones to a selection of scores that resonated with these connections."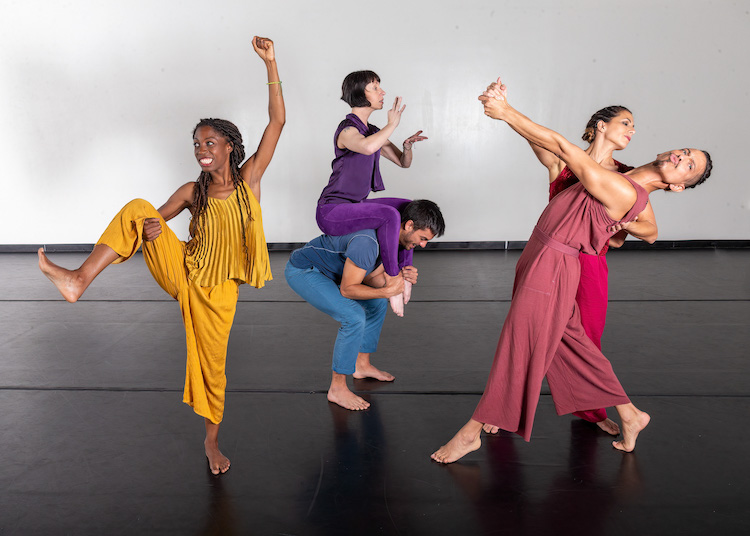 The same goes for dance collaborators who worked with her in the early 2000s, Ceci Proeger and Whitney O'Baugh. In this work of reimagining, Ariel sees unforeseen threads of continuity, unexpected touchpoints of artistic legacy. A strong example is her duet with Steve Ochoa in Five.Two.Ten, from 2008, restaged for two women to feature Proeger and O'Baugh. That dance for her has always been one of "those things that happen that allow new things to happen."
But Reimagine, perhaps ironically, already points toward new avenues of innovation. The AADT team commemorates its 32nd year with REIMAGINE in the Making, an online experience (or documentary). Created during lockdown in 2020,the presentation combines archival video of past shows brought into Reimagine, pre-Covid rehearsal excerpts, virtual rehearsals, creative experiments, and Zoom-type dance reimaginings done by the dancers in their homes and outdoor spaces. This media patchwork or mosaic is edited to bring the choreography forward in time. Some of these media forms (e.g., Zoom) didn't exist when some original works were created. Click HERE to see the documentary.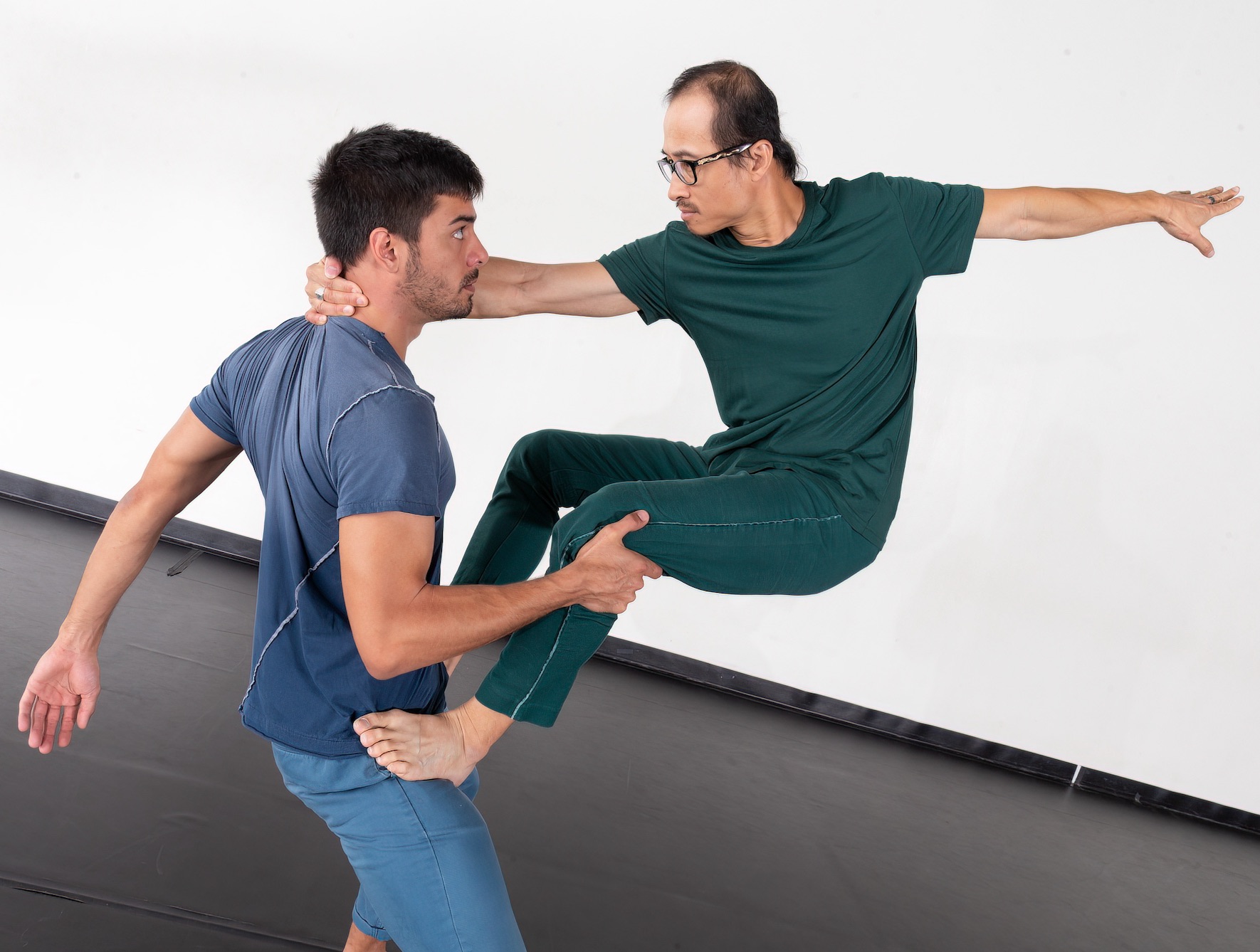 "When I watch the virtual re-creations we made, I feel the depth of where we were during that first year" Ariel says. "As I have come back to the creative process in-person with the dancers two years later, a deeper meaning of the work has emerged. It reflects our experience of the changes we have gone through. This collection of dances draws together threads that find relevance in our current times."
AADT invites all to see how they are reimagined, both in the documentary and live at the Long Center.
---
REIMAGINE: Celebrating 30 Years
by Andrea Ariel, Graham Reynolds
Andrea Ariel Dance Theatre
Friday-Sunday,
April 29 - May 01, 2022
Rollins Theatre
Long Center
701 Riverside at South First,
Austin, TX, 78704
April 29 - May 1, 2022
Rollins Theatre, Long Center, Austin
Reserved seats $39 + $6.75 Long Center fee: $45.75
General admission $29 plus fee; discounted rate $19 plus fee for seniors, physically disabled, others, plus fee.
Click HERE to go to the Long Center for tickets to REIMAGINE.