Review: Pippin by Woodlawn Theatre
by Kurt Gardner
More than 40 years before he composed the music for the monster Broadway hit Wicked, Stephen Schwartz wrote the songs for Pippin, a much more modest production. In my opinion, it's the superior work. Though Wicked has proven irresistible to teenage girls, I find it to be overblown and repetitive, while Pippin is down-to-earth and, well – sweet. It's also got emotional heft that sneaks up on you.
Pippin tells the tale of the son of Charlemagne the Great's son, a boy whose quest for significance in his life leads him into war, revolution, patricide and – at last – domestic bliss.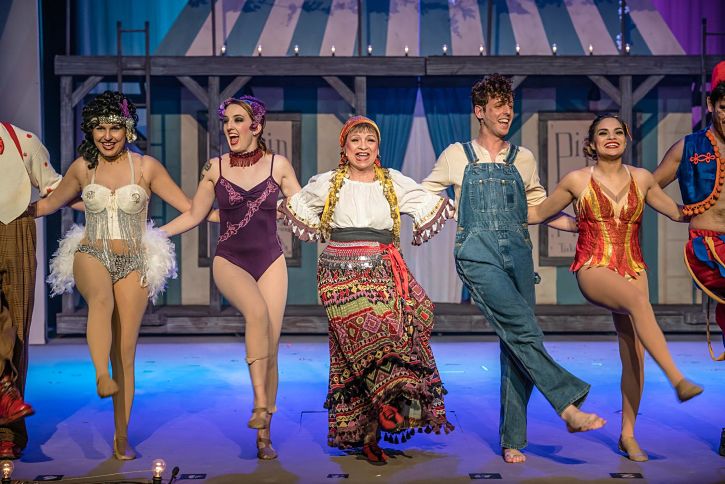 Schwartz's score contains so many memorable numbers ("Magic To Do," "Morning Glow," "No Time At All"), it's unlikely that even someone who hasn't seen the show wouldn't recognize at least one of them. Hirson's book is rich with comedy and naughty innuendo, so there are plenty of laughs.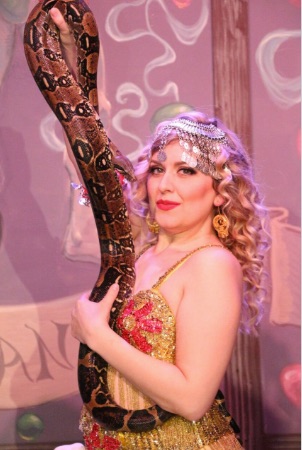 As a rule, Pippin is staged as a traveling show. Director Katie Benson's production, now playing at the Woodlawn, increases the emphasis on the circus aspects, and it's highly effective. Aerial acrobats, a stilt walker, and a snake charmer (carrying a live snake) stroll around the stage. The charmer is also the actress (Amanda Golden) playing Pippin's stepmother, Fastrada, and it's a testament to her dedication that she can act and sing with an enormous python wrapped around her neck.
Gianna Rodriguez is terrific as The Leading Player, the role that won Ben Vereen a Tony in the original Broadway production. Also fine is the aforementioned Golden as Charlemagne's spoiled wife. Kevin Cox is hilarious as Lewis, the narcissistic son of Fastrada and the king, and Michael Duggan hits all the right stentorian notes as Charlemagne ("A giant on the battlefield…and in the bedroom!"). Rita Duggan has fun with the role of Berthe, Pippin's lusty and free-spirited grandmother.
Trevor Chauvin projects the perfect mix of idealism and naiveté required of the title character, and he is well-matched by Lauren Silva as Catherine, the young widow with whom he falls in love. Their duet on "Love Song" is one of the show's highlights. The colorful ensemble, a Woodlawn trademark, delivers its usual solid support, aided by Alonzo Corona's Fosse-tinged choreography.
The Woodlawn's staging is typically lush. Josh Pepper's seven-piece orchestra richly fills the theater, and Benjamin Grabill's set provides an evocative backdrop for the tale. Benjamin Farrar's sound and video design, matched by Chris Muenchow's lighting, enhances the effect. Rose Kennedy's costumes are appropriately mismatched and anachronistic, as if the players had randomly pulled them out of a trunk.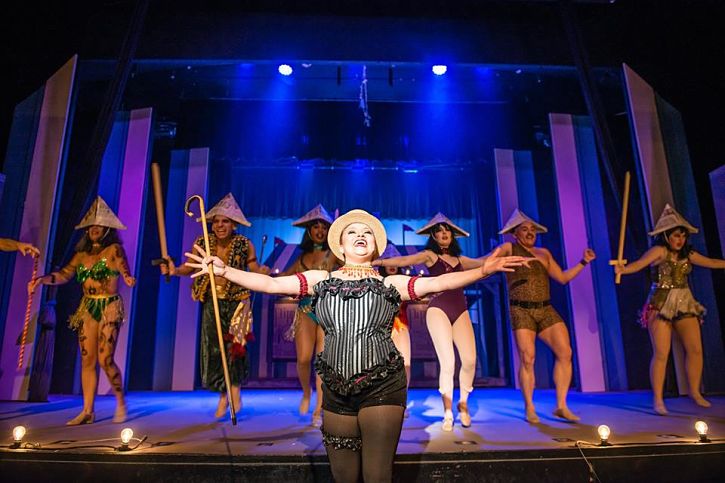 Pippin plays Fridays and Saturdays at 7:30 p.m. and Sundays at 3:00 p.m. through March 12 at the Woodlawn Theatre, 1920 Fredericksburg Road. Tickets can be obtained online or by calling (210) 267-8388.
Kurt Gardner's theatre reviews also appear at www.BlogCritics.org.
---
Pippin
by Stephen Schwartz, Roger O. Hirson, Bob Fosse
Wonder Theatre (formerly Woodlawn Theatre)
Fridays-Sundays,
February 10 - March 12, 2017
Fridays and Saturdays at 7:30 PM
Sundays at 3:00 PM
Adult Tickets $29, Senior/Mil $24, and Child/Student $18 plus at $3 Service fee per ticket.
Woodlawn Theatre
1920 Fredericksburg RD
San Antonio, Texas 78201