Review: Three Viewings by Trinity Street Players
by Michael Meigs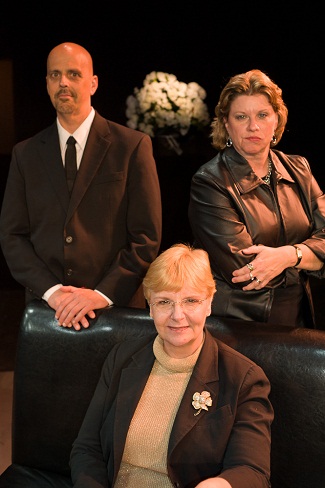 Those who attend Trinity Street Players' Three Viewings by Jeffrey Hatcher will be spending some time in the dark with these faces. Each will feature in a solo act, navigating the fragile thread of human emotion like a tightrope walker. Or, to use the German expression for it, like a 'rope dancer,' because these narratives are not as predicable as a taut line. These characters inhabit the same world and speak to us from the same space -- a barren smoking lounge in a funeral home in the northeastern United States -- but they don't appear together until the curtain call.
That black box theatre up on the fourth floor of the First Baptist Church puts them within arm's reach of the audience. Director Bob Beare builds that up-close-and-personal feeling by having two of his talented actors enter through the audience ("excuse me; excuse me; coming through, here") and the other one emerge from the audience.
Jeffrey Hatcher has written three monologues as intimately eerie as pieces by Edgar Alan Poe and as surprising as short stories by O. Henry. The narratives are not in the least morbid, despite the setting and even though they speak frankly of funerals and of the recently deceased. These are the living, bereaved but not bereft.
Trinity Street Players stages three plays a year and they often fill up this space with characters and actors. That's what happened in their productions of Steel Magnolias, You Can't Take It with You and Arthur Miller's Incident at Vichy. Shadowlands was really a two-character play but those characters were well surrounded.
The three solo one-acts of this piece by Hatcher require different strengths. Each actor must establish rapport, create the character and tell the story as if delivering it to the ear of an old and trusted friend. Their success here reinforces the impression that Trinity Street Players are the most accomplished community ensemble in the greater Austin area.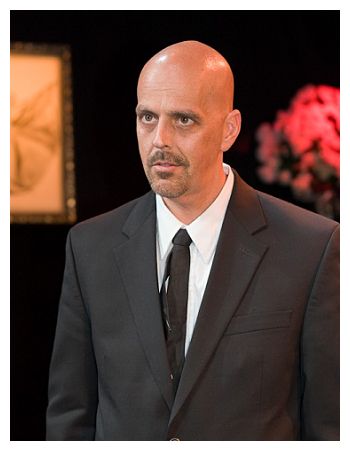 David Harper opens the evening as Emil, mortician and proprietor of the establishment. He's high-strung and attentive, with an almost painfully acute regard for others -- qualities that after all, one might well desire in an individual of this peculiar calling. Emil's heart has fixed itself almost against his will upon a woman who's a regular visitor to these community gatherings.
Linda Miller Raff is Mac, the "thief of tears," wearing black leather and bling, obliged to return from her questionable L.A. lifestyle to attend the funeral of her grandmother. She's sharp, apparently amoral, and self-confident. Mac's carrying a lot on her heart and the events of this funeral open the deep, hallucinatory recesses of that strange organ.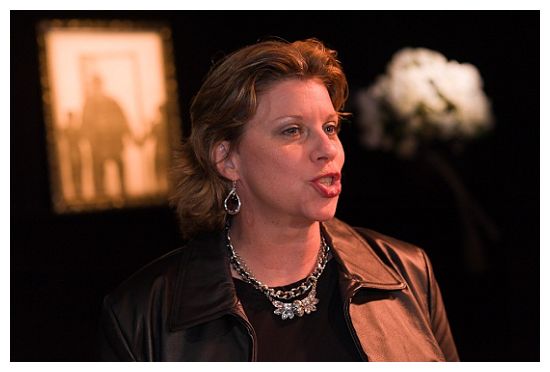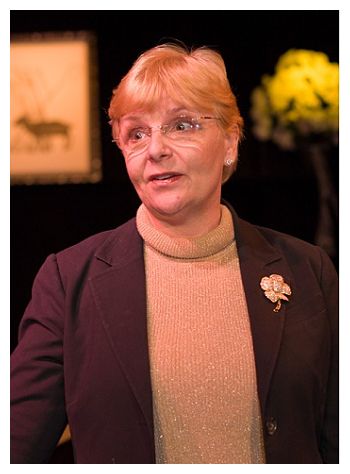 The third of these explorations is "Thirteen Things about Ed Carpolotti." Mary Jane Smith is Carpolotti's widow Virginia. Ed had a construction company, had big ideas, took big chances, and didn't tell Virginia a thing about his business. s soon as the funeral is over Virginia begins to hear from the bank and from one of Ed's underworld associates. t seems that not only is the company in hock, she is personally responsible for about a million dollars in short-term debt. nd then an unaddressed manila envelope is pushed under her front door, threatening to make public 13 unspecified things about her husband.
A friend who attended this performance is a silver-haired senior lawyer with long experience in the oil and gas industry. e was particularly moved by the story of Virginia and Ed. "I've seen it happen over the years; widows completely lost because they had no idea of their husband's business dealings. I've had to piece things together for them." Then he smiled. "But I've never seen things turn out as remarkably as they did here!"
Three Viewings is indeed a remarkable evening. These stories start in the dark of tenuously mastered emotion and they grow toward the light. Bob Beare and his cast make us care about every second of that progress.
EXTRAS
Click to view the program for Three Viewings, done by the Trinity Street Players
Promotional video by David McCullars:
Hits as of 2015 03 01: 3919
---
Three Viewings
by Jeffrey Hatcher
Trinity Street Players
October 22 - November 06, 2011
Trinity Street Players
Black Box Theatre, 4th floor, First Baptist Church
901 Trinity Street
Austin, TX, 78701