Review: The Tempest by Present Company Theatre
by Michael Meigs
Below and all about the looming presence of the monumental set by the wonderfully imaginative Ia Ensterä there's a tribal intensity in Present Company's rendering of The Tempest. Structures are cleverly clad with discarded shipping pallets and decorated with bric-a-brac. The spectacle is augmented by the washes and color shifts of Christina Barboza's lighting design, no mean accomplishments in an outdoor setting that's really a farmyard.
Before the action commences, the audience is treated to a charming and clever multi-player discussion of Shakespeare's verse. The actors explain and demonstrate both the iambic pentameter form and the sometimes disconcerting richness and indirection of his poetic expression. Emily Rankin and Cassadie Petersen act lovers' declamations from the balcony scene of Romeo and Juliet while Austin Terrell and Jennifer Coy provide sequential interpretation into 21st century speech. It's done in good fun with a script that provides the players plenty of opportunities to wink at the audience.
Then, as seen in the image above, the tempest sweeps upon the playing area in a blue roar of light and sound that drowns out almost all of the dialogue of the opening sequence. It is a magnificent spectacle. The very waves come alive as comely sprites become the raging ocean, sweeping across the scene with dark pennants gleaming with brilliant blue lights. Rough sailors battle the sea, the captain twists the wheel furiously, passengers clamor. Eventually the struggle is lost and all aboard ship disappear from view.
If you aren't familiar with the story of Shakespeare's final play, you might be lost for a while, as well. Present Company's program includes a director's synopsis, both in English and in Spanish, but the shadows of Austin night are too inky to allow you to study it as you sprawl on your picnic blanket or in your beach chairs before the playing area. Present Company even offers a full translation into Spanish of the text, done especially for this production, probably useful principally as a post-production guide for the bilingually perplexed.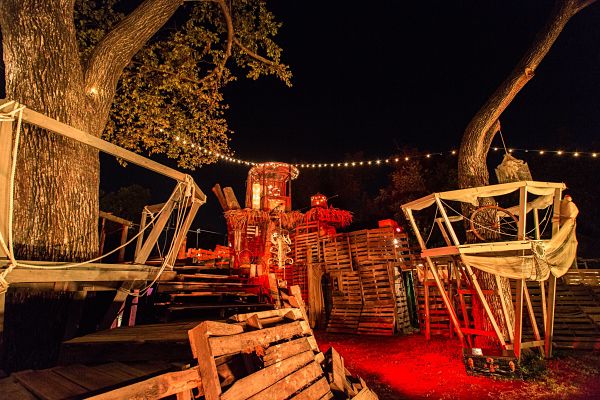 Many faces in the cast were seen in Present Company's celebratory Much Ado About Nothing six months ago on the rooftop terraces of the Whole Foods market. Their dedication and appreciation for Shakespeare is evident as they fling themselves again so soon into the challenges of a four-weekend run in this more rustic home venue, Rain Lily Farm in east Austin. Attending a Present Company production offers a pleasure similar to that of repertory theatre, the almost vanished theatre practice in which members of a tight-knit company transform from character to character across the plays. Sergio Alvarado, previously the courtly soldier Don Pedro, becomes the wicked, besmeared and Spanish-muttering Caliban; Dan Dalbout, young gallant Claudio, becomes the scheming potential murderer Sebastian; Jen Coy gains dignity as she moves from Constable Dogberry to the sex-shifted Queen Alonsa of Naples and to the incarnation of Juno in the wedding masque. Cassadie Petersen, once the wronged ingénue Hero, is now the marveling ingénue Miranda. Benedick and Beatrice are with us, too, for Samuel Grimes portrays the sententious old optimist Gonzalo and co-founder Stephanie Carll is the welcoming public face at the ticket office and concessions.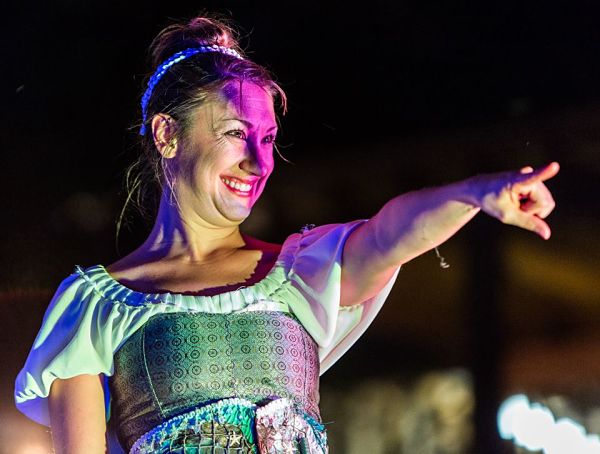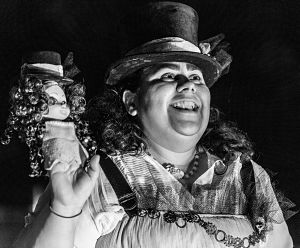 Visual imagination is impressive throughout. Director Lindsay Doleshal, again at the helm, makes full use of the wide and tall playing space, sometimes even parking a player in the audience. Liza Feldcamp's costumes are generally appropriate and sometimes amusingly extravagant -- for example, Eva McQuade as jester Trinculo is a sight to behold, top-hatted and matched cap-a-pied by her hand-held puppet. I still haven't figured out those boxer shorts worn throughout by Prospero.
This company is devoted to the ancient art of vigorous voice projection. That's an advantage in a noisy environment. You'd think the farm might be quieter than the downtown market next to the railroad tracks, but sirens, traffic and miscellaneous noises intrude unpredictably. There's another risk, as well, illustrated on opening weekend when Omid Ghorashi, the company's Prospero, lost his voice in the first half. Their inventive solution was to recruit an experienced thespian from the audience, craft a costume in the twinkling of an eye and bring him on as Prospero's 'voice spirit' to complete the play to general applause. As a judicious precaution, for the second weekend Ghorashi wore a body microphone and his voice wafted across us from stage right, a not unpleasing effect.
Forceful delivery and enthusiastic performance rouse our admiration, but it's in the language that this sparkling production at times delivers less than it might. There is much wonder, pause and reflection written into Shakespeare's verse. Ghorashi gives us a Prospero triumphant throughout rather than a master of mysteries contemplating return, mercy, retirement and the transmission of authority to a new generation. As Miranda, Cassadie Petersen's more often astounded than perceptibly moved. The wilding approach to magic is nicely embodied by Hannah Burkhauser, a sinuous and alluring Ariel who periodically tilts her head back for a coyote howl and chortle.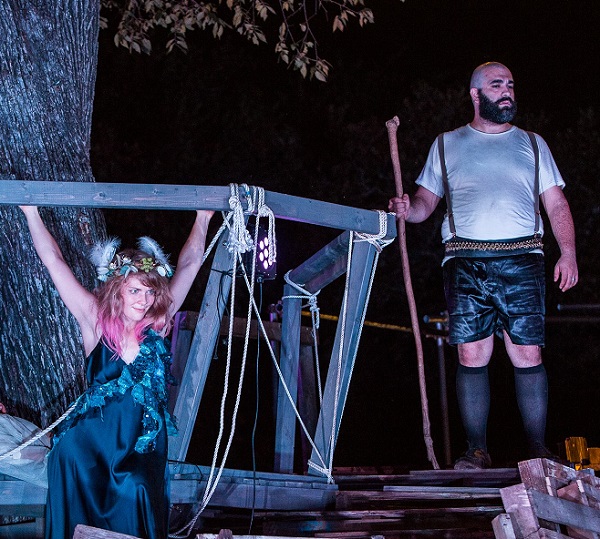 Slim and earnest, Emily Rankin is attractive as Ferdinand, suitor to Miranda. Austin Terrell is a welcome new face and voice, articulate and wryly beaming in the pre-show, nicely paired as rapscallion drunken butler Stephano with Eva McQuade, a favorite of ours who plays Trinculo.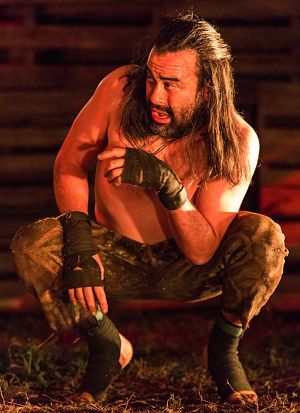 In the final scene Director Doleshal adroitly solves one of the enduring injustices of the play. Having forgiven all, Prospero sheds his cloak of office, assisted by his newly contrite servant Caliban. The royal party exits without looking back, leaving the suddenly uncolonized indigenous minion holding in his hands the trappings of office. Alvarado, stunned and then delighted, straightens up in triumph, no longer tormented but instead restored to his dominion. It's a lovely moment.
---
The Tempest
by William Shakespeare
Present Company Theatre
October 09 - November 01, 2014
Join us October 9-November 1st, Thursday through Saturday evenings for a night of Shakespeare under the stars and pecan trees at 914 Shady Lane. Promoting the philosophy of ACCESSIBLE & SUSTAINABLE ART, Shakespeare on the Farm is a FREE event, but a suggested donation of $10-$20 helps support the event and the artists that create it…
Seating begins nightly at 6:30 pm and street parking is available.
There will be a FREE kids' workshop Saturday October 25th before the show–email info@presentcompanytheatre.com to register.