Review: The Taming of the Shrew (all-women version) by Austin Shakespeare
by Michael Meigs
Much of the comedy in Shakespeare's Taming of the Shrew arises from farcical transformation. Lucentio changes places with his servant Tranio; both suitors to the fair Bianca disguise themselves as tutors; an aged traveler is intimidated into playing the part of wealthy old Vincentio, Lucentio's father. And of course, the titular shrew of the piece, "Kate the curs't," is a woman seeking to assert her rights to autonomy, choice and respect, as if she had all the rights of a man!
The Elizabethans had no problem with that. In the post-show discussion on opening night, University of Texas prof Dr. Emily Richmond-Garza, head of the comp lit department, reminded actors and audience that in the theatre of Shakespeare's time there were two sure-fire crowd-pleasing delights: fights and wife-beatings.
Our own time finds it difficult to swallow the basic premise of The Taming of The Shrew, which is Petruccio's macho conquering, abasement and subjugation of Kate. Earnest apologia or exculpations appear in director's notes for some productions. Some directors emphasize Kate's intelligence and wiliness, providing interpretations and stage business indicating that rather than capitulating to Petruccio, she has in fact outsmarted him and everyone else.
The image of a brutish, lowering Petruccio like that played by Richard Burton for Zeffirelli haunts us still. Granted, Burton was mocking himself as much as anyone else. But Austin Shakespeare Artistic Director Ann Ciccolla read for us -- twice -- the ad slogan for Zeffirelli's 1967 film: "A romantic film amorously devoted to every man who ever gave the back of his hand to his beloved...and to every woman who deserved it!"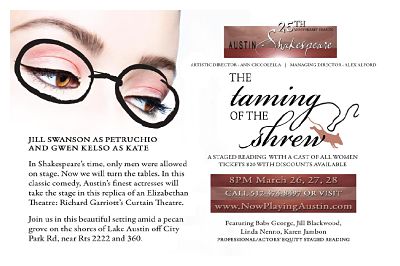 Inventive and often inspired, Ann Ciccolella confronted the problem of this play head on. Under her direction, the company's spring fundraiser is three nights of staged readings of the Shrew at the riverside Globe-replica Curtain Theatre -- with a superfine assortment of Austin's most accomplished women actors. She trimmed the text and sped the action so as to deliver the play in less than two hours, even with a 15-minute intermission. The result is a lark in the private park at Richard Garriott's estate.
The fun is three-fold. First, of course, is Shakespeare's foolery of plot, disguise and farce, accessible even in this speed-reading version, since most of us know the text so well. Second is the happily cornball interpretation, both with Ciccolella's peppy direction and with the actors' eager transformation of a "rehearsal clothing" dictum by donning clownish clothes, hats and fantastical facial hair. And third, the spark of recognizing in the swaggering, doddling or rollicking male characters some of the women who have captivated us onstage in this town in all aspects of their femininity.
Gwen Kelso plays the put-upon Katerina with sweep and big, pouty eyes, demonstrating her comic scope. Kelso, from an Austin theatre family, was a merrily mischievous Rosalind last year in Scottish Rite Theatre's As You Like It and, before that a vibrant Juliet last summer for the Austin Shakespeare production in Zilker Park.
Opposite her is Jill K. Swanson, a Petruccio with the serene confidence of a college varsity athlete, dressed first in a handsome gray suit and later happily sloppy in slacks, sweatshirt and reversed baseball cap. Swanson is a sort of enthusiast-in-residence at the company, running a weekly two-hour Sunday afternoon reading of Shakespeare. She co-edited collections of Shakespeare monologues, recently directed a lively compilation of "husbands and wives" scenes from Shakespeare, and typically appears in supporting roles onstage (for example, as Phebe the shepherdess in As You Like It and as the anti-Malvolian serving girl Maria in Twelfth Night).
This staged reading of the Shrew is a triumphant manumission for Swanson. Her Petruccio is wit and fire, encumbered with little earth. Seeing her smile and stride and chide is a pleasure, for it encourages us to believe that Petruccio is the only clear-eyed male onstage. With that vivacity, we are quickly won to the notion that the initially mistrustful Kate is attracted by him. This Petruccio tempts and tricks Kate but never lays a hand upon her in violence.
The list of Austin talent goes on. It would be instructive to tally the long list of Austin theatre awards and nominations garnered by this 13-woman cast. Among the leaders is Babs George as Baptista Minola, covered up here by a black cowboy hat and bristly mustache, but more often seen in roles of delicacy and grace. Jenny Larson, artistic director of the Salvage Vanguard Theatre, was one of my favorites, with her energy, exasperation and mugging as frustrated suitor Hortensio. Tidy, diminutive redhead Bernadette Nason, actress-storyteller associated with Austin Playhouse, stole moments of the show with her physical clowning in several secondary roles. Director/actress Karen Jambon is associated with half a dozen theatre groups; as Petruccio's servant Grumio, Jambon was jumpin' jollity and foolishness throughout.
Ciccolella blocked this thought experiment meticulously. Rehearsals were necessarily limited and included a final run-through that concluded just twenty minutes before opening. The women made up in spirit and glee the imperfections inherent to carrying the script around. One quickly got used to that style, but the evening's experience made one yearn a bit for a full production, especially one that could pull on such resources of talent.
An admonition: dress warmly! The temp on opening night fell gradually, but one still needed a warm coat or sweater by the time the actors gathered onstage with Ciccolella for the traditional talk-back with the audience.
The conversation continues in Austin. The newly-established Hidden Room Theatre will be presenting a Shakespeare "original practices" version of Taming of the Shrew, featuring an all-male cast and running from April 30 to May 23 in an as yet undisclosed location. Director Beth Burns, locally acclaimed for the Scottish Rite's Twelfth Night last summer, tweeted just this week, "Have come to the firm conclusion that despite popular opinion, Taming of the Shrew is not sexist, and is pro-gender equality. Discuss."
Let that constitute the Reproof Valiant!
Review by Karie Meltzer at the Austin Post, March 26
EXTRA
Click to view the program for the staged reading of The Tamng of the Shrew by Austin Shakespeare.
Hits as of 2015 03 01: 1541
---
The Taming of the Shrew (all-women version)
by William Shakespeare, adapted by Austin Shakespeare
Austin Shakespeare
March 25 - February 27, 2010