Review: The One-Minute Play Festival by Salvage Vanguard Theater
by David Glen Robinson
Seventy one-minute plays by forty-plus local playwrights presented in one evening-length work sounds very difficult to accomplish. It certainly is, but producers One Minute Play Festival and ScriptWorks pulled it off with skill at the Salvage Vanguard Theatre in Austin. Dominic D'Andrea of the NYC-based organization promotes one-minute play shows around the country.
The premise is simple. Local playwrights write several one-minute plays, group them into similarly themed 'clumps,' and find actors to perform all the playlets in every clump. A guest director directs each clump of plays. Scriptworks, led by Executive Artistic Director Christina J. Moore, organizes the work. And Salvage Vanguard Theatre produces the show and offers the venue.
In the curtain speech, Dominic D'Andrea of The One Minute Play Festival welcomed the audience and explained the concept. He invited us to think of the plays as windows on the world seen through the playwrights' eyes, with the immediacy of the summer of 2014. After the program, however, one might well amend D'Andrea's statement by observing that the plays seem more like windows into the playwrights, their emotions, thoughts, and concerns, as heard and seen through the actors.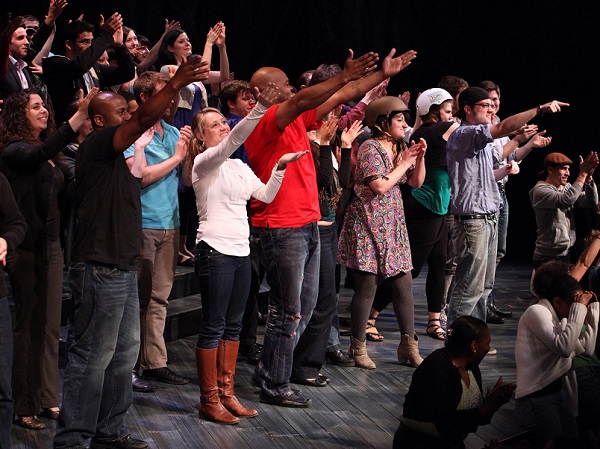 And what was to be seen in the show? As you might expect, the playlets, although grouped, played all over the lot. We saw a lot of life in Austin--driving our expressways, negotiating gay life, negotiating handheld devices, surviving gun culture, and, of course ,dealing with all manner of relationships. The performances were variously brilliant, lame, opaque, hilarious, inspiring, experimental, clear, inarticulate, and all points in between—in short, they had something for everyone.
Of particular interest were the multiple appearances of unusual themes from innovative playwrights. Playlets with dog characters were especially enjoyable. Standout actors portraying dogs included Hildreth England in Kirk German's witty sketch "Dog Friendly Patio," and Tim Mateer in Katie Bender's poignant "The Woman and Her Dog." Very young playwrights showed wisdom beyond their years in extending romantic relationships through decades to envision the years of graying. Among these, Elizabeth Doss's "As Time Goes By" and Trey Deason's "Perfect Moment" stood out.
Other exceptional pieces among the many included "Highrise Austin" by Cyndi Williams, "No Duty to Retreat" by James Burnside, and "Telephono Obscura" by Hank Schwemmer.
And right at the end there is "Beauty" by Amparo Garcia-Crow. It's a gem of tightly plotted storytelling, spinning around a street corner homeless character played by Tim Mateer. He enters with a small cardboard sign saying "Need Beer/Why Lie." There ensues an Austin story of rejection and, finally, acceptance. The tale comes from the heart and speaks to the spirit; it includes foreshadowing and distilled character development. The piece is crafted to the audience's satisfaction, and it all takes place in a single minute.
Plans are for the show to be renewed, perhaps on a yearly basis, so more one-minute playlets are in prospect. Austin welcomed these insightful and artful plays and their performances, and all three nights sold out. Catch the show whenever it returns. It's a rare concept, and one that showcases Austin's impressive playwriting and performing talent; I recommend the evening for all adult audiences.
---
The One-­Minute Play Festival 2014
Salvage Vanguard Theater
August 28 - August 30, 2014
THURS, Aug 28th,FRI Aug 29th, & SAT Aug 30th at 8 p.m.
Tickets to The One-Minute Play Festival are $20and are available through ScriptWorks' website at www.scriptworks.org