Review: The Little Mermaid, Disney by Woodlawn Theatre
by Kurt Gardner
Back in the '90s, the Disney corporation began mounting phenomenally successful Broadway adaptations of their animated hits Beauty and the Beast and The Lion King. So it was not at all surprising that they'd turn to their 1989 The Little Mermaid for the stage treatment. Running for 685 performances beginning in 2008, it was not quite as successful as its predecessors. A few changes to songs and characters were made to the show in 2012, and that's the version now playing at the Woodlawn Theatre.
The plot hews pretty closely to the film: mermaid Ariel (Kate Ragan) becomes smitten with a handsome prince, Eric (Anthony Castro), when she saves him from drowning. She makes a bargain with the sea witch Ursula (Ariel Rosen) to exchange her tail and voice for three days on land in her prince's company. If he kisses her within that time, she'll remain mortal and can stay in his world. Otherwise, she'll be transformed back into a mermaid and remain Ursula's prisoner forever.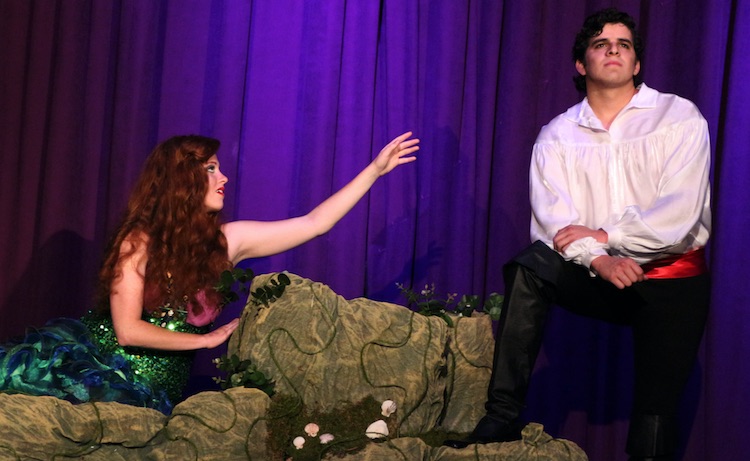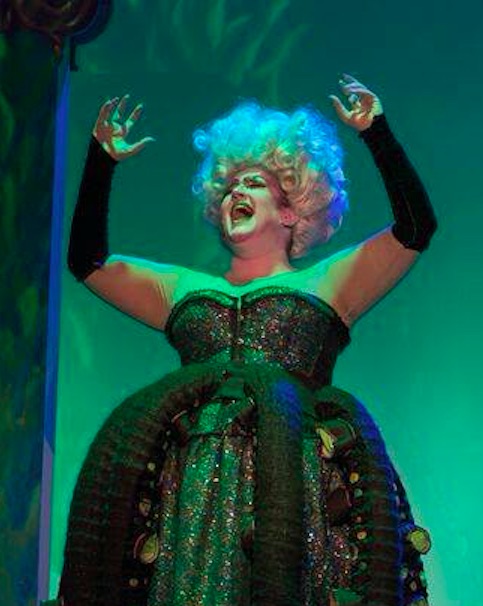 One marked difference between film and musical is that Ursula has become Ariel's aunt in the stage production, propelling her into the realm of such creepy Disney relatives as Uncle Scar and any number of wicked stepmothers.
Director Jason Mosher and set designers Kurt Wehner and Benjamin Grabill do a remarkable job of bringing Mermaid's world to the Woodlawn stage. The many scene changes executed with a combination of projections, scrims and practical sets are handled seamlessly, allowing the production to flow without awkward pauses.
Matt Smith's lighting and Ben Farrar's sound and video design greatly enhance the stagecraft. Of course, the Woodlawn's trademark aerial work comes into play here to simulate characters floating around in the ocean depths. Rose Kennedy and Laura Briseno's costumes are elaborate and colorful, and the wigs created by Ron Hammett for Ursula and the Mersisters are amusingly campy.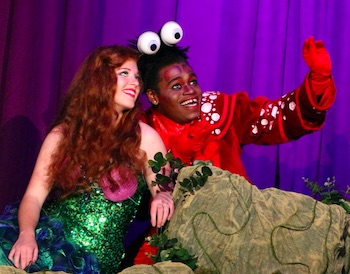 Darrin Newhardt's nine-piece band sounds full and lush while still allowing the voices to shine through. Ragan projects an appealing energy as the plucky Ariel, and she has a good chemistry with Castro. Rosen is clearly having a blast as Ursula, and Anthony Cortino makes for a regal and authoritarian King Triton. Amusing too are Jeremy Bilbo as the Caribbean-accented Sebastian the crab and Katryna Marttala as the smitten Flounder. The ensemble cast is excellent and well-choreographed by Alonzo Corona.
That said, the performances are mostly broad and intentionally cartoonish. This is certainly intended to appeal to the youngsters in the audience, but adults may find it wearying in the long haul. Also, the show is packed with 29 songs and reprises – plus an overture. That's quite a bit of music, and aside from the recognizable hits from the film (Under the Sea and Part of Your World) the tunes are mostly explanatory and not very memorable. Still, the staging provides attractive visuals that continually catch the eye and provide the magic that may be lacking in the written content.
The Little Mermaid plays Fridays and Saturdays at 7:30 p.m. and Sundays at 3:00 p.m. through July 24 at the Woodlawn Theatre, 1920 Fredericksburg Road. Tickets are available online or by calling (210) 267-8388.
Kurt Gardner's theatre reviews also appear at www.blogcritics.com.
---
The Little Mermaid, Disney
Wonder Theatre (formerly Woodlawn Theatre)
Fridays-Sundays,
June 24 - July 24, 2016
Disney's
THE LITTLE MERMAID
plays June 24 to July 24 every Friday and Saturday at 7:30 p.m. and Sunday at 3 p.m. Tickets are on sale now at
woodlawntheatre.org
, or by calling the box office at 210-267-8388.
Prices are $17 for students and children, $23 for seniors and military, and $26 for adults. All tickets are subject to a $2 service fee. Groups of 10 people or more receive a 20% discount.
The Woodlawn Theatre is San Antonio's historic local theatre, located in the heart of the Deco District at 1920 Fredericksburg Road, just south of Hildebrand. Free parking with security patrol is available.