Review: The Last Five Years by Sherrod Curry Productions
by Michael Meigs
If you don't already have your tickets for this intimate treat of a production, you're out of luck.
Megan Sherrod and Sarah Marie Currie perform Jason Robert Brown's The Last Five Years a total of only six times, last week and this in Austin, tucked away in an annex to the Institution Theatre with seating for only about 30 persons. And they've certainly got more than 200 friends and fans who've wanted to see them take on the challenge.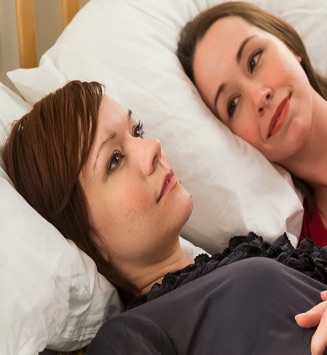 Brown's clever 2001 chamber musical drew on his own frustrations in love to create a new standard of bittersweet in American musical drama. The subject is a romance that becomes a marriage that results in disappointment and estrangement. The bittersweet is present at every moment except the very center moment of the play, the song The Next Ten Minutes, dramatizing the moment of formal union -- not so much the wedding of Jamie and Cathy as the surging elation they feel that day. Brown keeps the two characters almost entirely separate with the device of chronological inversion. Jamie, an aspiring writer in his twenties, sings his way through the story from start to finish; Cathy, his counterpart, alternates numbers with him but tells the story in reverse chronological order, first presenting a lonely despairing finale and then working back toward the thrills of the early relationship.
That may sound entirely too precious and intellectual to work onstage, but it does. Brown's clever contemporary lyrics and musical forms strike one with Sondheim-like unpredictability, at times intimate and nakedly emotional, sometimes stinging, relieving the systematic bitter/sweet tradeoff with welcome moments of comedy (for example, Jewish Jamie's joy at meeting his 'Shiksa Goddess,' his fanciful little fairytale of a song about a tailor named Schmuel, Cathy's rueful tale of performing with oddities and a snake named Wayne in summer stock in Ohio). The audience buys into each of these characters separately, reveling vicariously in their tumultuous efforts to connect and touched by their resentments when they fail to do so.
Their eponymous Sherrod Curry Productions firmly establishes the world around the two women actors. Director Emily Rankin marks their progress/regress with full use of the small living-room set with functioning exits to the exterior both left and right. Smartly chosen costumes, uncredited in the program, mark the passage of time and must have required split-second coordination out in the parking lot or in a nearby costuming booth. Lighting by Lindsey McGowen is simple but evocative with warm and cool hues reflecting dramatic content.

Any two-person production is captive to the personalities portrayed, and beyond that dependent upon the charisma and credibility of the actors inhabiting them. Sherrod's vulnerability is manifest and moving, drawing our spirits upward as she remounts the time-steps of the relationship; Curry as Jamie moves from cluelessly enthusiastic to enchanted to whirled out of reach by the intoxications of literary success. Their handling of the intricacies of Brown's music is flawless, the volume extremely well calibrated with the keyboarding by music director Max Randa. In a 90-minute performance that's almost entirely sung, diction is precise and scarcely a phrase is slurred or lost.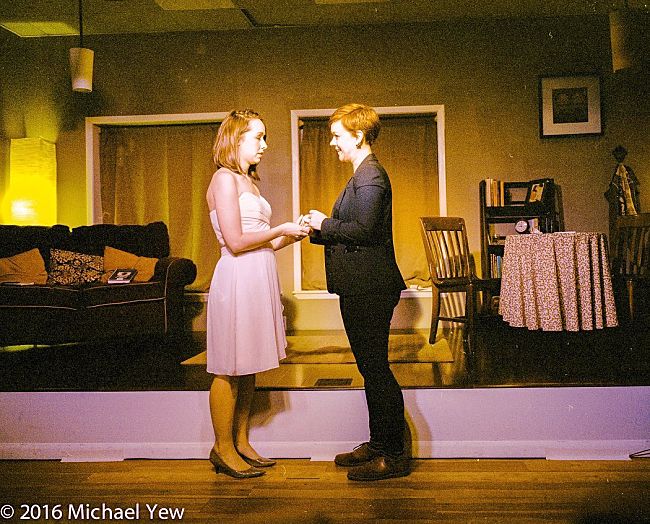 Staging this piece with two 'female women' [sic] instead of the conventional male and female casting serves to remove the presumptions of Mars and Venus that mark most staged romance. Listeners may as a result become more aware that this couple fails less because of chemistry and hormones than because neither is ready to modify or abandon a devotion to art. Jamie finds himself/herself [Brown's masculine pronouns are retained in the text] courted by editors and publishers and embraced by a reading public, while Cathy faces the repeated humiliations of failure at auditions and the long, slow-burning flameout of her aspirations for a stage career. Except for that single central moment when we see them fully in love, facing one another at center stage -- where a real tear runs down Sherrod's (downstage!) cheek and Curry reaches out with a single finger to wipe it away -- each is self-deluded, wrapped up in a dream that has little contact with the other.
It's a lovely evening, though short, and a success, with its $1600 IndieGoGo financing goal oversubscribed by 36 backers. One regret: that this enchanting experiment wasn't scheduled to run longer, so that more Austin audiences could participate in it. Like the story told in The Last Five Years, that aspect of the staging is bittersweet.
EXTRA
Click to view the program leaflet for The Last Five Years by Sherrod Curry Productions
---
The Last Five Years
by Jason Robert Brown
Sherrod Curry Productions
Thursdays-Saturdays,
March 24 - April 02, 2016
March 24 – 26 and March 31 – April 2 at 8:00 PM
Saturday, March 26 is SOLD OUT
The Institution Theatre – Clubhouse
3708 Woodbury Drive, Austin, TX 78704
Tickets $15 plus processing fee; donations gratefully accepted; click to reserve and purchase