Review: The Christians by Lucas Hnath, Hyde Park Theatre
by Michael Meigs
Most of us in Austin are Christians the way the French are Catholics: not at all.
Oh, we're decent folks with generally Judaeo-Christian values, most of us. 'Do unto others' and all that. But in terms of faith? You mean, like, believing those tales in the Testaments Old and New? Those are values to be gently but firmly force-fed to children.
For their own good, of course. So they can go through the hard process of digesting them or rejecting them, so as to devote more of their energies to encounters with this very secular and materialistic world of ours. Judging from the optics in most houses of worship, it's not until a good deal later in life and once they've dealt with other apparently more pressing matters that some of them start looking beyond the horizon.
I exaggerate, of course, but only to raise a point. The Hyde Park Theatre appeals strongly to the demographic least likely to turn up for worship on Sunday or on Friday. Knowledge workers, young and middle-aged professionals, Texas sophisticates who share the HPT taste for dark comedies about American foibles and dramas about people who are clueless or in over their heads. That slice of the audience is likely to come to The Christians by Lucas Hnath expecting a send-up of worshipping Christians somewhat like the South Park satire of earnest missionaries in The Book of Mormon.

The Christians is not a comedy. In fact, it's not funny at all. It's a drama of conscience and a sober exploration of nearly opposed Christian religious frameworks: on one hand, the Old Testament approach of control and prohibitions backed up by the threat of damnation, and on the other an uncomfortably contemporary fuzzy view of unfathomable mysteries of the meaning of this life and the prospects of something after death.
Pastor Paul, we're told, founded this non-denomational church years ago and has nurtured it to a large community of enthusiastic worshippers. After years of effort the building complex is fully paid for and flourishing. We get to hear Paul deliver a sermon that essentially constitutes this contemporary Paul's modest version of the Apostle's encounter on the road to Damascus. While at a conference he heard a missionary back from Africa tell of heroic self-sacrifice by a young man and the missionary's comment that it was unfortunate the youngster would go to hell because he hadn't accepted Jesus Christ as his savior.
In my years in Central Africa I became acquainted with a number of sincere, compassionate and effective Christian missionaries who had exactly that theological approach.
Pastor Paul has brooded quietly over that missionary's anecdote, and doubt has taken hold of him. He retells the story to his congregation and rejects the missionary's conclusion. And with that, the fox is in the henhouse. Paul implicitly and explicitly questions a series of teachings that are fundamental to charismatic U.S. evangelism.
Playwright Hnath pits Paul's new-found ambiguity against those certainties demanded by the church lay leaders, represented by overly affable Elder Jay (Tom Green), by a worried and vulnerable young woman from the choir (Jess Hughes), by his vigorous and devoted associate pastor, Joshua (Joey Hood), and eventually by his wife Elizabeth (Katherine Catmull). Hnath's dialogue is sharp and vivid; Pastor Paul, like the devil, can quote and interpret Scripture to back up his views, and his interlocutors become adversaries, intent on fitting their own received beliefs and urgent needs into coherent arguments against Paul's new understanding.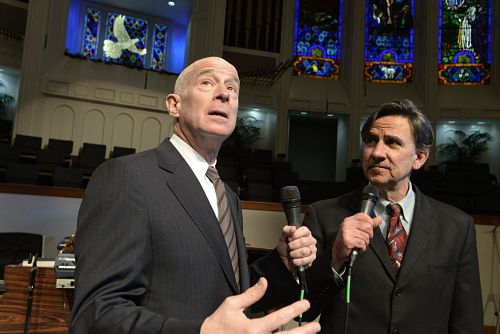 Christ is pretty much absent in the dialogues between these two Christian camps. One might imagine Him lingering behind the red-robed choir, listening attentively as He no doubt has to Christianity's many controversies. Paul and the rest are arguing over ethics rather than over religion per se: What reward or punishment do we need or expect from our actions in this life? What is our vision of our own worth and our accountability? Who should we cling to and why? Pastor Paul pays a high price for ambiguity.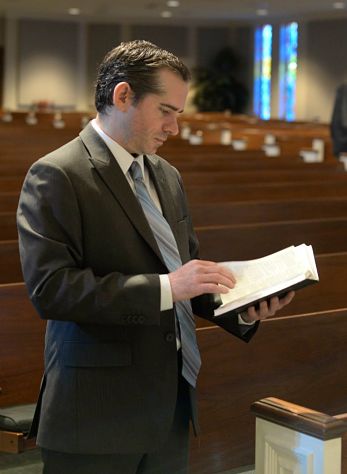 Hnath's text could in fact be played as a comedy, but for it to work that way the director would have to pitch Pastor Paul far differently: as a zealous convert to his new views, embued with with a television evangelist's fervor but preaching against repressive and punishing attitudes. Paul would have to cut loose from intellect in order to be funny, presenting himself as a walking, talking contradiction. A thought experiment suggests that Tom Green could have carried off that mad assignment to perfection.
But Ken Webster, both as director and in his concept of playing protagonist Pastor Paul, is intensely cerebral and controlled. Joey Hood as his pastoral associate is equally serious, striking sparks in the two scenes of stiffly polite confrontation between them. Hood once again gives us a character who's strong, intent on his goals and physically intimidating despite not lifting a finger.
Katherine Catmull as Paul's bewildered wife, the individual most decisively trapped between the two camps, makes a declaration to him that's a gem of a little monologue with elements solemnly comic and strikingly true.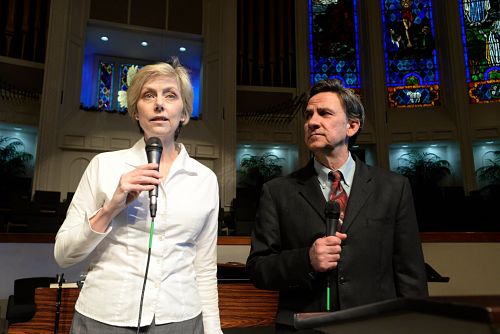 The Christians thrives in a setting that's a reminder of our love for the material world. Mark Pickell's clean design of one section of the megachurch's stage fits nicely into the odd and intimate contours of the Hyde Park Theatre, Lowell Bartholomee's video is apt without being intrusive, and Kelly Glover directs her small but enthusiastic choir with assurance. Choir members manage to fade into the background most of the time when it's required of them as events that happened elsewhere are narrated and acted on the church podium; a more assertive lighting design would have helped. The Johnny Cash solo spirituals of the pre-show sound design by Robert S. Fisher helped establish our expectations.
Hyde Park's production is thoughtful and serious, as well as suspenseful -- and even entertaining, in a scratching-the-head-what-was-that-all-about kind of way. You'd do well to consider attending it and to consider some of the issues it illuminates.
Jesus would approve, especially if you're not planning on attending church or synagogue or the mosque or another community of faith this week.
EXTRAS
Click to view the program for The Christians at the Hyde Park Theatre
Video by Eric Graham
---
The Christians
by Lucas Hnath
Hyde Park Theatre
Thursdays-Saturdays,
February 26 - March 28, 2015
Thursdays – Satutrdays at 8 PM
UPDATE: added late-night performance on Friday, March 28 at 10 p.m.
Tickets at www.hydeparktheatre.org or call 512-479-7529
Fridays and Saturdays $20-$24
Thursdays are pay-what-you-can
For the first four weekends tickets on Fridays and Saturdays are $22, $20 for students, seniors, members of The Austin Creative Alliance, and current members of the military. For the fifth weekend Friday and Saturday tickets are $24 and $22. Every Thursday is pay-what-you-can. To purchase tickets go to the HPT website www.hydeparktheatre.org or call 512-479-PLAY (7529)