Review: Terminus by Vortex Repertory Theatre
by Michael Meigs
Everything comes together magnificently in Gabriel Jason Dean's Terminus to bring you to another place, another time and a situation as fraught, intense and haunting as those of William Faulkner's Yoknapatawpha County. The playwrght's dialogue is clever, sharp and memorable, and he has carpentered a framework and plot of great satisfactions. Director Rudy Ramirez, wizard-like, has summoned forth all the needed arts and crafts to make it live.
Eller Freeman lives with her grandson Jaybo in a shack in a small mill town in Appalachia. Dean places the action in 1994, but it's essentially timeless, a long moody look at people who never had a much of a chance to escape from the poverty of their circumstances, the aching inadequacies of their upbringing, and their despairing emotional lives. The confusion of relationships between people of different races hovers over the action like a persistent dark cloud hiding the sun. Though grandson Jaybo lets us know in passing that Atlanta is known as 'the terminus' by railroad folks, it's clear from the opening moments when Eller reads the reminders on the mirror and talks to herself that this time and place is Eller's own terminus. She's losing it and at times she knows that; the central struggle for her now is to preserve the familiar and eventually to dredge up the 'true true' story of her past.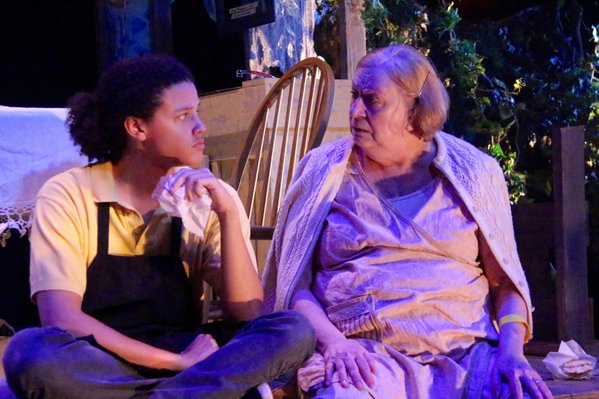 That sounds bleak, and in an existential sense it is. But Eller is full of surprises, clever in fending off the very visible haunts from her past, and Jaybo manages her with patient forgivenness throughout. The outside world intrudes. Jaybo's redneck father turns up to deliver overdue child support payments and to try to persuade Eller to sell the place to the county before it's seized for eminent domain construction of a highway; a self-assured young woman hops off a freight train and stops long enough to tempt Jaybo and befriend Eller. Eller's ghosts gather and we enter the simultaneous timelines of Eller's wandering mind. Director Ramirez, the playwright and the cast collaborate seamlessly to keep us transfixed by the story and particularly by its vividly presented characters.
The Vortex production evoked for me Tutto Theatre's similarly multi-layered and vividly realized folk play The Twelfth Labor by Leegrid Stevens, staged in 2012 by Tutto Theatre.
Jennifer Underwood is, yet again, a marvel. Within that sometimes shambling frame of hers rages an energy and fierce intelligence that's both Underwood and her character Eller. She has impeccable timing, deep belief in the character, absolute fearlessness and an ability to project and modulate emotions and states of mind that I've rarely seen rivaled -- and never equaled -- on Austin stages. Underwood as Eller has terrific range, for this is a woman, sometimes bewildered and sometimes angry, who's apt to drift unexpectedly into her child-self as she's trying to cope with a life of events that puzzle and wound her. Watch Underwood as she sits and listens to other characters, and you'll read the subtle eloquence of her silent expressions. Terminus belongs to Eller and to Underwood; in performance this character is more akin in her complexity and depth to King Lear even than Underwood's own performance as Lear in this locale and with this director in 2011.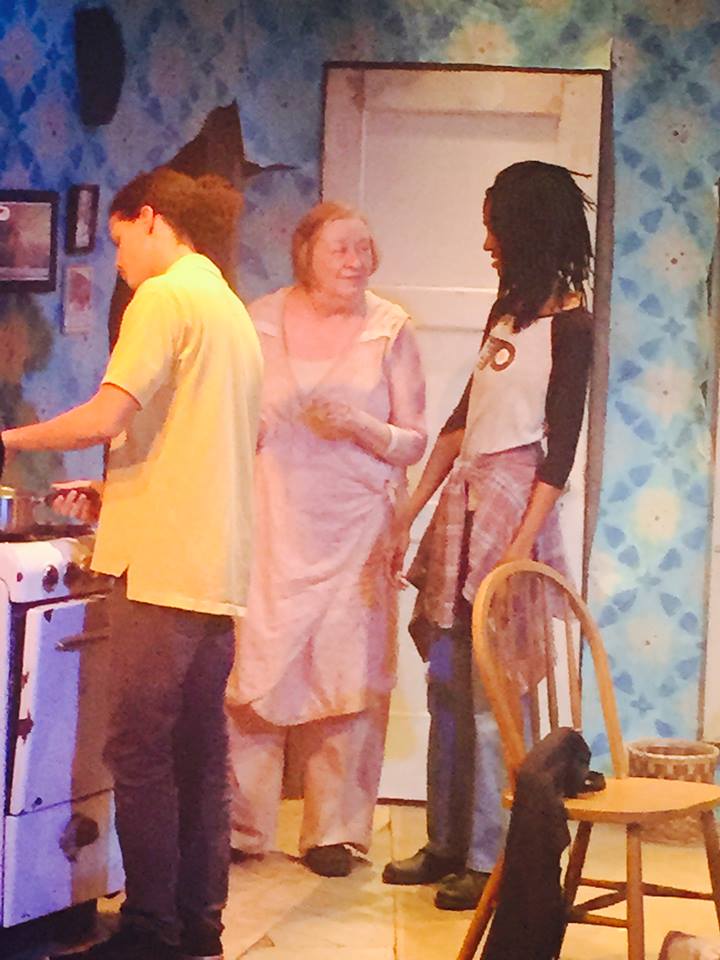 Jacques Colimon as Jaybo is more than a simple foil to his grandmother. Quiet and grounded, the main support of their precarious little household, Jaybo is held by his devotion to his grandmother. Their scenes together have an intimacy that persists despite Eller's outbursts and delusions. Hayley Armstrong as the wandering Finch Finch teases and taunts Jaybo but is herself attracted by the household into which she has intruded. The scenes between the two young people have a playfulness that provides welcome contrast with the dilemmas of the main action. Jaybo's father Bones Boyd (Samuel Grimes) is a more complex figure than he initially appears, for the playwright makes him a truth teller of mixed motivations. Grimes has no trouble doing red-neck; and he counters our expectations by endowing the man with depth.
The earlier generation's ghosts of the ensemble -- Jennifer Coy, Errich Petersen and Matrex Kilgore -- are faces familiar at the Vortex. Though their characters have the single dimensions of faded memory, Ramirez stages their interactions powerfully and often symbolically. Those occasions when Eller is confronted simultaneously by their world and her own present are gripping ones, particularly as Jaybo tries to understand what's happening. The youngest ghost, Eller's sister Annie, is embodied by the pale and ethereal Cara Canary as a slim teenager, a hint that the long-dead Annie has clung to Eller from earliest childhood. The ghostly Annie inhabits some of the most unlikely nooks and crannies of Eller's house, carrying out some entrances and exits, entirely appropriate to Eller's state of mind, that raise a smile.
The technical arts supporting all this are equally accomplished: Ann Marie Gordon's set is a ramshackle shack that almost dissolves before our eyes and Patrick Anthony's lighting makes the most of the hauntings, the daylight and the flickering of flames. David DeMaris has dug up some authentically unfamiliar sounding Appalachian music, field recordings no doubt, and at a key moment he startles us all with a gunshot. Costumes by Jessica Benet Gilzow have the feel of authenticity.
Perhaps the only incongruity of the staging comes at the opening of Act II, which the program specifies is situated in 'The Clearing' and involves some excavation. Since there's no trap door in the Vortex slab, Ramirez uses a trap door in the raised space that serves otherwise as the porch. In another imagined world that could disconcert, but given the magical permeability of Eller's house it's simply accepted even if we forgot to study the disposition of the scenes.
Gabriel Jason Dean has set himself the goal of completing a seven-play cycle portraying lives of the inhabitants of a fictionalized town of Attapulgus, Georgia. This is the second; the first, Qualities of Starlight, staged in 2013 at the Vortex, won seven of Austin's B. Iden Payne theatre awards. Terminus and its creators are in strong contention to reap a similar harvest in late 2016.
The real Attapulgus, population 450, is in far south Georgia near the Florida line, some 350 miles from the first rise of the Appalachians. That hardly matters. Like Faulkner's imaginary county in rural Mississippi, Dean's Atapulgus is a place in the mind, fertile with characters and stories, that we can hope to visit in coming years. Here in Austin at the Vortex, if at all possible. Please.
EXTRA
Click to view the program for Terminus by Gabriel Jason Dean.
---
Terminus
by Gabriel Jason Dean
Vortex Repertory Theatre
Thursdays-Sundays,
January 15 - February 06, 2016
January 15-February 6, 2016 8 pm
ASL-interpreted Saturday, January 23
Live-streaming Friday, January 29 on Howlround.tv
Tickets sliding scale $10 - $30 available via Vortex ticketing on-line