Review: Lear (adapted) by Vortex Repertory Theatre
by Michael Meigs
Shakespeare's great tragedy is a fable that dares portray in resounding verse some of mankind's most common but most harrowing issues. The tyranny of the selfish old, set against the arrogance of the selfish young; the toxic dissolution of family ties and family hierarchy; the horror of ageing and senescence; the inevitability of human downfall; ambition, evil, and the sacrifice of innocents.
These huge and inescapable issues are rooted in the human condition. We huddle together in our families and societies to keep our human warmth. When these fail us, we become prey to merciless nature and to madness. Shakespeare is dealing in absolutes, great flaws and great consequences, as in all of the most enduring tragedies of Western literature.
Director Rudy Ramirez recruited a powerful cast for this powerful work, but his effort to give King Lear contemporary references runs very close to trivializing the play.
Casting the august Jennifer Underwood as Lear was an audacious but entirely laudable and exciting choice. Underwood has a visibility and reputation in the Austin theatre scene very akin to those in the United Kingdom of their titled theatrical dames. Her age is appropriate, her stature is distinctive, and her stage presence is enormous.
The director blunted the impact of that bold stroke with his puzzling decisions to change genders for three additional characters. Edgar the ousted and outcast heir of Gloucester becomes "Edda." The banished but faithful Kent is a woman, as is Lear's fool.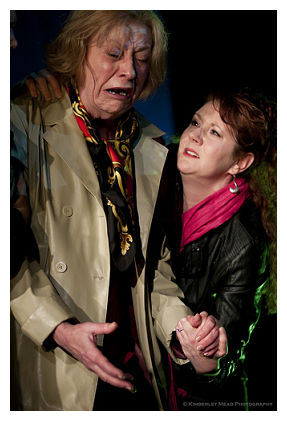 I accepted the director's transformation of a kingdom into a contemporary media empire but I was appalled to see the storm on the heath become no more than a swarm of papparazzi around the numb, confused protagonist. Strobe flashes replaced lightning. Live video of the stumbling Lear was projected onscreen. Key narrative concerning the approaching battle and the subsequent defeat of Lear's supporters wasdelivered by talking heads in news studios, MSNBC-style, proving that style can decisively defeat substance.
This dumbing-down of the events of tragedy is a over-pert commentary on the debased intellectual currency of our video age. Treating Lear's confusion on a par with that of any momentarily media-dazzled random victim of disaster shatters our sense of identification with the protagonist.
Underwood's performance in the first three acts was more querelous than royal, due in large part to her naturalistic delivery of Lear's lines, converting iambic pentameter into prose. Shannon Grounds as the fool used similar technique, making this fool sound more like a babbler than an oracle. Underwood finally unleashed her power in the mad scene in IV, 3, perhaps because the heightened emotional intensity enhanced her delivery of the verse.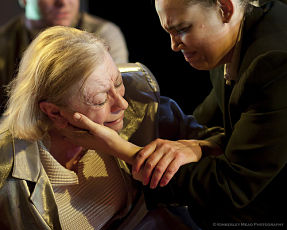 The strength of the acting of the rest of the cast helped sustain the piece despite Ramirez's approach. Micah Goodding as the scheming bastard Edmund has the animal magnetism and confidence of the successful sociopath. All three of Lear's daughters are vivid and convincing -- Andréa Smith and Jennifer Coy are hatefully voluptuous and Suzanne Balling is a vulnerable although not frail Cordelia.
Despite the oddity of the cross-gender casting, Julianna Elizabeth Wright gave a good account of herself as Kent, and Amelia Turner added unexpected emotional depth to the slim, kinetic outcast "Edda." Even so, the sight of the articulate and estimable David J. Boss moving furniture and figuratively carrying a spear as part of the ensemble was a reminder of Ramirez's lost opportunities.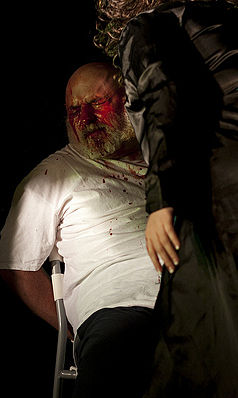 The blinding of Gloucester is always a chilling moment in this play. Director Ramirez, Tom Truss as the vicious Cornwall and Mick D'arcy as the martyred Gloucester made it convincing and appalling. Toby Minor as Albany, husband to the treacherous Goneril, portrayed a man of quiet decency stunned by events.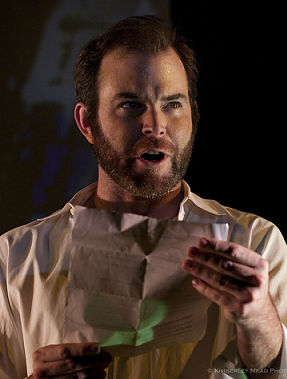 This Lear and Ramirez's approach oblige me to acknowledge a divide that I dislike: that between my own twentieth-century cultural consciousness, rooted in reading and narrative text, and the peculiar twenty-first century media mind of contemporary America.
I saw Lear on its opening weekend, thanks to an "A-Team" reviewer's ticket from NowPlayingAustin.com, the Internet marketing arm that sustains the Austin Creative Alliance. My counterpart obligation was to file commentary on their website within three days -- not a review, since the user interface limits submissions to no more than 1000 characters, roughly 250 words. The template requires a "star" rating on a scale of 1 to 5.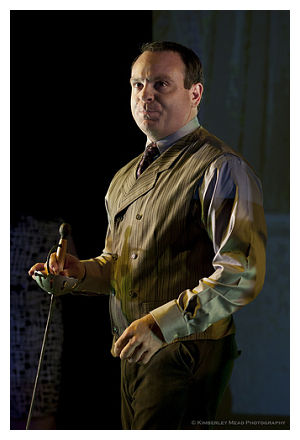 Those are sadly twenty-first century parameters. They reminded me yet again just why I had chosen here at AustinLiveTheatre.com to abjure the facile flash-analytic technique of applying a single numeric rating to a complex work of art.
Jennifer Underwood's Lear is an arresting and often moving interpretation of Shakespeare's great work. It's fast moving, up-close in the intimate Vortex space and highly visual. Lear with its two 10-minute intermissions is a lengthy evening but it's a memorable one.
An illustration of the effects of last century's intellectual process: obliged towrite short and rate summarily within three days of seeing Lear, I had given it a 2.5 on the 5-star scale at www.NowPlayingAustin.com. Before the following weekend I listed it on the "front page" of AustinLiveTheatre.comas "Now Playing and Recommended." This evening, with two weekends remaining in the run, I say to you, "Go. See it."
Maybe it will help you decide to which century you belong.
Review by Cate Blouke at the Statesman's Austin360 SeeingThings blog, May 24
Review by Veronica Prior at her blog Rants by Ronni, May 29
Review by Spike Gillespie at her blog Spike Speaks, June 1
Review by Avimaan Syam for the Austin Chronicle, June 1
Review by webmaster, TheatreAustin, Yahoo Groups, June 9
EXTRAS
Click to view the program of Lear with Jennifer Underwood, adapted and directed by Rudy Ramirez for the Vortex Repertory
Click to view additional performance images by Kimberley Mead
Hits as of 2015 03 01: 6035
---
Lear (adapted)
by William Shakespeare, adapted by Rudy Ramirez
Vortex Repertory Theatre