Review: Stalking John Barrowman by Last Act Theater Company
by David Glen Robinson
Stalking John Barrowman is a delightful, uproarious, sensational work of musical theatre. It has all of those qualities in abundance, plus it is loaded with that dry, obscene British wit, the kind Americans love. Think Monty Python's Flying Circus with pussy, twat, and labia jokes. Don't forget the twins Poo and Pee. No, stop what you're thinking; it is all presented quite cleanly, with surprise after surprise, none of which will be revealed here. The plot has more twists and turns than a lost cat's ramblings.
The show is enjoying, really enjoying, its U.S. premiere at the Dougherty Arts Center, downtown Austin, by special arrangements with its U.K. authors, Naomi Chiffi, Jude Garner, and Patrick Steed. Last Act Theatre Company produces with Heather Leonard. Ben McLemore directs, and musical direction, thy name is Cy Albertson.
The title is the premise. Rabid fans of John Barrowman of Dr. Who and Torchwood fame pursue their unhealthy fandom hobby a little too far. They are the kind of fans who stand in groups in the rain outside his studios, garage or favorite bar, living only to catch a glimpse of their hero. They might also collect his napkin after a meal of goulash, but nothing worse than that, nothing illegal. And this is how Stalking John Barrowman connects with everyone. We all have our fan-type obsession, a favorite actor or rock band, and these obsessions are usually reined in, sources of quiet embarrassment, nevertheless enjoyed as guilty pleasure. So we find it cathartic, or perhaps a bit of schadenfreude, when we see others lose the reins of their obsession, panic the horses, and careen out of control. Few have the imagination to anticipate where and how these characters fly out of the carriage and splatter into ever more desperate situations. Ewww.
That's half the fun, the other half is the music. This musical show beats the pants off the boring, predictable songs of love and loss, triumph and pain almost every other modern musical tries to write and perform and launch to iconic status—all for maximized royalties and knocking out the back seats of the balcony. This show wins with fresh wit and seemingly new melodies. The songs also render that giggly middle-school humor of presenting a few sly obscenities in song. Audience sniggering is encouraged.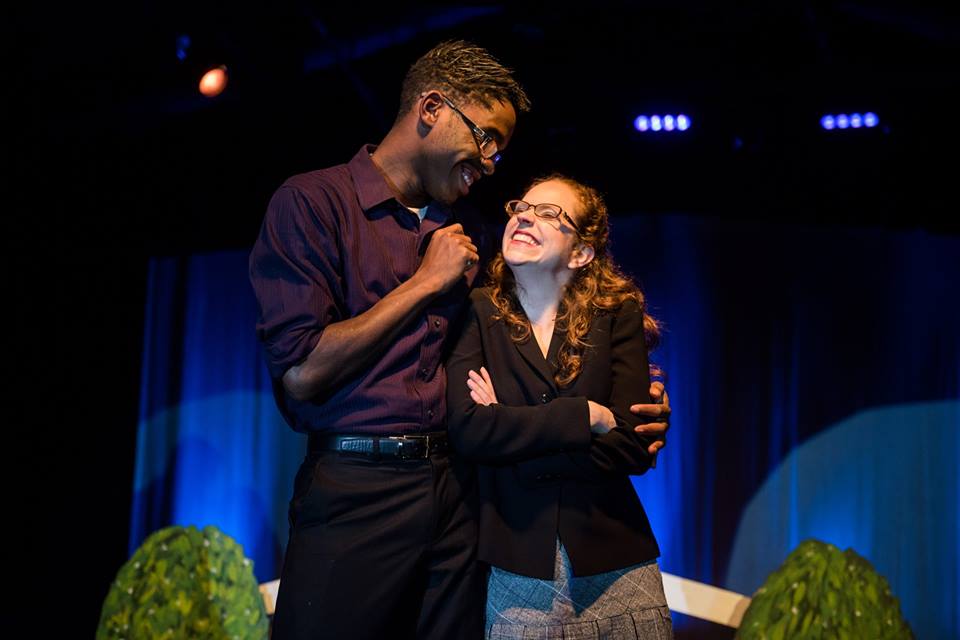 Greg Driscoll and Kristin Hall perform admirably as the principal characters. Kate Clark, Chelsea Beth Hockaday, and Becky Musser form the best female chorus of three since Austin Theatre Project's The Great American Trailer Park Musical at Ground Floor Theatre. The remaining cast members comprise a talented ensemble that enacts and sings multiple characters; standouts are Taylor Flanagan, Mindy Rast-Keenan, and Carl Gonzales.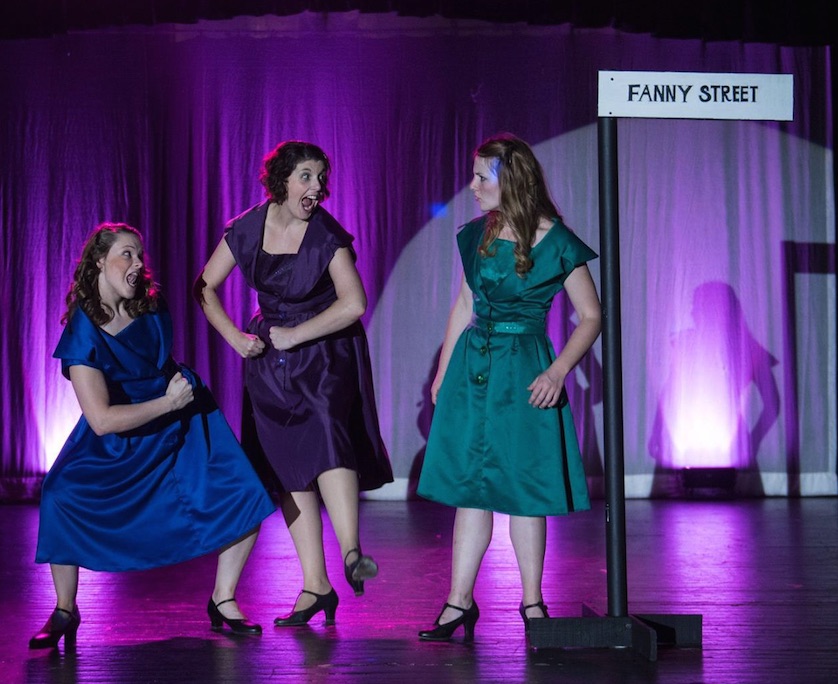 It is grossly unfair when one's venue detracts heavily from one's carefully prepared production. Sung lines and verses were dropped from amplification, seemingly at random.The audiences could not hear important sung lines. A member of the production said that as of the end of the first weekend the electrical sound system problem had not been isolated after feverish, ongoing efforts.Clearly, this serious drop belongs to the Dougherty Arts Center.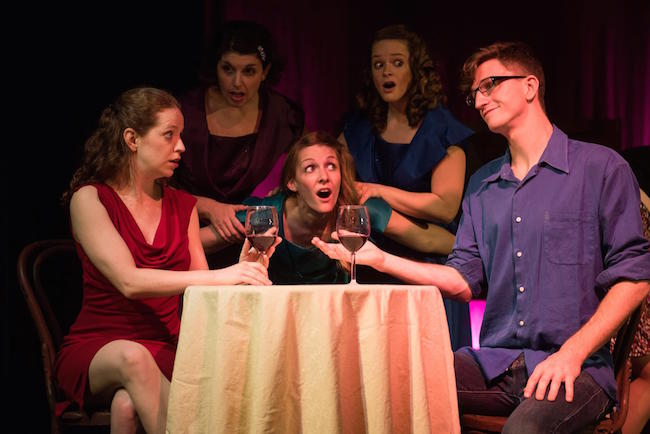 Musicals by their nature tax the sound and light design fields, and if there is a problem somewhere in the facility's production system, it will manifest in a musical theatre production. This reviewer has attended innumerable shows at the Dougherty and heard almost as many announcements of various upgrade plans budgeted and implemented by the Dougherty's owner and operator, the City of Austin. All of the upgrade programs have helped in some way, but the improvements seem to lag behind the ongoing general decline of the facility. Yet the management continues to charge competitive rates for the theatre rental. At what point should creative professional companies accept the Dougherty's best wishes and turn away to find a venue that allows them to achieve their potential without unexpected drawbacks?
The production may yet find its own solutions to the problem before the final weekends of the show. Audiences are strongly encouraged to spy this out for themselves and gain the experience of Stalking John Barrowman. Attendees now may secure greater bragging rights for discovering this new musical before it rises to wide, wide popularity. Stalking John Barrowman runs until October 11, 2015 at the Dougherty, downtown.
EXTRA
Click to view the program for LATCO's Stalking John Barrowman
---
Stalking John Barrowman
by Naomi Chiffi, Jude Garner and Patrick Steed
Last Act Theater Company
Thursdays-Sundays,
September 24 - October 11, 2015
Thursdays - Saturdays at 8 p.m.
Saturday matinee at 1 p.m. on October 10
Tickets available on-line via the website