Review: Romeo and Juliet by Texas State University
by Michael Meigs
There's this dreamy romantic notion about Romeo and Juliet, one that doesn't get much farther than the Capulet garden, the balcony, and the flattered surprise of sweet Juliet when her longed-for dreamboat comes scrambling out of the darkness. Innocence joined with ardor, two almost-grownups taking their love lives in hand and pledging them to one another.
Sigh.
But there's also the truth of the Facebook meme about R&J being the story of two teenagers whose duplicity results in six deaths, including their own.
Denis de Rougement's classic essay Love in the Western World traced the intertwining of the themes of love and death throughout Western literature. Love is so powerful, so overwhelming, that the 'little deaths' of passion stimulate the legends of doomed lovers who reach the sublime only through their own destruction. This romantic drama of Shakespeare, so beloved of high school English teachers, lays down exactly that correspondence, and all too often the readers and spectators devote themselves exclusively to the lovers and rue their bad luck and missed opportunity.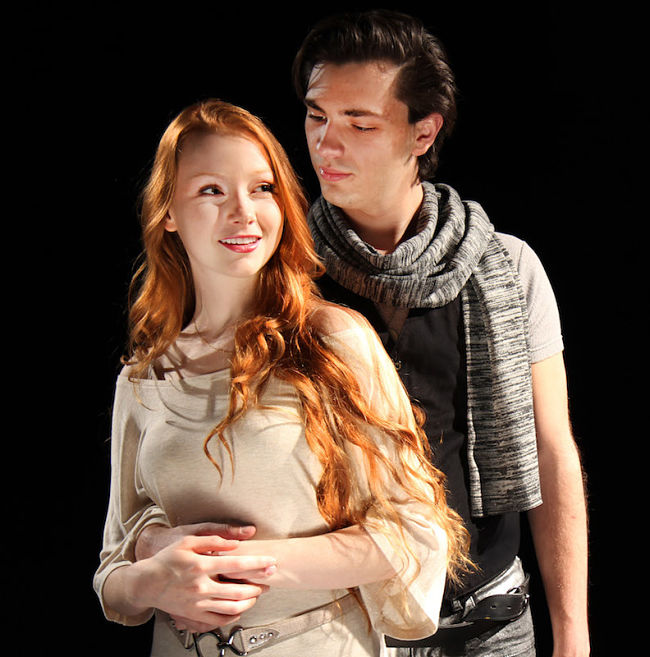 Romeo & Juliet at Texas State doesn't neglect those vulnerable and impulsive youngsters. Grayson Yockey as Romeo has the boundless energy, surging emotions and determination of any gifted but inexperienced young man in love. Slim Chandler Lovelle with her long red tresses is a lovely incarnation of the almost-woman Juliet, fourteen years old but fresh and ripe, ready to dupe anyone in her obstination to obtain the object of her desire.
Director Amelia Bahr gives us the presence of Death from the first moment. As the lights come up the stage is filled with a tableau of dead bodies. As a silent, hooded feminine figure, Abba Yzeke observes the scene from on high and glides toward the immobile groupings, conjuring them one by one to rise and go. Throughout the play Yzeke will move to join the actors at crucial moments. She's present but unseen at each slaying, holding a deadly comforting hand to a torso or a face, moving in balletic arc to accompany a fall. She disappears into the shadows from time to time. But it's evident that she has foreknowledge of the grim outcome. The program for this production features a coherent and well reasoned commentary from Bahr on this concept (see link below).
The director and a cast of articulate actors, mostly undergraduates, populate a fully realized society with vivid personalities. This Romeo and Juliet is more muscular, exciting and full of conflict than other stagings I've seen.
The reworking of the Texas State mainstage theatre reinforces those aspects of the piece. With the opening of the nearby Patti Strickel Harrison stage a couple of years ago, suddenly the theatre building's spacious amphitheatre with its sweeping rows of seats became superannuated. The university reworked the performing space by forgetting about former seating areas and turning the building's deep backstage area into a floor-level thrust stage with ranks of stadium seating on three sides. Now, instead of watching stage action as if through a telescope, the audience is close up and face-to-face with the players. There's a two-story platform at deep stage center in this production, but the action surges regularly across the playing area. Bounding roisterers take the set's steep staircase in both directions. Actors move freely up the center aisle of each of the three audience sections, address spectators directly and wiggle up, over and across the gateway positioned across the down stage left entrance (despite the comic detail on opening night that the swinging gate was clearly not latched).
The whole cast exudes confidence, both of language and of movement. Capulet and Montague males are evenly matched, and Yockey, Kurt Engh as Benvolio and Andrew McVay as Tybalt could easily have traded any of those three key roles among them. Spencer Hansen as serving-man Peter opens as a sly prologue courting the audience, quick to cry 'Shame!' when a mobile phone interrupted his miming and declaiming (that rogue ring came so aptly and so quick that one might suspect it had been planted). Daniel McGowan as Mercutio is lively, unkempt and provocative, looking a bit like Zonker from Doonesberry high on meth. Junior Gomez as County Paris, eager formal suitor to Juliet, stumbles unsuspecting into a trap not of his own making.
Toby Minor deserves credit for much of the grounding of this action. Not only for his fight choreography, breathtaking in individual bouts and electrifying in the surge and clash of group struggles, but also for his creation of Lord Capulet as both a general and a gentleman. This Capulet does not dissuade Tybalt from challenging Romeo at the masked ball; he overmasters the hothead while continuing his role as genial host to the others. As the party ends, Lord Capulet is clearly inebriated but still very much in control. And Minor is so fierce in his scenes with the recalcitrant Juliet that he vibrates with outrage and incipient violence. Jordan Puhala as Lady Capulet is an equally strong presence, but hers is a strength of character rather than muscle.
The use of relatively young actors in other traditionally senior roles is almost unavoidable, since this is a university setting, but director Bahr's choices and interpretations are assured. Danielle Grisko as Escalus the ruling prince is imposing and aristocratic, with no need of advanced years. Madelyn Wright as the nurse employs no elaborate makeup to age, using words and gestures instead to create that jolly indulgent character. Friar Lawrence, traditionally presented as something of an aged cloister rat, becomes in C.K. Anderson's interpretation an earnest but unguided co-conspirator of few more years than the protagonists he's seeking to help. This justifies the evident bonds between them and it goes some way to explain the good friar's berating of despairing Romeo. Yockey wails, twisting in a huddle on the floor, as agitated as a beaten child; Anderson screams his lines, battering his way past Romeo's wordless distress into his charge's consciousness.
The friar's stratagem fails when his messenger Friar John (Joseph Paz) is quarrentined because of explosure to plague, leaving the banishéd Romeo with no knowledge of the holy man's duplicity and his lies to the Capulets. Although there's no hint of it in the text or in this interpretation, isn't this a moment of divine intervention?
One challenge in Romeo and Juliet is to determine who is ultimately responsible for the lovers' suicides (they're mortal sins, remember, that will forbid burial in holy ground and condemn them both to perdition). Frair Lawrence bears much blame. In this production we readily understand that his errors and offenses don't come from mere foolishness. Like those of the lovers, they arise from youth and the insistent arrogance of inexperience. The friar's confession to the prince explains the events but does nothing to absolve him of his own mortal sin.
There's plenty of blame to go around. The prince's rebuke of the heads of family prompts them to pledge to put up statues of gold over the lovers' graves. The new peace between the clans is but a hollow achievement, however; deaths and suicides have left them almost without the capacity to quarrel further.
EXTRA
Click to view the program for Romeo and Juliet at Texas State University
---
Romeo and Juliet
by William Shakespeare
Texas State University
Tuesday-Sunday,
April 19 - April 24, 2016
THEATRE CENTER'S MAINSTAGE, 600 Moon Street, Texas State University, San Marcos
TICKET PRICES: $15 Adult | $8 Student
plus $2 processing fee for tickets online or at the window.
Added: Saturday matinee at 2 p.m. on April 23, 2016.
Available at Texas State Presents
Ticket Questions: txstatepresents@txstate.edu
Box Office Phone: 512.245.6500
This is a GENERAL ADMISSION production.
Special Event Parking for all fine arts events occurring in Theatre Center and Performing Arts Center is now only available in the Edward Gary Street Garage, located on the corner of University Drive and Edward Gary Street for a flat fee of $5.00 per event.
A map of parking garages is available HERE