Review: Pageant, the musical by City Theatre Company
by Michael Meigs
Pageant is pure fun, a lively evening with the silly sparkle of a twirling disco ball. Robert Longbottom's concept is simple. Take the loony artificiality of a beauty pageant and stage it with male actors to emphasize the absurdity of the activity. Beauty is big business, folks, and the promoters know it. The history of American beauty pageants is long and strange, complete with grinning M.C.s, swimsuit struts, talent competitions and interviews before live audiences. It suggests that many a plain Jane has swooned at the thought of transformation via makeup, high heels, liposuction, glitter and magic.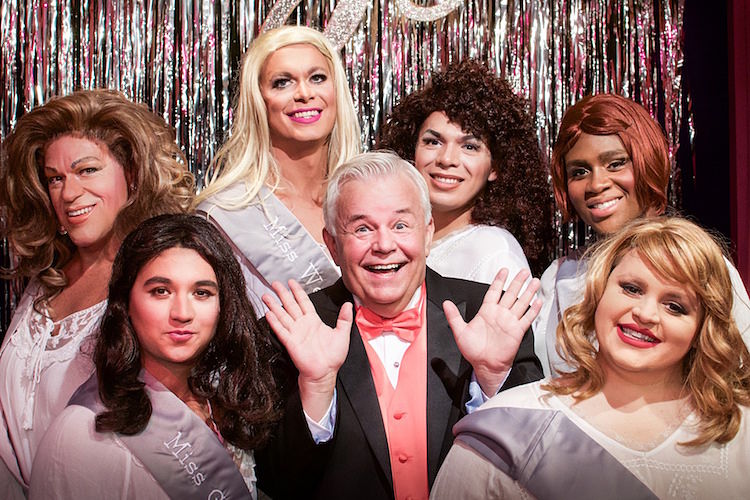 Six of the cast of seven in this musical sketch extravaganza carry titles: Miss Deep South, Miss West Coast, Miss Great Plains, Miss Bible Belt, Miss Industrial Northeast, and Miss Texas (Does that last one sound too stark? The character's name is Kitty-Bob Ames). Rick Felkins as 'Frankie, our genial host' is the essence of fey enthusiasm for the undertaking, sporting a bow tie and a perpetual grin. His delight is infectious and it'll bolster your spirits no matter how difficult a week you may have had.
Pageant was first staged in New York in 1991, and its impish humor is undiminished even though the institutions it lovngly mocks seem to have faded as American media diversified and digitized. It's a picture of a simpler time, a 1950's celebration of feminine ripeness and beauty.
I was surprised to realize that this production directed by Jim Lindsay and accompanied by Rachel Hoovler on the keybord reminded me more than anything else of Dan Googan's Nunsense. Both are parodies of familiar but now quaintly old fashioned cultural institutions with rigid rules and prescribed costumes. Both are presented as sketch reviews with music. And both achieve their successes by making you believe in the individuality of their characters even though the situation and the skits are patently absurd. And they both feature star moments when one of the characters does an extended comic bit of puppetry -- in this production, James Springer's cheerful voicing of 'Mammy' and 'Pappy,' one on either hand. This bit is made even funnier by the fact that though Springer uses three different voices, incuding the sugar-sweet tones of Miss Deep South, s/he makes not the slightest pretense of ventriloquism. As Laurinda Summerford s/he's laying down the triologue and letting the chips fall where they may.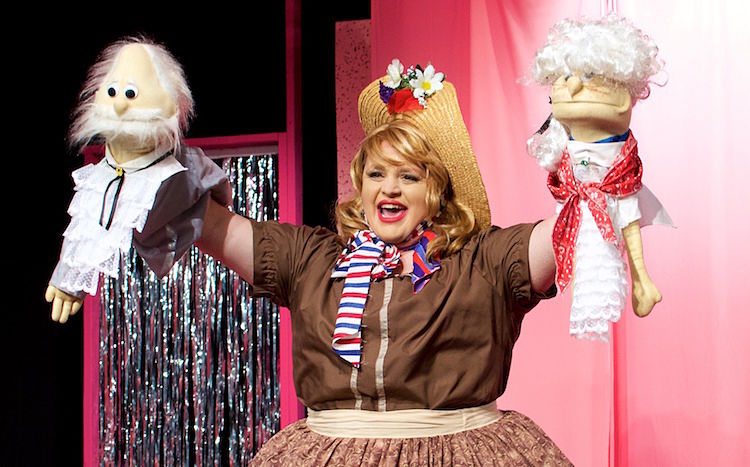 Costumes are bright and often surprising, especially those worn by the contestants for special talent numbers. Even the swimsuits are suitably shaped and girlishly appealing. Each contestant gets the opportunity to do a commercial for Glamouresse, the imaginary sponsor of these shenanigans. The products and the props are appropriately outrageous.
Early in the proceedings M.C. Frankie chooses six judges from the audience, apparently at random, and each receives a set of numbers, 1 to 10, to be used for voting at the end of the show. The outcome is anything but predetermined, although echoes from the theatre indicate that Miss Deep South has built up an impressive track record.
But s/he's competing against an attractive and determined crowd of contestants:
Boyce Templin as Karma Quinn, Miss West Coast, is a wide-eyed tall blonde, just the sort of 'bestie' any girl might want to have. It's not easy playing dim instead of stupid, and Templin does a fine sweet job of it.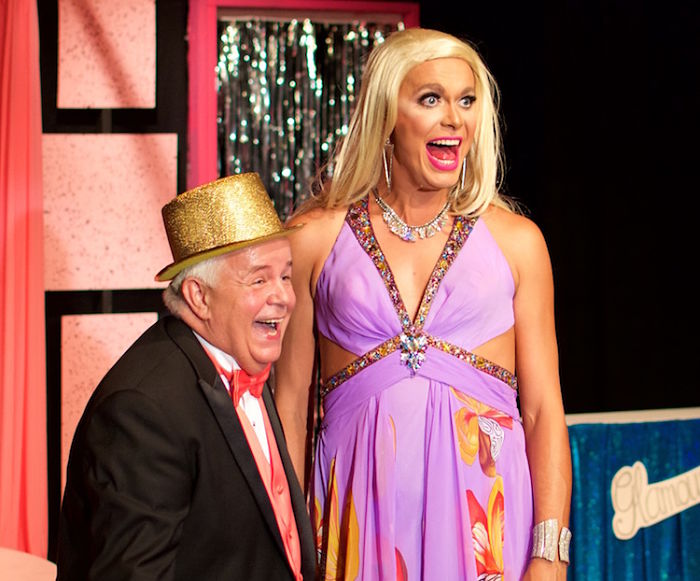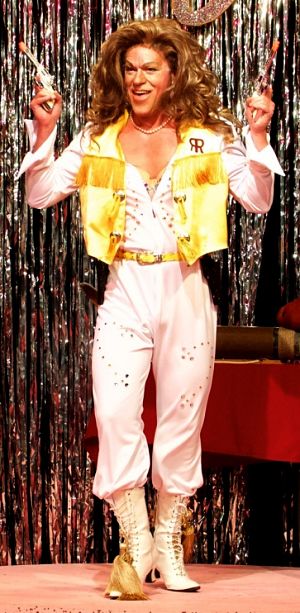 Michael Wheeler as Miss Great Plains, Bonnie Louisse Cutlett, is shy and demure, apparently overwhelmed by all this enthusiasm and talent. As the participant from the unsophisticated heartland, s/he's diligent and serious, my favorite of the bunch.
Jalal Goggins as Miss Bible Belt, Ruth Ann Ruth, may have the most challenging role, for despite the accelerating secularization of the United States, mocking a character for religious enthusiasm can seem condescending. Wheeler provides his character with a happy naïveté and general enthusiasm that mostly avoids that pitfall.
James Montreal gives us Miss Industrial Northeast, Consuela Manuela Lopez, as ardent a dark-eyed Latina beauty as you can imagine. Director Lindsay suggested that this character be played like Lucille Ball of I Love Lucy but with Desi Arnaz's accent. Montreal makes her energetic, coquettish, vain and extremely funny, the most fully realized female of them all.
Last but never least is Kirk Kelso as Miss Texas, Kitty-Bob Ames. Any Austin audience is gonna root for the hometown gal, even if s/he's a bit long in the tooth (never look a gift horse in the mouth, folks!). Kelso always excels in clowning, and this evening is no exception.
Travel on family business delayed this review, but I'm half-pleased to note that the tardiness hasn't affected attendance at all. The contestants of the Glamouresse Pageant are headed into their fourth and final weekend with reports of full houses. They deserve them. Where else are you going to get that guaranteed quotient of pulchritude and pizazz?
EXTRA
Click to view the program of City Theatre's Pageant.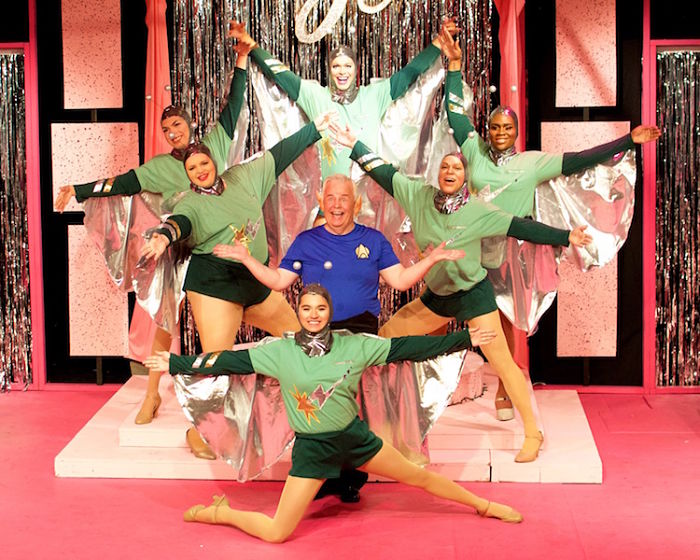 ---
Pageant, the musical
by Bill Russell, Frank Kelly, Albert Evans and Robert Longbottom
City Theatre Company
Thursdays-Sundays,
May 27 - June 19, 2016
May 27 – June 19.
Thursday - Saturday 8:00 pm. Sunday 3:00 pm.
The City Theatre, 3823 Airport Blvd. Suite D. 78722.
Tickets $25. Two for $40. Center Reserved $30-$35. Seniors $18. Students $15. Thursday all general seats $15. Group discounts available.